Chengdu Food - the Best Foods and Places to Eat
Sichuan, in Western China is one of the most renown region in the world when it comes to food. Bordering Tibet, Yunnan, Gansu, Chongqing, Guizhou, and Shaanxi, Sichuan is a cultural and geographic mix. The Tibet and Yungui Plateaus provide heartier northern-style food while the Sichuan Basin supplies the city with food that can grow in humid, low-elevation areas.
Chengdu is the capital of Sichuan Province, and the food in Chengdu is a magnificent blend of what the whole province has to offer. Tibetan milk tea, Southern-style rice, Northern-style noodles, a variety of street food, and of course, world-famous hotpot, can all be found on the streets and back alleys of Chengdu.
Sichuan Hotpot
If there is one food not to miss in Chengdu, it's hotpot. Sure, you can find hotpot in Korea, Japan, Mongolia, and in every province in China, but Sichuan hotpot is something special. Sichuan is famously a land of spice, but its spicy peppers are truly unique. Rather than a black, white, or spicy pepper flavor, Sichuan peppers (花椒, huā jiāo) have a lemony, aromatic flavor that leaves a tingling, almost buzzing sensation in the mouth- like weak electrical current. This aromatic pepper is used to introduce the other spicy flavors to the mouth, enabling hotpot and other Chengdunese foods to employ a melange of subtle and complex flavors.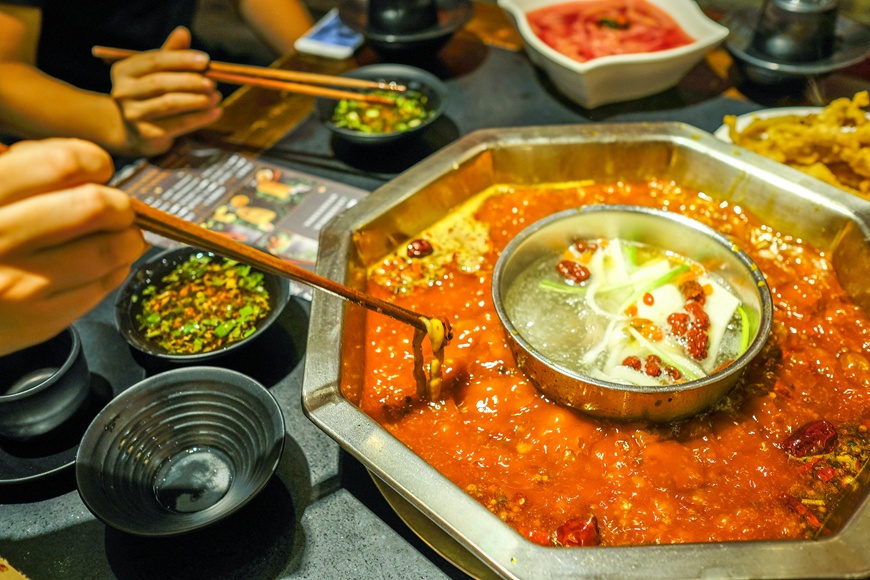 Chengdu Hot Pot
Hotpot is traditionally served in a large 2-segmented cauldron(pot) in the middle of the table. One segment contains spicy broth and the other is a mild broth. Diners put variations of meats, fish, vegetables, noodles, and tofu into the boiling pot. They then put the cooked foods in their bowls and apply their own combination of spices and sauces to the cooked food before eating. The spices can usually be chosen from a huge (30+) buffet-style arrangement of condiments and spices ranging from coriander to peanuts to roasted chilies in oil. Adventurous eaters can have organs like cow stomach, and chicken gizzards, while more standard ingredients are mushrooms, potatoes, and beef.
See more on: Chengdu Hot Pot — the Dragon's Treat for Visiting Tourists in Chengdu
Where can you have this quintessential Sichuan dish? In Chengdu, everywhere, but here are a few of the most famous hotpot locations:
Huangcheng Laoma Hot Pot
Address: 20 Qintai Rd., Wuhou District, Chengdu
Located in Wuhuo district, this Huangcheng Laoma is one of the top hot pot restaurants in Chengdu. Diners can see live Sichuan opera, including the famous face-changing. The price reflects the high-class atmosphere, as this hotpot experience will cost over 30 USD (about 210 CNY) per individual.
Shujiuxiang Hot Pot
Address: No.11-2 Nijiaqiao Road, Yulin District, Wuhou District
Shujiuxiang is possibly the most popular hotpot restaurant in Chengdu so it's best to make a reservation as it is always packed. One of the unique features of Shujiuxiang is that it features a 9 grid pan (rather than the usual 2 segmented mild/spicy pan). A shared hot pot with some side dishes will cost you 20-30 USD (about 120 to 210 CNY).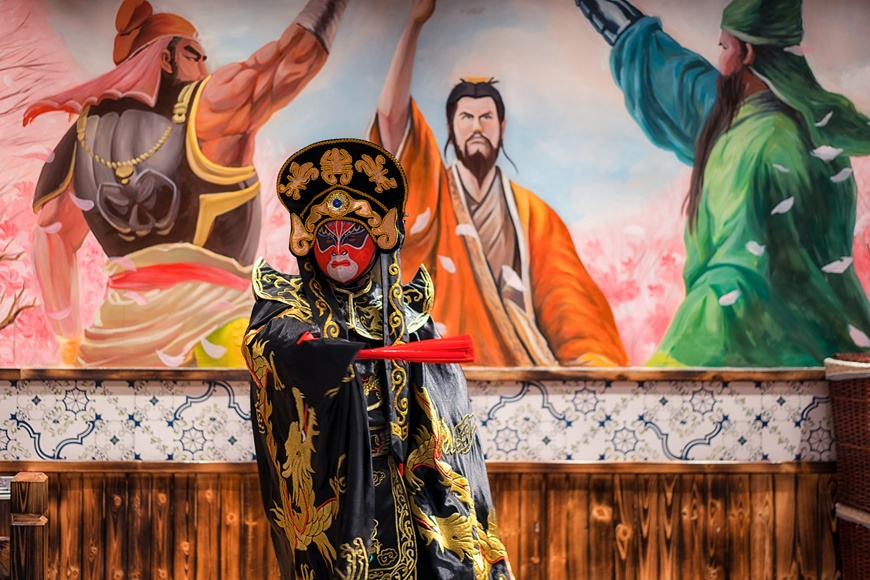 Face changing opera in hot pot restaurant
Jincheng Impression Hotpot Restaurant
Address: 19 Wuhou Temple Street (Near Rainbow Bridge)
The fanciest of the places on this list expect to pay 40 or 50 USD (275-345 CNY ) for a meal. Jincheng Impression offers a special mushroom broth for those who aren't big spice fans. For the non-squeamish, some of its most popular dishes include beef stomach and goose intestine.
Maocai (Mini Hotpot)
Address: Little Begger Maocai in No. 89 Junping Street
Rather than cooking everything yourself in  a large bowl, you order a some ingredients served in a personal bowl, already cooked in the hotpot broth you choose.
Chengdu Street Food
You can find some of the most popular street food in China in Chengdu. Things like:
Níu Ròu Jiān Bǐng – Pancakes stuffed with Beef and vegetables.
Liáng Miàn – Boiled, air-cooled noodles served with vegetables and various sauces.
Chòu Dòu Fù – Fried stinky Tofu (exactly what it sounds like).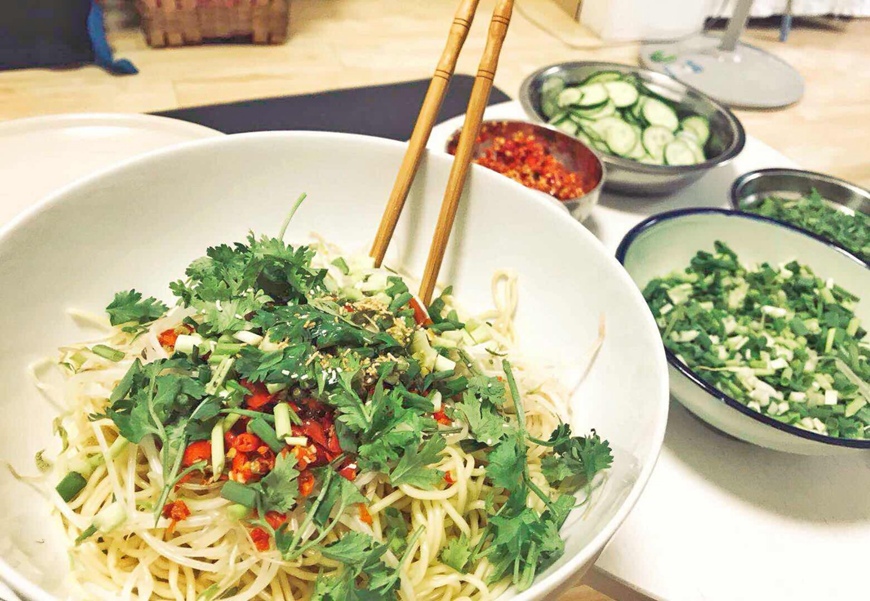 Cold Noodles (Liangmian)
We also recommend the activity to make cold noodles in a local home: 2-Hour Home Cooking with Local: Learn Cold Noodles and Wolf-Tooth Potato
Those are some of the most famous street foods in China, and you can find them all over the country. But what about something special to Chengdu? If you want something truly unique to this city, try:
Fried Meat Pie (Guo Kui) – Tender meat and Sichuan peppercorns in a flaky pastry.
Sweet Water Noodles (Tian Shui Mian) – Thick noodles coated in sugar that taste like cake or maple-bacon. It may not seem like an amazing dish, but it's a favorite of the locals.
Flatbread sandwich (Guo Kui) – Stuffed with beef, noodles, and some vegetables, this crispy sandwich can usually be bought for a 2-3 Kuai (CNY) and makes for a great walking food. You will also find all kinds of other stuffings in similar breads.
Spring rolls (Chun Juan) – These crepe-like flour and egg bread wrapped around spicy cooked vegetables and meat are nothing like the spring rolls of Vietnam or Thailand. The hefty amount of cooked fillings combined with the spicy Sichuan peppers make for something more akin to a burrito.
Dan Dan noodles (Dan Dan Mian) – These noodles are a simple Sichuan delight. Spicy, with some vegetables and broth, they make for a nice, simple Chengdunese meal. Be prepared for some spiciness though, as the sauce is typically fiery-hot.
Interested in learning more about street food? Check out What Are the Most Popular and Tasty Snacks in Chengdu?
Where to Get Street Food in Chengdu?
Yangxixian Food Street:
Yangxixian Food Street is Chengdu's most popular food street, located in The Muslim Quarter , also called Huimin Street. On top of the aforementioned food, you will find all kinds of barbecued lamb and beef; this place is a meat-lover's delight. 
Address: West of Zhonggulou Square, Beilin District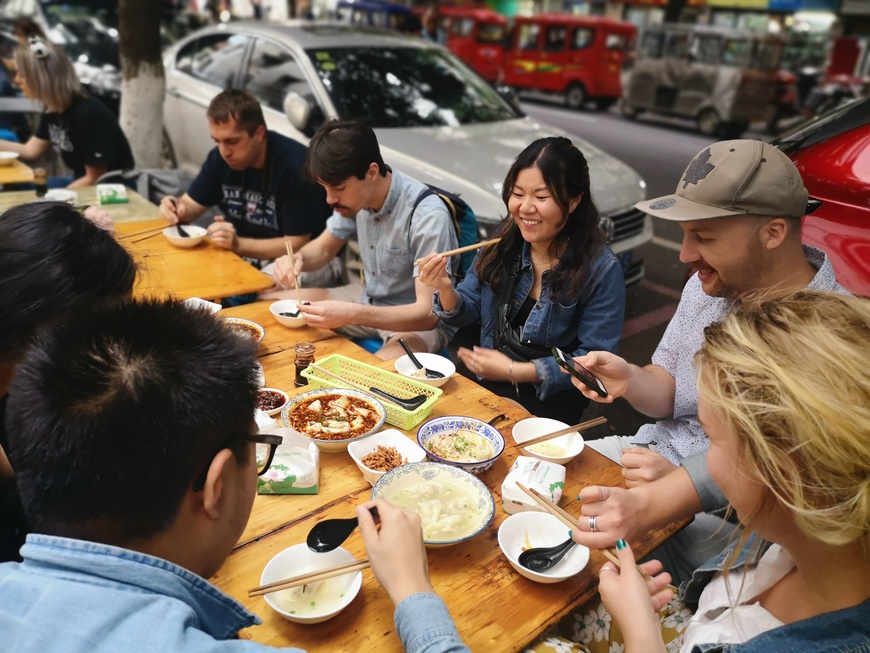 Eating on the street
Huaxing Street
Huaxing street has been famous for its fried rice since the Qing Dynasty.  The fried rice and noodles are served in traditional bronze tripods with copper spoons and pots. Huaxing Street is also famous for its many traditional teahouses. 
Address: Take the metro to Tianfu Square Station, and walk east on Zongfu road.
Yulin Living Square
Up late and hungry? Look no further. Yulin is a local favorite for late night snacking and drinking.  BBQ, hot pot, and other traditional night-time dishes can be found here. It's also close to some of the ex-pat bars in the city, in case you feel like a Western dish. 
Address: South of the city center, off of Yulin North Road.
Fengdu- Fengyun Street
The adventurous eater can find the aforementioned Chengdunese street foods, foreign restaurants, and some interesting other options…Sushi street, imported beer, and dried cow organs, all make up the collection of foods you'll find in Fengdu.
Address: Intersection of Jiannan Blvd and Tianfuyi street.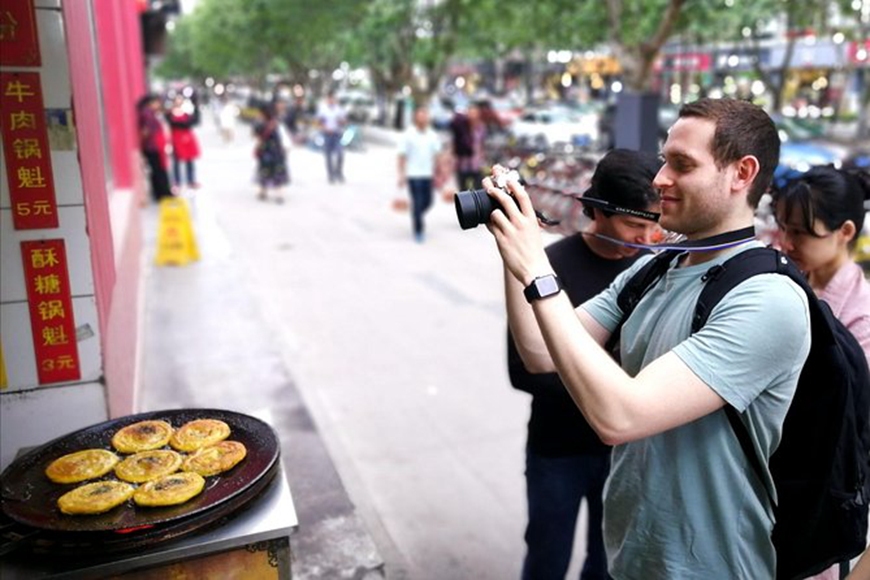 Pancakes on the street
Looking for more?
For those truly keen on Chengdu food, there is an authoritative resource: The Sichuan Cuisine Museum. Here you can get your hands on not just Sichuan Cuisine (also known as Chuancais), but also learn how to make the cuisine of this province. You will not only learn how to cook the food, but how to make it from scratch. There are exhibits on the gardens where the food is grown in, the tools and mills it is processed with, a Sichuan kitchen, and a culinary arts display where you can learn how to cook a dish.
For those still yearning for more Sichuan fare, you can also learn about the historical/traditional foods of Sichuan and see the old restaurant alley. Finally, for the more casual appreciator of Sichuan food, there are tea halls and banquet halls where you can simply sit back, relax, and enjoy some food. If the Chengdu Cuisine Museum seems like your cup of tea, you can learn more about it here: Sichuan Cuisine Museum: Have Fun with Chuancais in Chengdu.
Related Tours