Chengdu Street Food: What Are the Most Popular and Tasty Snacks in Chengdu?
Every year a number of visitors, travelers, and food lovers visit Chengdu to experience the most authentic and traditional taste of the Chengdu street food and to see the beautiful Pandas. In Chengdu, one can find a great variety of foods and snacks, each having a unique authentic delicious taste. The locals of Chengdu loves to eat delicious foods, therefore there are many food corners, food streets, dine-inns, and snack shops in the whole Chengdu. But how to decide what to eat in Chengdu particularly when you have a number of options on your plate? Well, you should not worry about it at all. This article covers not only the most popular food streets of Chengdu but also list out some of the most popular Chengdu Street Food, which one must eat.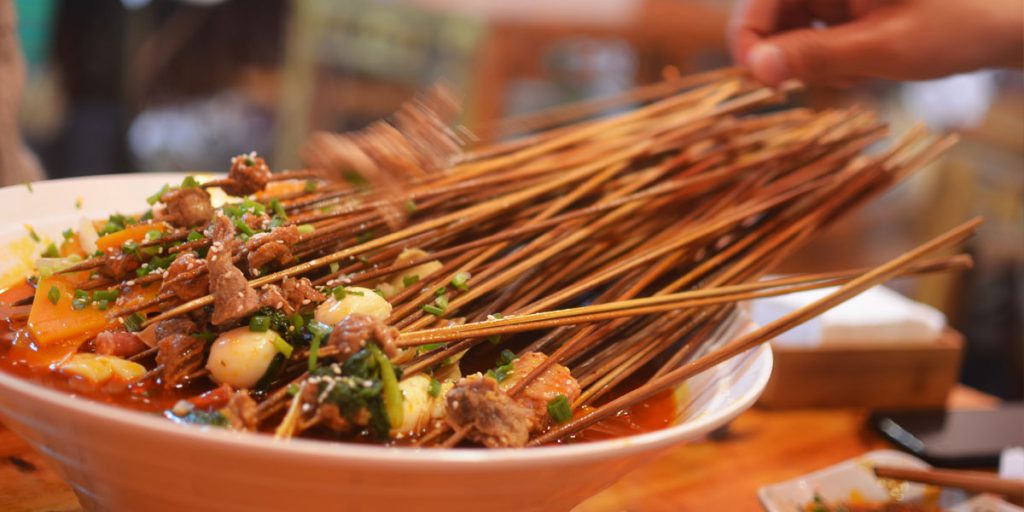 Chengdu Street Food Markets and Food Street
There are a number of food markets and food streets in Chengdu, and each market has its specialty. But here we are going to discuss some of the Chengdu's most popular and visited food markets and streets.
Contact us for hassle-free food tour: 2.5-Hour Chengdu Food Tour by Tuktuk
Jinli Food Street – The Pedestrian Street:
If you want to enjoy the Chengdu's most traditional and local food & special snacks at affordable prices (10-15 RMB per person) then Jinli Street Chengdu is the right stop for you. Here you can enjoy the best traditional food of Chengdu, Sichuan. The food and snack in Jinli Street have the most authentic, unique and aromatic taste. The local delicacies of this food street are mouthwatering and not expensive. You can enjoy the best snacks of Chengdu while witnessing the amazing folk music, classic plays, and many traditional events.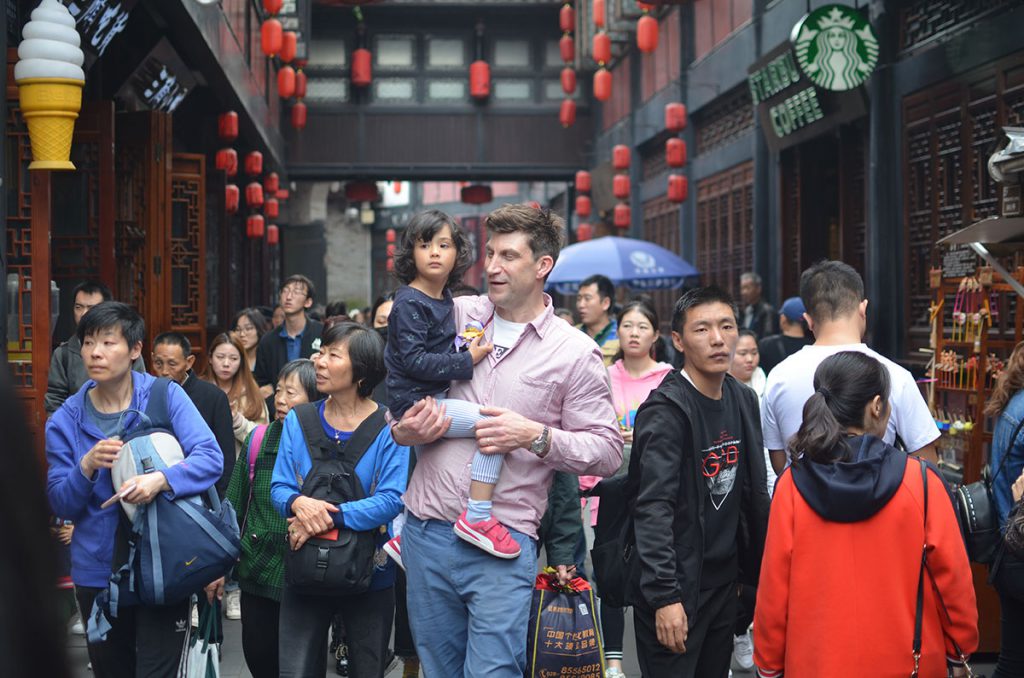 Famous Dishes of Jinli Street:
Níu Ròu Jiāo Biňg – Pancakes stuffed with Beef and vegetables.
Liáng Miàn – Boiled, air dried noodles served with vegetables (carrot, cabbage, egg, and cucumber) and a variety of sauces such as sesame, vinegar, or soy sauce.
Chòu Dòu Fu – Fried stinky Tofu made with brine from fermented milk, vegetables, and meat.
Lǔ Cài – Meat and vegetables braised in water at low heat and served with a soup base and noodles.
Location: Jinli Street, Chengdu is located 231 Wu Hou Hall Street, to the east of the Wu Hou Temple, Chengdu.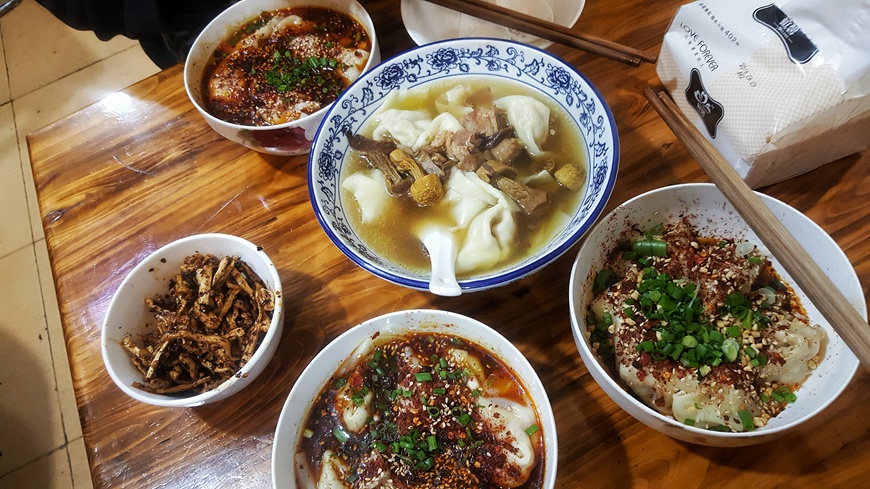 Yangxixian Food Street – The Muslim Quarter:
Yangxixian Food Street is Chengdu's main and most popular food street, also known as the Muslim Quarter or Huimin Street. This food street is famous for its profound Muslim culture and foods. If you are a meat lover then Yangxixian food Street is the best place to eat. Many delicious meat dishes including lamb and sheep meat are served in this area. Visitors can taste some of the delicious cakes, skewed barbequed meat, a number of dry fruits, pieces of bread and candies and other sweets here. You can also take sweets box from the Xi'an Sweets, who makes a great sweet gift box in just 25 to 50 RMB.
Famous Dishes of Yangxixian Food Street:
Roujiamo – Xi'an's most famous dish, freshly baked buns stuffed with marinated lamb or beef.
Yangrou Paomo – Traditional dish Uygur dish, pita bread soaked in Lamb soup.
Xi'an Dumplings – Bean threads in Shaanxi flavorings.
Cold Noodles – made from rice or flour.
Location: West of Zhonggulou Square, Beilin District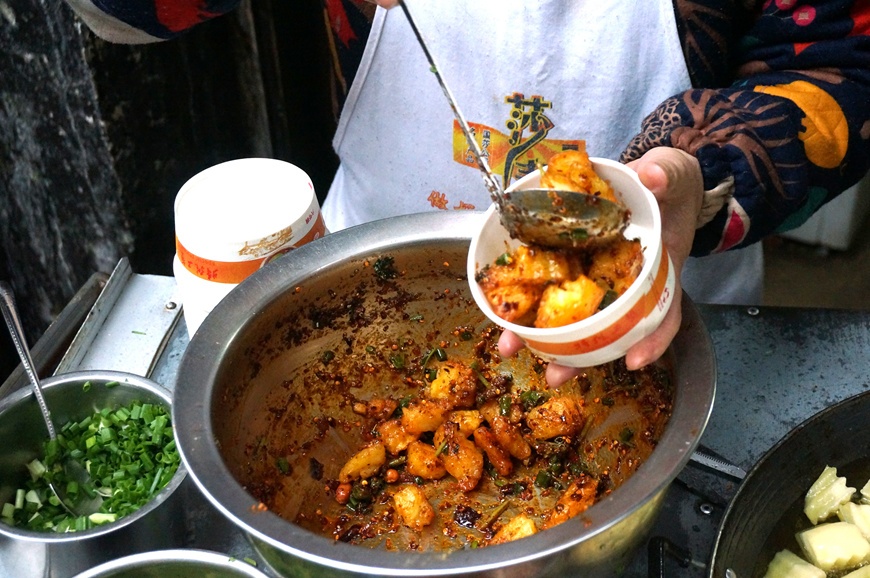 Huaxing Street
The Huaxing Food Street, Chengdu is known for its noodles and egg-fried rice since the Qing Dynasty. Here you can experience the taste of Chengdu street food best noodles and egg-fried rice which are served in beautiful traditional pots. The fried rice and noodles are served in color copper pots, bronze tripods, copper scoops, and copper spoons. The serving contains red tomato which serves as a soup base, with some green vegetables, egg fried rice, and noodles. One can also enjoy the different flavored teas at the Yue Tea House, Tangyuan and spicy wontons at Huaxing Street.
Location: Huangxing Road, Tianxin District, Changsha 410002, China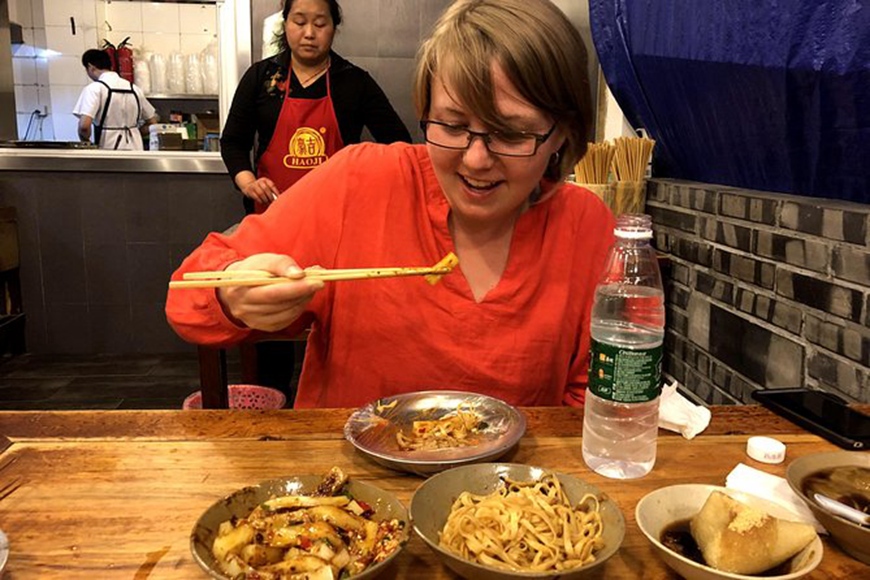 Eating at local restaurant
Yuling Living Square:
Yuling Living Square is the right place for the people who love to eat, drink and have fun late at night. This place is filled with locals as well as the visitors at night and it looks beautiful. There are many traditional food restaurants, snack carts, and bars. You can taste the best barbeque, shrimps, hot pot, and stews in Yulin Square. The food in this area has the traditional taste and served with a beautiful serving.
Barbequed Meat – Lamb meat, beef marinated with different spices and cooked on charcoals or wood.
Hot pot or Chinese fondue – A dish served with spicy soup base and herbs, meat balls or fish and vegetables.
Shrimps – Sizzling shrimps served with potato sticks and grilled vegetables.
Stew – Tender beef, cooked with onions, tomatoes, and spices. It's a dried beef dish.
Location: Yulin Food Street is located to the south of Chengdu.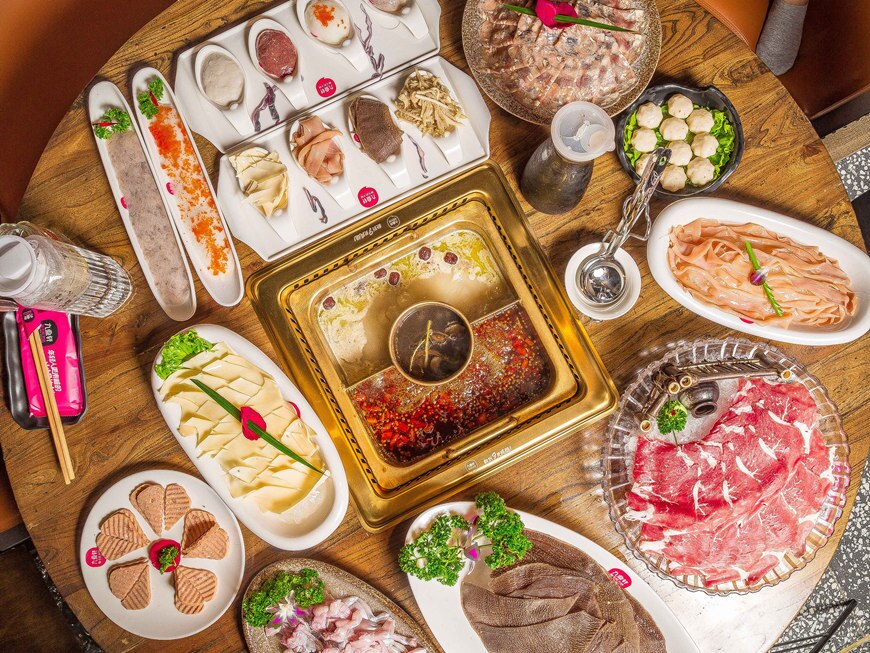 Chengdu Hot Pot
Fengdu – Fengyun Street:
If you want to taste the unique yet delicious food in Chengdu then you must visit the Fengdu food street. It is one of the high ranked food places of Chengdu. One of the best things about this street is that you can enjoy the imported beer at Beer Castle. Other than Chinese cuisine, you can enjoy the French and Milia Russian Cuisine too.
Famous Dishes to Eat:
Shushi Street – Right next to Fengdu, there is also the Sushi Street where sushi lovers can have Chengdu's most delicious and mouthwatering sushi.
Xiaoyu & Miles life Hot Pot – Noodles, vegetables and meatballs served with a soup base and different sauces.
Donnie and Sancha Wild Fish – Grilled or steamed fish with spices.
Leshan Dried Food - made from the internal organs of a bull.
Location: Fengdu Street is situated at intersect of Jiannan Blvd and Tianfuyi street.
The Most Popular and Traditional Chengdu Street Food:
If you are still looking for some traditional and famous Chengdu street food then here we have listed some of the most delicious, unique yet traditional foods which can satisfy your food palate in Chengdu. You can find these dishes in the main city and are served in almost all restaurants.
Guo Kui, 锅魁 - Deep Fried Meat Pie:
The Gou Kui is the small pie of pancakes which are made with tender dough and ground meat. The dough is stuffed twice with chili pepper and Sichuan peppercorn spiced grounded beef and folded into the shape of a pie. These pie are then fried deep and baked in a charcoal pit.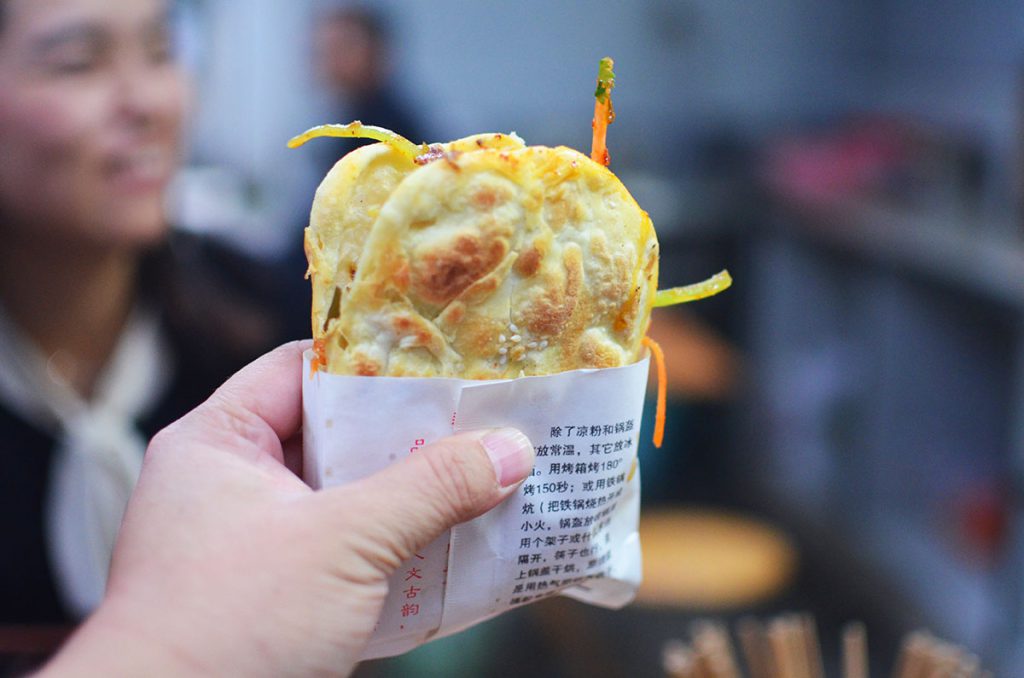 Guokui
Tian Shui Mian, 甜水面 - Sweet Water Noodles:
Tian Shui Mian is the uneven roped shaped noodles which are thick like chopsticks. The noodles are served with a strongly flavored sauce, sprinkled with granular sugar. It tastes like cupcakes with maple glazed beacon topping. This dish is unique as well as delicious.
Pu Gai Mian, 盖面 - Bed-Spread Noodle:
Pau Gai Mian is another noodle dish which is served with soup or flavored chicken broth. The boiled noodles soaked in different flavored (steak, ribs, pickles, meat, wild chicken) stocked, simmered with tender chicken is very delicious and gives you a chewy mouthfeel.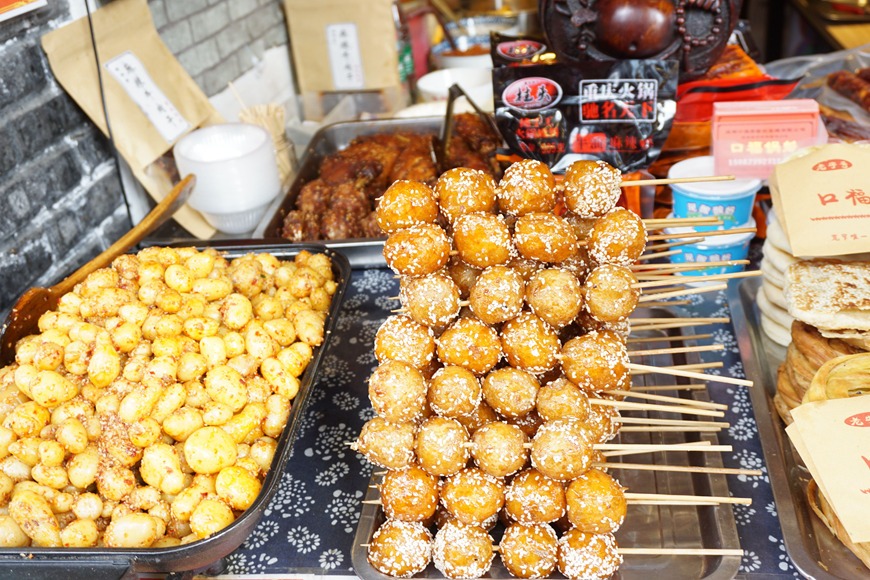 Tangyouguozi
Zha Chun Juan, 炸春卷 - Fresh Spring Rolls:
White flour wraps filled with the vegetables of your choice such as cucumber, seaweed, pickles, blanched potato, soybeans, tofu, leafy vegetables and glass noodles, red oil and some other sauce and then deep fried. The spring rolls are served with strong spicy sauces and these rolls are perfect for the vegetarian and enough to fill your stomach.
Related Tours