2.5-Hour Chengdu Food Tour by Tuktuk
2.5 hours
Afternoon or evening
Group tour (Min 2, Max 10)
Description
Overview
It's not only food, but more stories behind it. Stories about the local's childhood, lives and customs in this city, Chengdu present and past. Visiting family-owned restaurants and even the street snack vendors are an excellent way to find out the secret of this food paradise city. Be among the locals, get a better understanding of why Chengdu is so-called "the Land of Abundance".
Itinerary
Food Tour
You might start your trip with a little challenge, because hotel pickup and drop-off services are not included in this tour. Please go to Hongxing Bridge Station on Metro Line 3 at 18:00, looking for the tour guide at Exit A. You will take tuk-tuk going through the streets, and you will go to the most famous and delicious food vendors. For the local people, they are very clear that there are a lot of delicious food restaurants hidden inside some apartments where you might not know from the Internet. Today, following the local foodie and get off the beaten path, you will an opportunity to stop at 4-5 different favorite places of local people.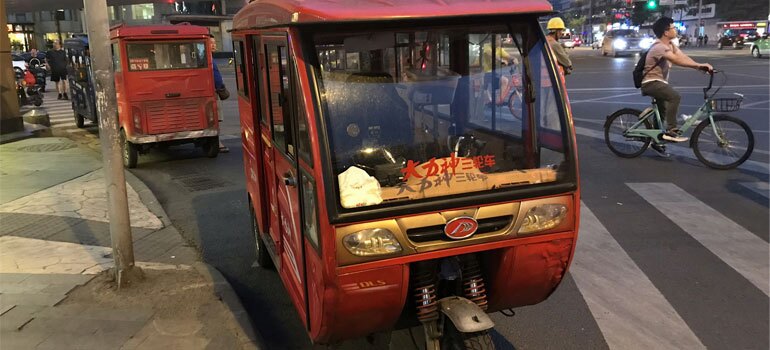 Food Tour by TukTuk
There are 10-12 different tasty snacks you will try, like Chengdu Pancakes, Mapo Tofu, Dandan Noodles, Dumplings, etc. All places have a history of more 20 years even 100 years business. You will not only experience the characteristic Sichuan food, but also learn connections among the food restaurants, the development of the local buildings and local people. After finishing trying all the delicious food, you will be carried to the local famous bar street, in there if you like, there will be a nice place to have a drink with your friends.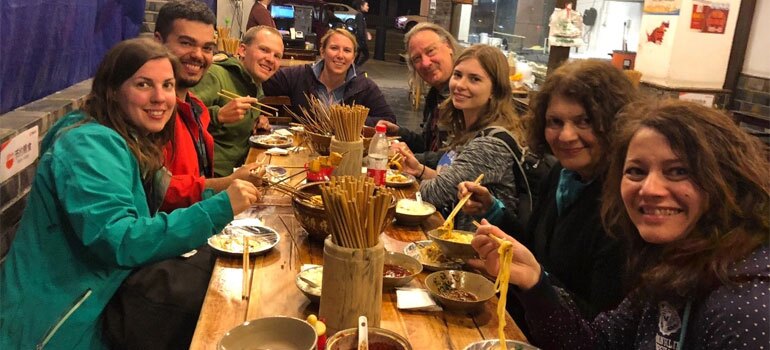 Chengdu Dan Dan Noodles
Sample Menu
1. Chengdu Pancakes, The egg-based batter is poured into a small pan and the filling option.
2. Chao Shou (Dumpling), Chao Shouw Dumplings here are often characterized by a delicate soft skin, like a wonton, and a healthy coat of special chili sauce.
3. Fried Spicy Pancakes, These pancakes are a spicy dough filled with spicy beef or pork & Sichuan peppercorn and are Chengdu's most popular snack.
4. Dandan Noodles, Dandan Noodles are spaghetti-sized noodles topped with ground pork and a spicy chili sauce.
5. Sweet Water Noodles, Sweet Water Noodles are thick chewy noodles mixed with a sweet and spicy peanut chili paste.
Know Before You Book
What's Included
Tuk-tuk transport throughout the tour.
Local experienced English-speaking foodie guide.
12+ types of local snacks and delicacies.
Bottled water
What's Excluded
Any other personal expenses during tour.
Gratuities (recommended)
Hotel pickup and drop-off service.
Beer & soft drinks
Additional Info
Child-friendly. Vegetarian food is available.
Cancellation Policy
We will charge a cancellation fee of 100% if booking is cancelled 24 hours or less before event.
+86-18807734970
For 48-hours last minute booking