One-Day Panda and Chengdu Lifestyle Highlights Tour
Approx. 8 hours
Daily
Group tour (Min 2, Max 10)
Description
Overview
On this day tour, you will visit cute pandas in Chengdu Giant Panda Breeding and Research Base, taste one of the most representative Chengdu Cuisines - Sichuan Hotpot, explore a backstage of Sichuan Opera in a grass-root style tea house and experience a unique local lifestyle as local Chengdu people do. 
Highlights
Visit white-and-black cute pandas in Panda Breeding and Research Center.
Experience the famous food most popular among Chengdu locals – Hotpot! (Optional)
Tea houses, earwax cleaning, playing mahjong… idle your time away in a local park like a native of Chengdu.
Visit the backstage of Sichuan Opera tea house to explore the authentic local leisure activities.
No shopping, no tricks… small-group of 10 participants make full use of your day with this well-designed itinerary.
Itinerary
Welcome Call Before Tour
You'll receive a welcome call from your guide through hotel, who will tell you the exact pickup time for the next day's trip.
7:00 am - 8:30 am, Hotel Pickup and Drive to Chengdu Panda Base.
Your guide will be waiting in your hotel lobby (or another appointed location) at the appointed time (usually between 7 am and 8 am) with a Trippest banner or your name sign. You'll join a group with no more than 10 members, a good size for a better tour experience.
Afterwards, heading to the first destination – Chengdu Panda Base. As you know, Chengdu is a paradise for pandas. Now at least 4 places are opened to the public for seeing pandas in the city and its environs. In order to save your precious time and visit with a best possible experience, Chengdu Giant Panda Breeding and Research Base was chose as the first choice. You may also have a chance to see cute newborn panda babies here.
9:00 am - 11:00 am, See Pandas.
To make sure you have a better experience, we have designed the best possible routes to avoid crowds and queues, and save your time, so you have more time to see pandas and take photos!
Pandas are more than good-looking and cute, they are special! Join us to find out a full story of how do they live and why do they live in Sichuan. You might not know, the giant panda has been downgraded from endangered to vulnerable species. Follow your tour guide to learn more about what we have done and how human being to protect these cute nature treasures.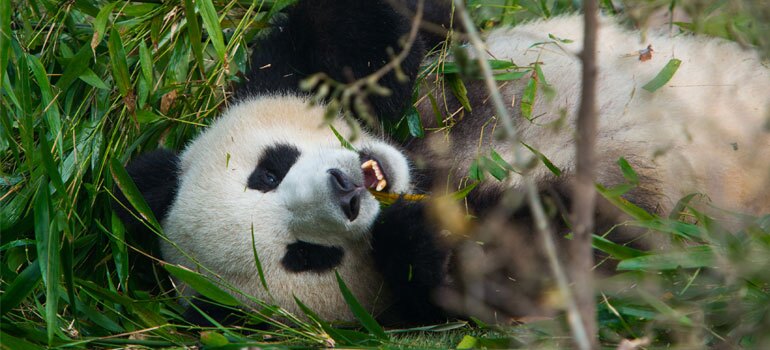 Cute Giant Panda
Good to Know:
The best time to visit pandas is in the morning, as they are more active in the morning and they usually rest in the afternoon.
Some panda houses are a little away from fencing. We suggest you bring a telephoto lens if possible, so you can capture panda details.
11:00 am - 1:30 pm, Return to Downtown Chengdu and Optional Lunch.
After returning to Chengdu, you'll be dropped off at a local restaurant to have a Chengdu hotpot lunch or taste local snacks like noodles, Mapo Tofu, Chengdu pancakes, etc.. (Lunch fee is not included in pricing.)
While in Chengdu you should not miss hotpot! It is not only a meal but also a local cultural phenomenon. Because of the hot and humid weather in summer and cold and wet weather in winter, Chengdu locals love to eat hotpot, especially spicy hotpot, as hotpot helps to remove the moisture in your body to keep you healthy.
There are approximately 3,000 restaurants offering hot pot in Chengdu. If you love spicy food, Chengdu is a food paradise. Your guide would love to help you with ordering food, and introduce Chengdu cuisines culture and show you the process of eating hot pot.
1:30 pm - 2:30 pm, Visit a Local Chengdu Opera Teahouse and Explore the Backstage.
In the grass-root style opera house, lots of old fans gather round here everyday, meet up friends and enjoy the show. You can be one of them, watching the performance and drinking tea. But the most interesting part of this place, you have a chance to go into their backstage to see how the actors and actresses make up and rehearse.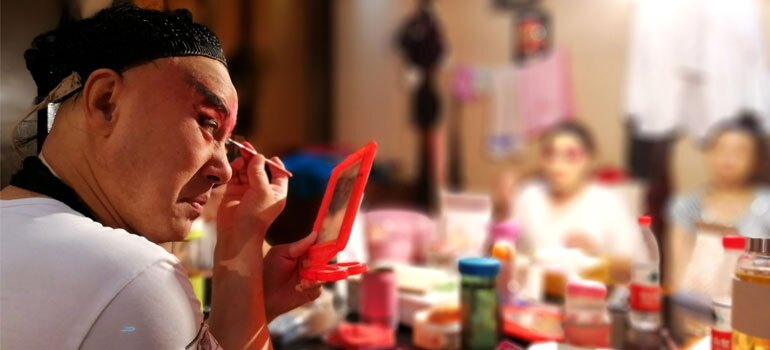 Szechuan Chengdu Opera House
Good to Know:
What do they sing? Just some stories from ancient times down to now. Performers tell audiences about these stories in exaggerated and theatrical ways. The tour guide will make a brief introduction to you when the show is on.
We usually call these venerable performers "Masters". They are respected. And they're happy to teach Sichuan Folk Opera if you have great interest. You can also pay RMB 128 per person to try on opera costumes and do a little opera makeup (This part is optional and the fee is on your own expense.).
You won't see the celebrated artistic performances like changing faces, rolling light, etc, because Chengdu locals don't watch these performances in every day life.
2:50 pm - 4:30 pm, Experience the Unique Local Leisurely Lifestyle in Chengdu People's Park
After lunch, we'll walk to Chengdu People's Park and you'll see how Chengdu locals spend their free time and observe their unique culture and leisurely lifestyle.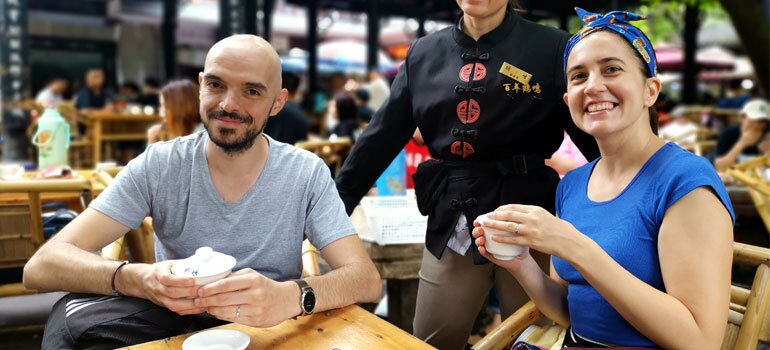 Teahouse in the Chengdu People's Park
You'll see people gathering in tea houses, drinking tea, and playing mahjong. You'll see earwax-cleaning services, old ladies singing and dancing, and parents putting advertisements in the marriage market for their adult children.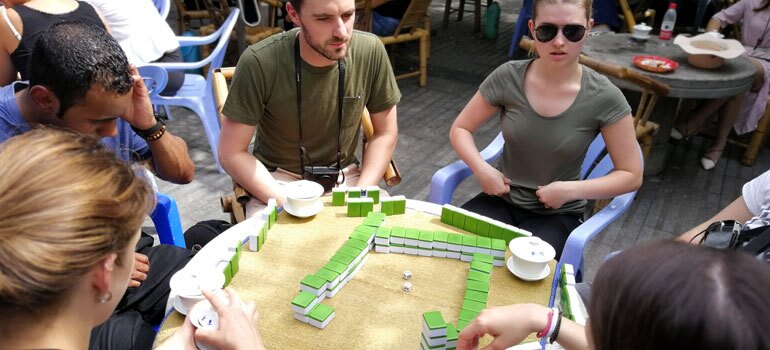 Learn how to play mahjong
Slow down, and put down your burdens. Let's have a cup of tea and enjoy life just as these Chengdu locals do!
4:30 pm - 5:30 pm, Transfer Back to Your Hotel.
After visiting Chengdu People's Park our trip comes to an end. You will be dropped off at your hotel (or other appointed place).
Know Before You Book
What's Included
Transport between attractions, including pickup and return to your hotel.
English-speaking local guide service.
Tea and snacks at Chengdu People's park.
Entry/Admission - Chengdu Panda Base.
Entry/Admission - Opera Tea House.
What's Excluded
Lunch fee (RMB 60-80 per capita, depending on appetite).
Tipping of guide & driver recommended on good service on a 2:1 ratio separately (usually RMB 50-100 per person).
Accommodation, travel insurance and any other personal expenses during tour.
Airport and train station transfer.
What Do I Need To Bring
A moderate amount of walking is involved. Comfortable walking shoes are recommended. 
Please be ready and waiting in your hotel lobby 10 minutes prior to your scheduled pickup time.
Additional Info
Minimum number of participants required for the tour to run is 2 (negotiable). Maximum number of participants per tour is 10.
Hotel pickup and drop-off services are available within the 3th Ring Road of Chengdu City. For further distances, you need to hire a taxi to the appointed hotel which your tour guide will tell you the day before the trip.
The tour guide will contact you through hotel or leave a message for you regarding the exact pickup time the night before tour. 
Lunch fee is not included in pricing. But we endeavour to cater for specific dietary requirements, some meals and food activities, please advise us of any dietary requirements at the time of booking so that we can ensure you'll enjoy this trip.
Cancellation Policy
We will charge a cancellation fee of 100% if booking is cancelled 48 hours or less before the event.
Ours operate rain or shine. In periods of extreme or unsafe weather, we will discuss with you for alternative arrangements or cancel the tour at our discretion and provide a refund.
+86-18807734970
For 48-hours last minute booking