Chengdu Hot Pot - the Dragon's Treat for Visiting Tourists in Chengdu
When you ask a local on what place to see in Chengdu, definitely, it will be one of the panda bases in Dujiangyan, Bifengxia, or Wolong. But when you ask them on what food to try, Chengdu Hot Pot is the local hit! Everybody in the city likes Chengdu Hot Pot or also known as Sichuan Hot Pot.
Hot Pot is a boiling dish set in the center of the table accompanied with raw meat and vegetables that you have to cook in it. Many believed that the origins of hot pot could be traced back from 1,000 years ago which was first eaten in Mongolia then eventually it spread throughout mainland China. The most famous hot pot is the Sichuan Hot Pot, a beef-based or pork-based broth loaded with spicy oils, chili peppers, and other Chinese spices.
This type of hot pot is the same version with Chongqing Hot Pot. In fact, this spicy hot pot originated from Chongqing city. The city was a region of Sichuan province until it was directly governed by the central government of China. Nevertheless, it is mostly known as Sichuan or Chengdu Hot Pot. So what is so special with this famed dish? You get to be the chef! You will be in charge of choosing and cooking your side dishes into the hot pot. It is also best shared with a group of people hence it is a sociable event. Not to mention, the challenge of eating the spiciest food in China or probably in the whole world.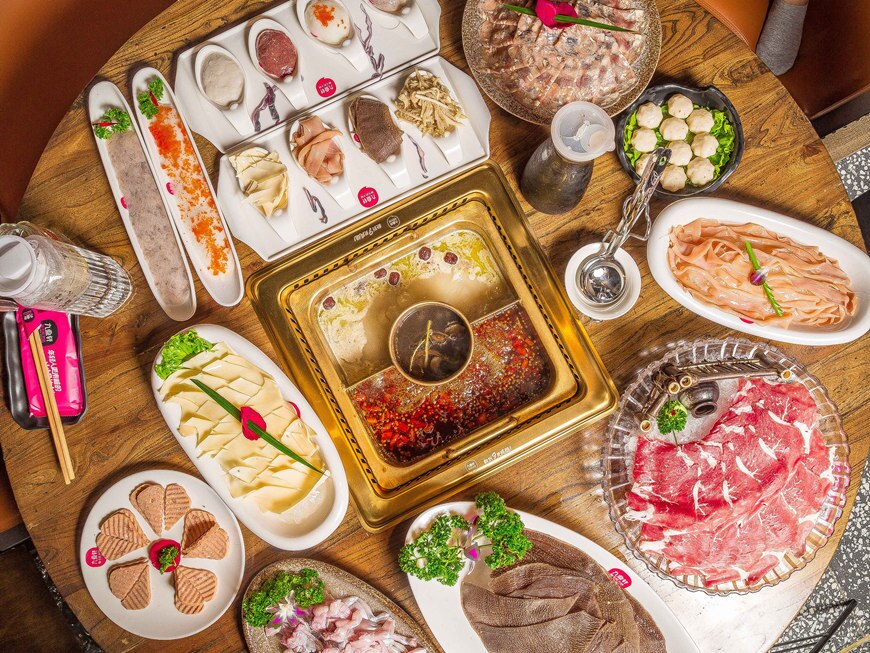 Chengdu Hot Pot
Types of Hot Pot in Chengdu
Chengdu Hot Pot is all about the broth. It will make or break the meal. There are different broths that you can choose from. There are spicy and non-spicy broth options. Take note that not all restaurants in Chengdu have non-spicy or clear broth choices.
Traditional Oily and Spicy Broth – a broth made from either pork or beef packed with plenty of Sichuan peppers, chilies, and red chili oil. You can choose your level of spiciness from minimal or weila, medium-spice or zhongla, to maximum level or chaola. This broth is not for the faint of heart and of course, stomach!
Yuanyangguo or half spicy and half clear broth – this is the recommended broth for first-time eaters. This broth comes in a divided pot of spicy and non-spicy in a yin-yang presentation. The non-spicy or clear broth is your backup plan just in case you can no longer take the chilies.
Tomato Hot Pot – a less spicy broth made from tomato soup. Only available in selected restaurants.
Mushroom Hot Pot – a non-spicy broth made from mushrooms that is a good alternative for those who want a milder hot pot experience.
Mongolian Hot Pot – a broth made from lamb stock and other Chinese herbs. This is also another option for those looking for a non-spicy substitute.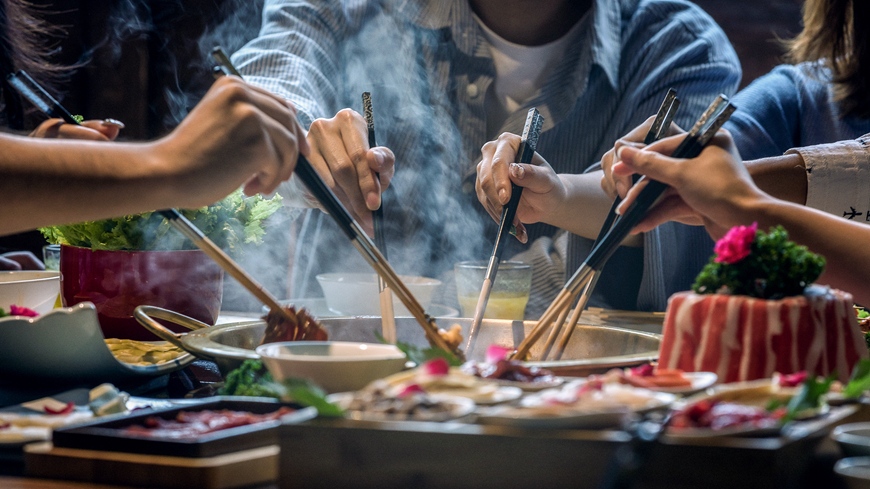 Eating Hot Pot
Side Dishes to Go with the Hot Pot
You think choosing the type of broth is the only challenge? Think not! Because the menu of side dishes is quite overwhelming, most restaurants offer a long list of meat, noodles, and vegetables. Everything is raw and fresh! Commonly, the rule of thumb is to order three side dishes per person. So dining with a group of friends is the ideal setting to ensure a wide selection of side dishes for the hot pot. If you are unsure, you can always ask the waiters for their in-house recommendations. On the other hand, here is a list of ten side dishes best cooked in the hot pot:
Dried vegetable stalks such as broccoli and cauliflower
Potatoes
Bamboo shoots
Lotus Root
Fatty beef
Shrimp dumpling
Meat balls
Tofu
Mushrooms
Needle mushrooms
If you are feeling adventurous, you can try top-rated organs and innards such as thousand layer cow stomach, duck intestines, or chicken gizzards.
Seasoning for Your Hot Pot
The seasoning or dipping sauce is as important as the broth. After cooking your side dish, this will be the garnish before eating. The best sauce is what they call youdie, a dip with sesame oil combined in oyster sauce, vinegar, garlic, spring onions, and coriander. Don't get too crazy in the mix and match of seasonings if you ordered a spicy broth. There is one called gandie which means dry plate consisting of dry seasonings like ground peanuts, Sichuan peppercorns, or chili powder. The dry plate is for those who want a balance of spicy and mild flavor.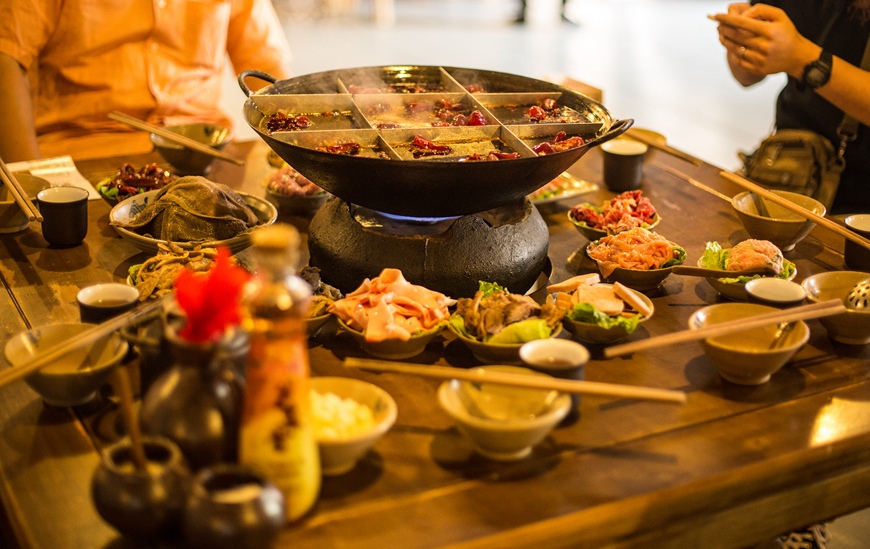 How to Enjoy the Chengdu Hot Pot?
Choose a local restaurant that served Chengdu Hot Pot. Recommended restaurants are listed below.
Select the broth and level of spiciness.
Order at least three (3) side dishes or more.
Decide what dipping sauce or seasonings you like.
Wait for the waiter to settle all your orders to your table. Most of the time, they will set the broth in the table stove first then your other side dish orders.
Let the broth boil first before dipping all meat and vegetables for cooking.
Ensure that meat and vegetables are well-cooked before eating. You can have it check with the waiters for your assurance.
Take your cooked food from the middle of the pot where bubbles set the oil aside. This technique is suggested by locals, so you can lessen oil intake while enjoying your hot pot experience.
Dip your food into your chosen seasonings.
Eat and enjoy your food.
Repeat steps 1-10 until you are satisfied.
Don't forget to order cold drinks to cool the heat! People usually order local beers or soda.
Another tip is to grab a yogurt or milk to quench that hot feeling inside your mouth.
Most people complained of the empty stomach after eating hot pot alone. You can order rice or bread to help you feel full. This can also help absorb oil from your side dishes.
Don't eat in a hurry. Hot Pot is best when consumed slowly over chit-chats and lively conversations.
The Best Hot-Pot Restaurants in Chengdu
Shujiuxiang Hot Pot
No.11-2 Nijiaqiao Road, Yulin District, Wuhou District
Value for Money: ★★★★
This restaurant in Yulin branch has a typical Sichuan indoor style with antique features. They are known to serve hot pot in nine grid-pan. The restaurant is always jam-packed with guests every day, so a reservation is helpful to avoid long lines. Take the bus with number 109, 139, 78, 809, or 92 and alight in Renmin Overpass West Stop. Shujiuxiang Hot Pot is a moderately-priced restaurant. A shared hot pot with a few side dishes might cost you 20-30 USD.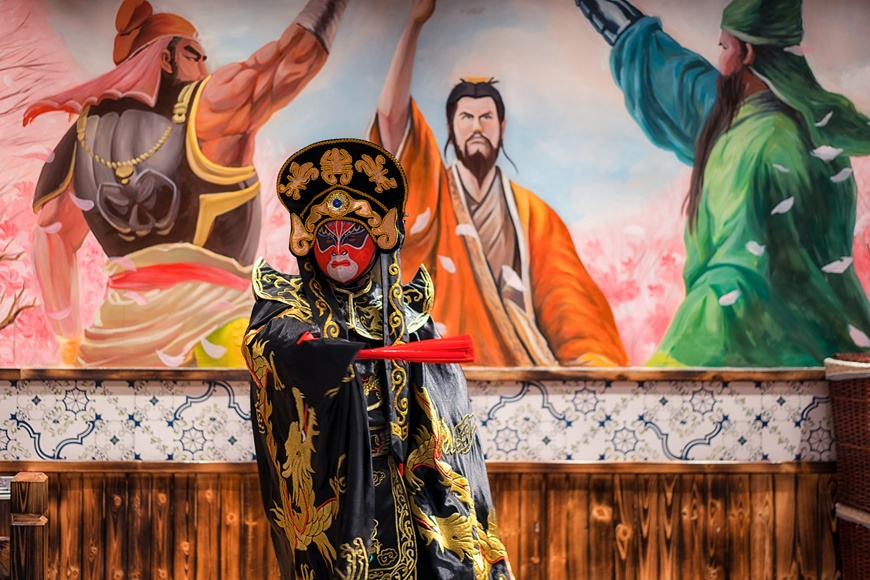 Sichuan opera in hot pot restaurant
Huangcheng Laoma Hot Pot
20 Qintai Rd., Wuhou District, Chengdu
Value for Money: ★★★★★ Located in the center of Wuhou District, Huangcheng
Laoma Hot Pot is a top-rated and high-class restaurant for Chengdu hot pot dining. The environment is clean and dainty. Guests love their live entertainment and face-changing Sichuan opera. Dining in this place will cost you more than 30 USD for a hot pot experience. Doubt not, TripAdvisor profiles rated this as the best restaurant to eat an authentic Chengdu Hot Pot.
San Zhi Er Hotpot
10 Nijiaqiao Rd, Wuhou District
Value for Money: ★★★★
This is another hot pot restaurant in Wuhou District that is famous for offering non-spicy broth options. The place is set in an old temple style that looks like you are dining in an ancient Chinese era. The best side dish for this restaurant is their signature fish head. It is a bit expensive compared to other restaurants so expect to pay around 60-70 USD.
Jincheng Impression Hotpot Restaurant
19 Wuhou Temple Street (Near Rainbow Bridge)
Value for Money: ★★★
This hot pot restaurant serves the traditional Sichuan Hot Pot but also offer a special mushroom broth alternative. Their best-seller side dishes include special beef tripe and goose intestine. Your total bill can range from 40-50 USD for a traditional hot pot.
Four Season Hotpot
No. 9-02 Tongzilin East Road
Value for Money: ★★★★
Aside from the usual hot pot dish, they are famous for their own Chrysanthemum soup which has lots of health benefits. This soup can be served with your chosen spicy broth. It is great for digesting oily foods. The restaurant also offers classic Chengdu pancakes for a sweet treat after consuming spicy hot pot. Food ranges from 40-50 USD good for two people.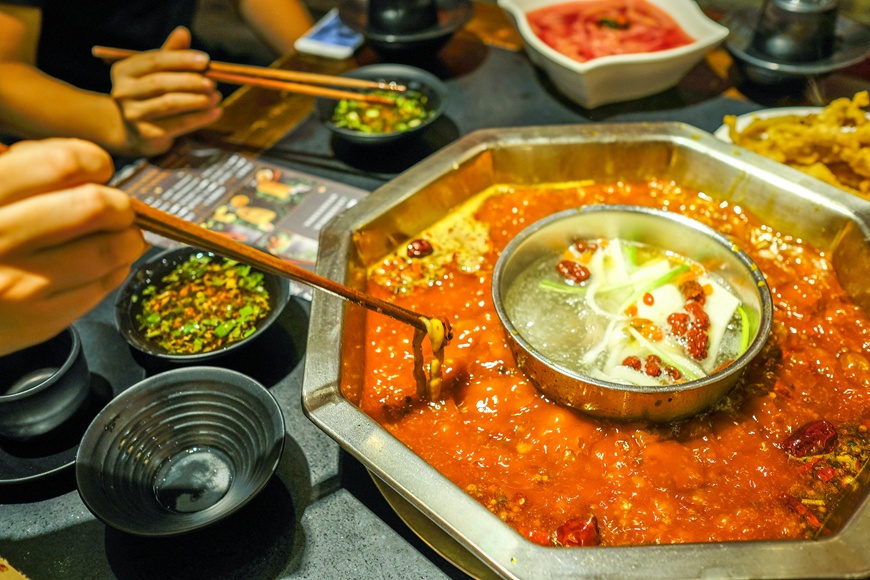 Not a Fan of Spicy Food? Here's What to Do:
Chinese restaurants know that foreigners especially Americans won't be able to survive chilies in their food, so they provide non-spicy broth options to suit their needs. You can order a Tomato hotpot, mushroom hotpot or Mongolian hotpot if you're someone who likes to avoid spices in their meal.
Simply order a dual flavor hot pot for yourself or the kids as it contains both fresh and spicy flavor. So, you can choose accordingly.
Just ask the restaurant's staff not to add spices to your food. Chinese people are accommodating that way.
Hot Pot Substitutes
Not a fan of cooking your own food? There are other two different kinds of hot pots suited for you!
1. Mini-Hotpot or Maocai
This is basically the same way of ordering the traditional hot pot, but instead of you cooking the food, the restaurant offers a list of ingredients that they will cook and fill in a bowl. You can choose any available ingredients in this hot pot variety whether spicy or not spicy. Maocai usually consists of a different assortment of vegetables and fungus. You can try Maocai in Fake Maocai restaurant located in No. 24 Xiaojiahe Middle Street near Yongle Hotel or in Little Begger Maocai in No. 89 Junping Street. Price is usually at 20-30 USD.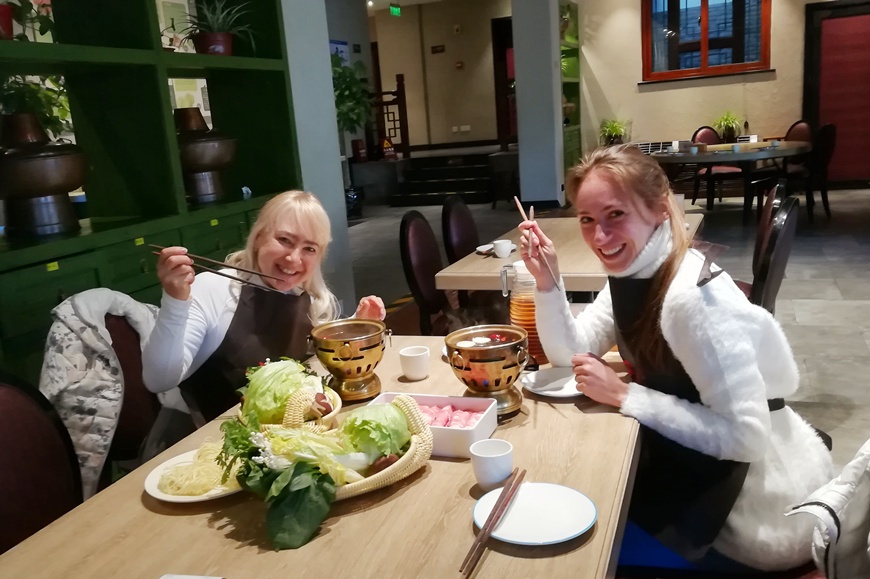 Mini-Hot Pot
2. Hotpot with Sticks or Chuanchuan
The raw meat and vegetables in this hot pot are placed in a stick then cooked by the restaurant in a large boiling pot. This is a hot pot dining without the hot pot meaning when the cooked food in the sticks is served; it doesn't come with soup. However, you can request for chilies and seasonings. This type of hot pot is made famous in Chongqing. Chuanchuan is commonly found in old sidewalks of Chengdu at a low price.
Related Tours