One-Day Leshan Giant Buddha and Tea Terrace Tour In Lost Town
Approx. 8 hours
Every day
Group tour (Min 2, Max 10)
Description
Overview
On this tour, you will gain a panoramic view of the Leshan Giant Buddha from a boat. Discover a 500-year-old town which still preserved traditional workshops and visit a 100-year-old courtyard house, enjoy tea and share stories with local people. Follow the tea farmer to learn about tea and have a try of picking tea experience. 
In 1996, the Leshan Giant Buddha was listed by UNESCO as a World Heritage Site, together with Mount E'mei. There are many more hidden Buddhist cultural treasures awaiting your discovery in this land of Buddha.
Itinerary
7:30 am - 10:00 am, Hotel Pickup and Drive to Leshan.
The driver will wait for you at the hotel lobby (or another specified meeting place) at the appointed time, holding the logo of Trippest and your name sign.
After all group members have been collected, you will be transferred to Leshan, approximately 2 hours' drive from Chengdu. Your group will have a maximum of 10 people. The tour guide will meet and greet at Leshan Port.
10:00 am - 11:30 am, Visit the Leshan Giant Buddha.
On arrival in Leshan, you will head to the Giant Buddha Park and be dropped off at the boat dock.
You will take a boat ride on the river to see the Buddha from a different perspective. The whole trip will last 15-20 minutes. The boat will take you right up to the Giant Buddha. Don't forget to take a selfie, smiling along with the Buddha.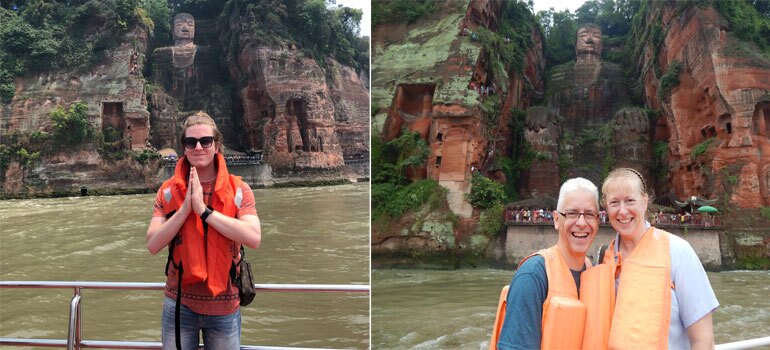 See the Giant Buddha from the boat
Standing 233 feet (71 meters) tall, the Leshan Giant Buddha is carved into a cliff face over-looking the confluence of the Dadu, Qingyi, and Min Rivers. The 1,200-year-old Giant Buddha holds the record as the largest Buddha sculpture in the world. His ears stretch for 7 meters, his shoulders span 28 meters, and each of his big toes is 8.5 meters long.
11:30 am - 2:00 pm, Wander a Laid-back Old Town and Tatse Street Food.
After visiting Buddha, there will be 40 mins drive to a laid-back old town. Take a walk around the town where traditional lifestyles still survived from the modernization. Along the way we visit traditional workshops such as blacksmith's shop, bamboo workshop, barber shop etc. Enjoy tea and chat and share stories with lovely local people in old tea house and later drop in one of the hundred-year-old courtyard house where it's owner are so proud of and love to share stories of the house.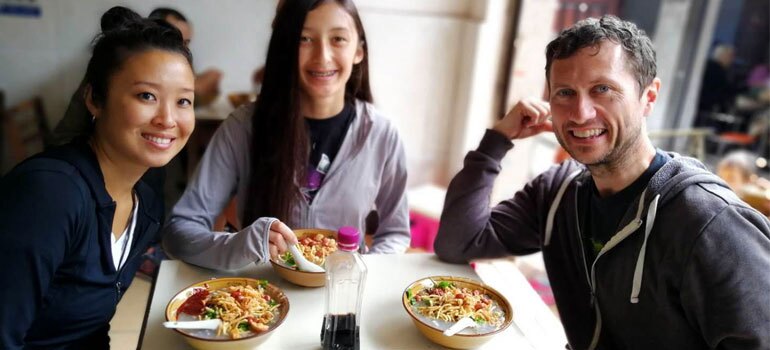 Mini Food Tour at Leshan Old Town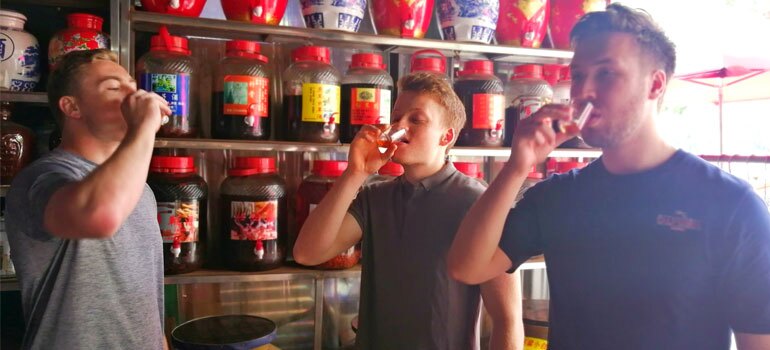 Sample Rice Wine at Street Vendor
2:00 pm - 4:20 pm, Tea Plantation Experience.
A short drive takes us up to the mountain. The tea farmer will take us to the tea field, where we will learn a lot about tea from how to pick-up the best tea sprouts or tea buds, to weather conditions and different regions for Tea. Have a try of picking tea from the tea trees!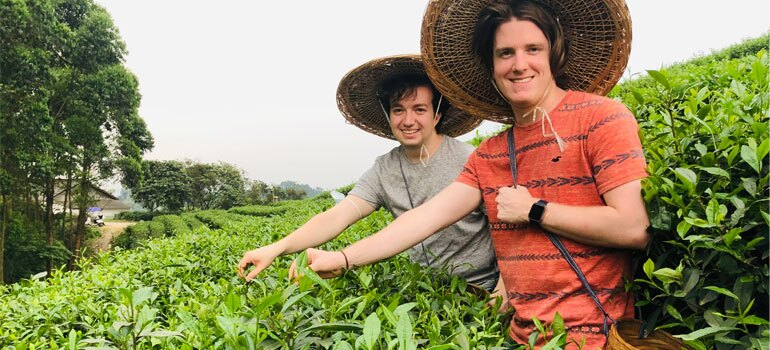 Picking Tea
Afterward visiting the tea business family to reveal the process of making all kinds of tea, let's sit down in front of the farm house and enjoy tea – more stories sharing and learning of tea, as in of wine there are Cabernet Sauvignon and Pinot Noir in tea as well!
4:30 pm - 6:30 pm, Transfer Back to Chengdu.
Going back to your hotel in Chengdu will normally take about 2 hours. We will transfer you there at the end of the tour.
If you need to catch a flight or a train after the tour, we will be more than happy to help you arrange it. We suggest you take flights departing after 10 pm or trains departing after 9:30 pm. 
Know Before You Book
What's Included
English-speaking professional guide service.
Transport between attractions, including pickup and return to your hotel.
Boat ticket for Leshan Giant Buddha.
A walking tour at an old town.
Family & Old house visit.
Tea plantation visit.
Lunch
What's Excluded
Climbing for the Leshan Giant Buddha.
Tipping of guide & driver recommended on good service on a 2:1 ratio separately (usually RMB 50-100 per person).
Accommodation, travel insurance and any other personal expenses during tour.
Airport and train station transfer.
What Do I Need To Bring
A moderate amount of walking is involved. Comfortable walking shoes are recommended.
Please be ready and waiting in your hotel lobby 5 minutes prior to your scheduled pick up time.
Additional Info
Minimum number of participants required for the tour to run is 2 (negotiable). Maximum number of participants per tour is 10.
Hotel pickup and drop-off services are available within the 3th Ring Road of Chengdu City. For further distances, you need to hire a taxi to the appointed hotel which your tour guide will tell you the day before the trip.
The tour guide will contact you through hotel or leave a message for you regarding the exact pickup time the night before tour.
While we endeavour to cater for specific dietary requirements, some meals and food activities are set in advance and may be difficult to adjust. Please advise us of any dietary requirements at the time of booking so that we can ensure you'll enjoy this trip.
Cancellation Policy
We will charge a cancellation fee of 100% if booking is cancelled 48 hours or less before event.
Ours operate rain or shine. In periods of extreme or unsafe weather, we will discuss with you for alternative arrangements or cancel the tour at our discretion and provide a refund.
+86-18807734970
For 48-hours last minute booking