Hongcun Village - The Well-preserved Anhui-style Architectural Complex
Hongcun (/hong-tswnn/) Ancient Village, close to Mt. Huangshan Scenic Area and about 70 km the northwest of Huangshan City, is a very photogenic village in Yixian County. It has landed a place in the World Heritage List for its long history, beautiful scenery and well-preserved buildings dating over 900 hundred years. Here the Anhui-style architecture of the Ming and Qing dynasty are well-preserved. Walking through the narrow streets, you can visit many historic residences with antique furniture and beautifully carved wooden doors and archways. This place is suited to history lovers, nature lovers and hikers.
Chinese: 宏村 Hong Cun /hong tswnn/
Age: about 900 years
Must-sees: Chengzhi Hall, Southern Lake (Nanhu) Academy, Moon Pond
Best time to visit: Spring and Autumn
Suggested time for visiting: half a day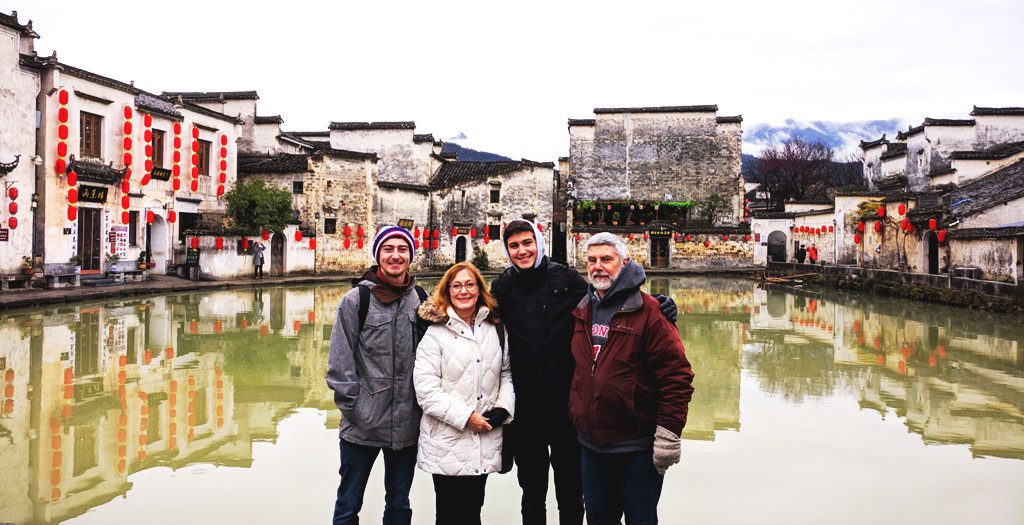 Guests in Huncun
Highlights in Hongcun Village
Anhui-style Architecture
Anhui-style architecture in the overall layout, the concept is exquisite, natural and decent. In the space structure and utilization, the shape is rich, pays attention to the rhythm beauty, with the horse headwall, the small green tile most characteristic. In the comprehensive application of architectural sculpture art, stone wood and brick carving, appears magnificent.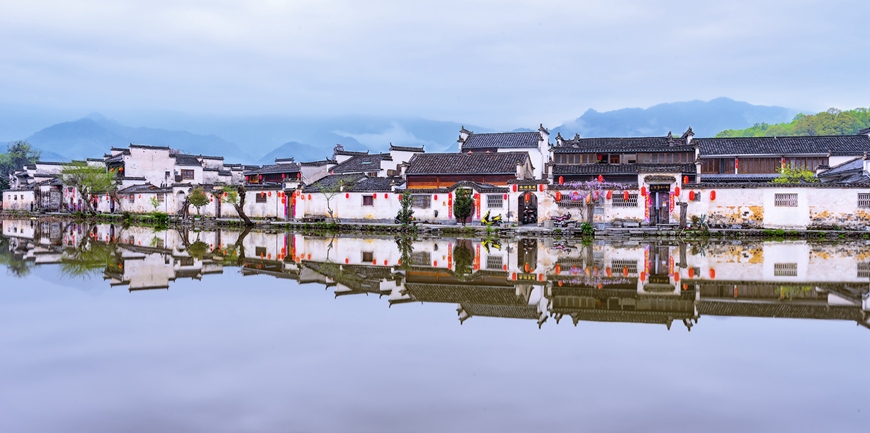 Anhui-style architecture
Chengzhi Hall (承志堂 Cheng Zhi Tang /chnng-jrr-tung/)
Chengzhi Hall is the residence of Wang Dinggui, a great salt merchant in the late Qing dynasty. The whole building with a wooden structure and the interior with brick, stone and wood carvings decorated magnificently, is complete preservation of the large residential buildings. The wood carvings are painted with gold powder to make them look so magnificent that even experts from the Palace Museum can't help but admire them, calling them Treasure of Wood Carving. 
Southern Lake Academy (南湖书院 Nan Hu Shu Yuan /nan-hoo-shoo-ywhen/)
Located on the north bank of Nanhu (South Lake), Nanhu Academy occupies an area of about 6,600 square meters. It is a local style building in southern Anhui province. The academy is composed of six parts, namely, Chidao Hall, Wenchang Pavilion, Huiwen Pavilion, Enlightenment Pavilion, Wanghu Building and Gion Garden. Chidao Hall is a place for teaching. Wenchang Pavilion is dedicated to Confucius memorial tablets, where students worship Confucius. Huiwen Pavilion is a place where students can read the Four Books and Five Classics. Enlightenment Pavilion is the place for enlightenment reading. Wanghu Building is for viewing and resting at leisure. And Gion is the inner garden.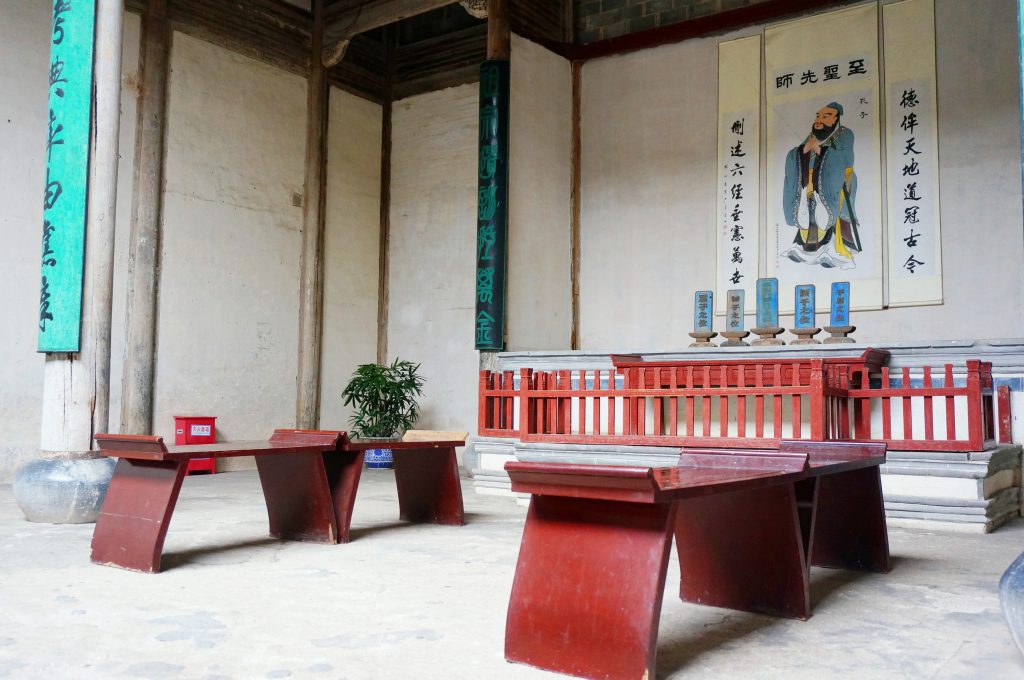 Wenchang Pavilion in Southern Lake Academy
Moon Pond (月沼 Yue Zhao /yhwere-jaow/)
Moon Pond, also called Yue Zhao, located in the center of Hongcun village, built in the Ming Dynasty. It's crescent-shaped so it has another name "the heart of the cow". Moon Pond was built about 200 years earlier than South Lake. When Moon Pond couldn't meet villagers' growing needs anymore, they dug out the South Lake, a giant arch with a two-layer bank around. The Moon Pond is green all year around, like a bright mirror. During the visit here, you will find senior people sitting leisurely to chat with each other, ladies doing some washing by the lake, and kids playing around.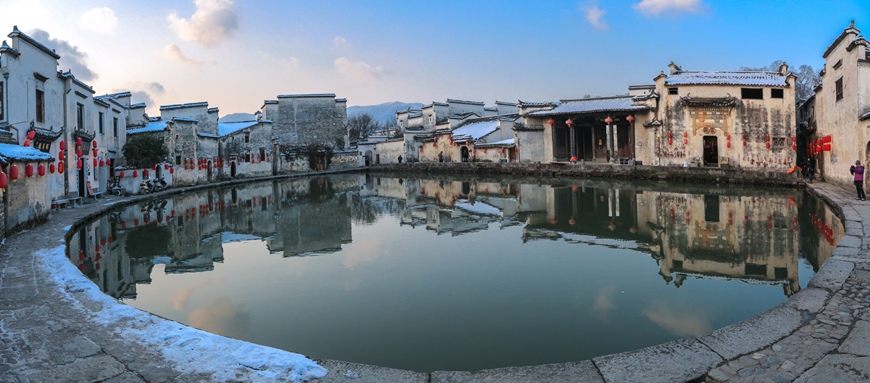 Moon Pond
Best Time to Visit
Hongcun, as a historical site, is suitable for visiting all year around. The main highlights are its ancient architectures, alleys, bridges, etc. But the seasonal changes can make your travel different. It is much recommended to visit Hongcun in Spring and Autumn.
March and April - surrounding mountains get vibrant, and there are sea of flowers blooming in the village. At the same time, it is not as crowded as in summer and autumn.
Late October to Early November – the super heat of domestic tourism starts to drop, but the autumn scenery around Hongcun and nearby Tachuan is amazing. Besides, the weather is fairly pleasant.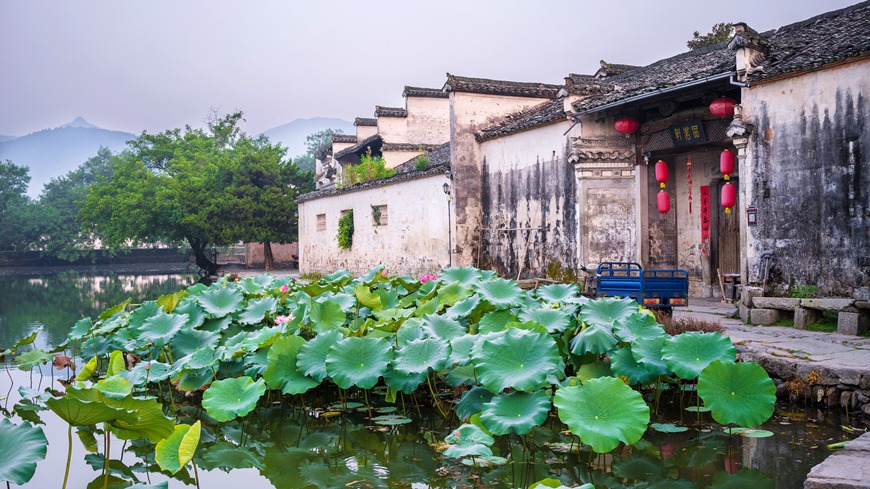 Huncun in Summer
How to Get Hongcun Village
From Downtown Huangshan
By tour bus: From Tunxi Bus Station in downtown Huangshan to Yi County (1.5 hours). And then take buses from Yi County Bus Station to Hongcun Village. They depart every 15 minutes and take 20 minutes there, cost 2 yuan.
By taxi: About 70 min.
From the Yellow Mountain
By taxi: About 1 hour.
By bus: Three buses are availabel running from the Yellow Mountain to Yi County, via Hongcun, at 7:20, 13:40, 15:40. The bus fare is CNY15.  
Nearby Attractions
The Yellow Mountain is the premier must-see in Huangshan. It has splendid scenery, featured with hiking, outdoors, adventures, natural scenery, photography, ancient culture, architecture and relaxing.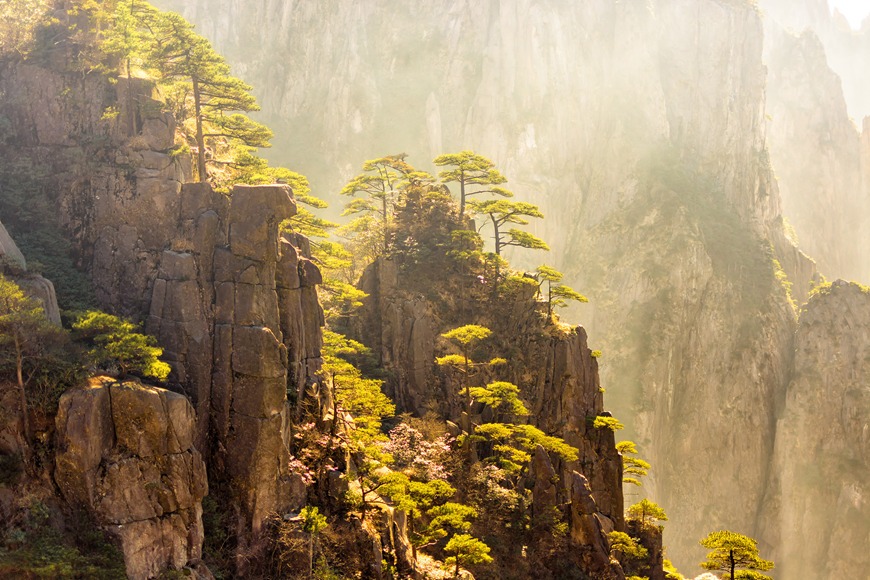 The Yellow Mountain
Tunxi is the main district in downtown Huangshan. The most famous attraction here is Tunxi Old Street, which is a well-preserved ancient and bustling pedestrian shopping street. It offers visitors the chance to take in the ancient architecture and maybe buy some local products from the shops that line the streets.
Xidi Village is a 5A scenic spot as well as a model of Anhui-style ancient residential architecture art. It has similar architecture with Hongcun Village with brick, stone, wood carvings decorated magnificently, but Hongcun is more commercial.
Related Tours