Mt. Huangshan – The Most Famous Tourist Attraction in Huangshan
Of all the notable mountains in China, Mount Huangshan, to be found in the south of Anhui province is probably the most famous. It was renamed Mt. Huangshan in 747AD in recognition of the legendary Huang Di, who was the reputed ancestor of the Chinese people and who made magic pills for immortality here.
Wu Yue (/woo-yhwere/) is the collective name given to the 5 top important mountains, namely Mt. Taishan (/teye-shan/泰山) in Shandong province, Mt. Hengshan (/hnng-shan/恒山) in Shanxi province, Mt. Huashan (/hwah-shan/华山) in Shaanxi province, Mt. Songshan (嵩山) in Henan province and Mt. Hengshan (/hnng-shan/衡山) in Hunan province. Here goes the proverb, you won't want to visit any other mountains after seeing Wu Yue, but you won't wish to see even Wu Yue after returning from Mt. Huangshan. This saying may give you some idea of the beauty and uniqueness of Mt. Huangshan. Mt. Huangshan scenic spot is featured with hiking, outdoors, adventures, natural scenery, photography, ancient culture, architecture, and relaxing.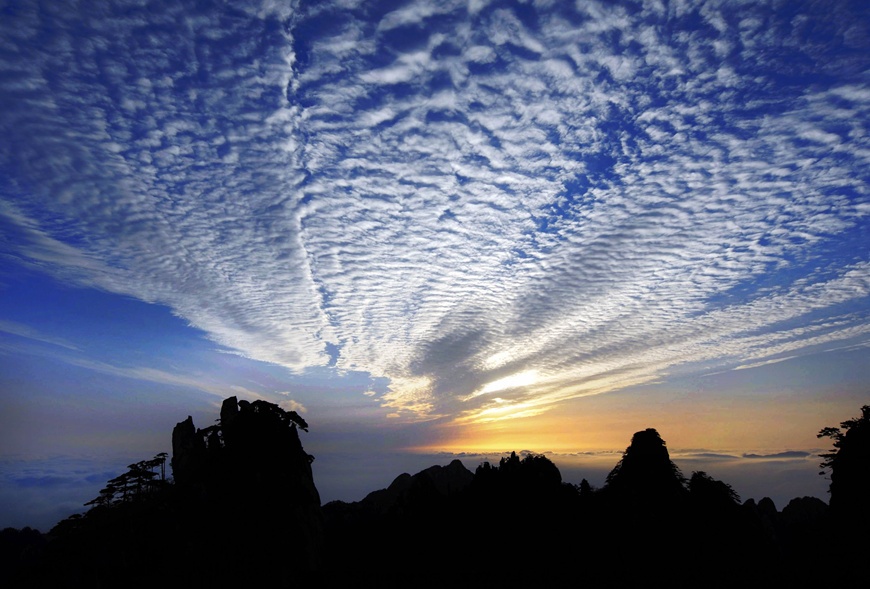 Sunrise in the Yellow Mountain
Chinese: 黄山 Huangshan /hwung-shan/
Location: Huangshan District, Huangshan City, Anhui Province
Opening Hours: 6:30 AM - 4:30 PM
Admission: CNY190 in peak season from Mar. to Nov.; CNY150 in shoulder season from Dec. to Feb.
Recommended length to visit: 2-3 days
Best time to visit: All the year round  
Hightlights - the Four Wonders
Unique Pines
There are hundreds of rare pine trees in Mt. Huangshan scenic spots, which are particularly hardy, seeming to twist directly out of the smooth rock. Many old pines were named according to their appearance or some legend about them. Greeting-Guest Pine is the most well-known pine in Mt. Huangshan, as well as in China. As one of the landmarks of Mt. Huangshan, it's like a man in a respectful greeting gesture by the path, stretching out for about 10 meters (33 feet) from the sheer cliffs. Lots of Chinese hang a poster of Greeting-Guest Pine in their living rooms or restaurants as decoration to welcome their guests. It also represents a tough and tensile, lofty, and unyielding character.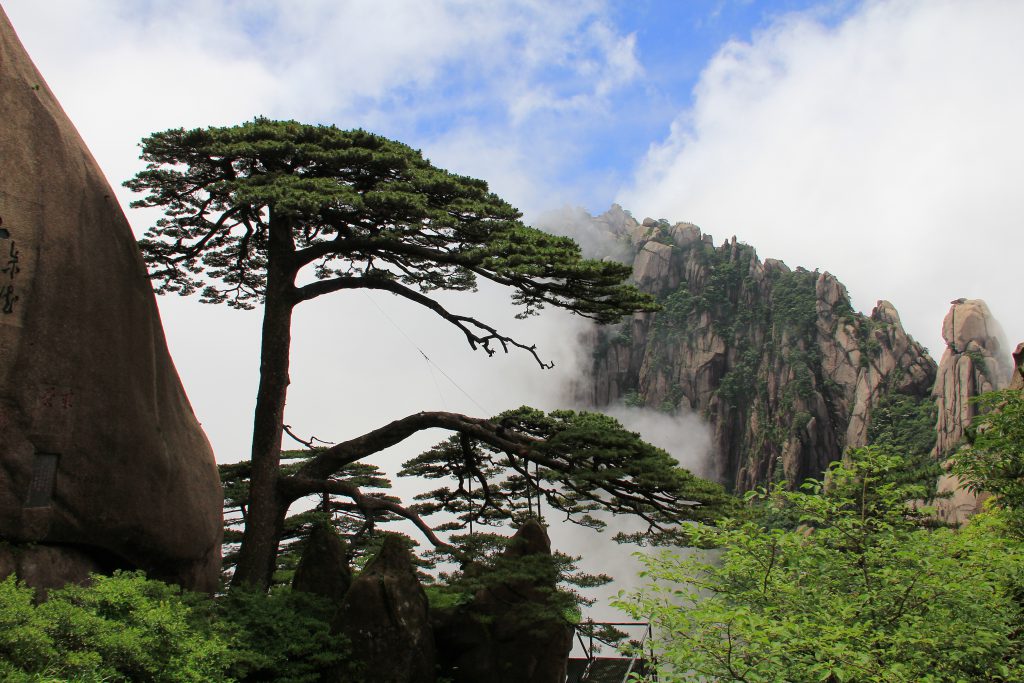 Greeting-Guest Pine
Odd-Shape Rocks
Odd-shaped stones can be seen almost on every peak of Huangshan Mountain. All these rocks get their names not only from the appearance but also from legend, such as Monkey Stone. Among such many odd rocks, Flying-Over Rock is one of the most famous in the Yellow Mountain. The 12-meter- (39-ft-) high rock tilts on a huge rock ledge. The contact area is very small which seems that the rock flew from the far heaven. That's the reason why it got the name "Flying-Over Rock".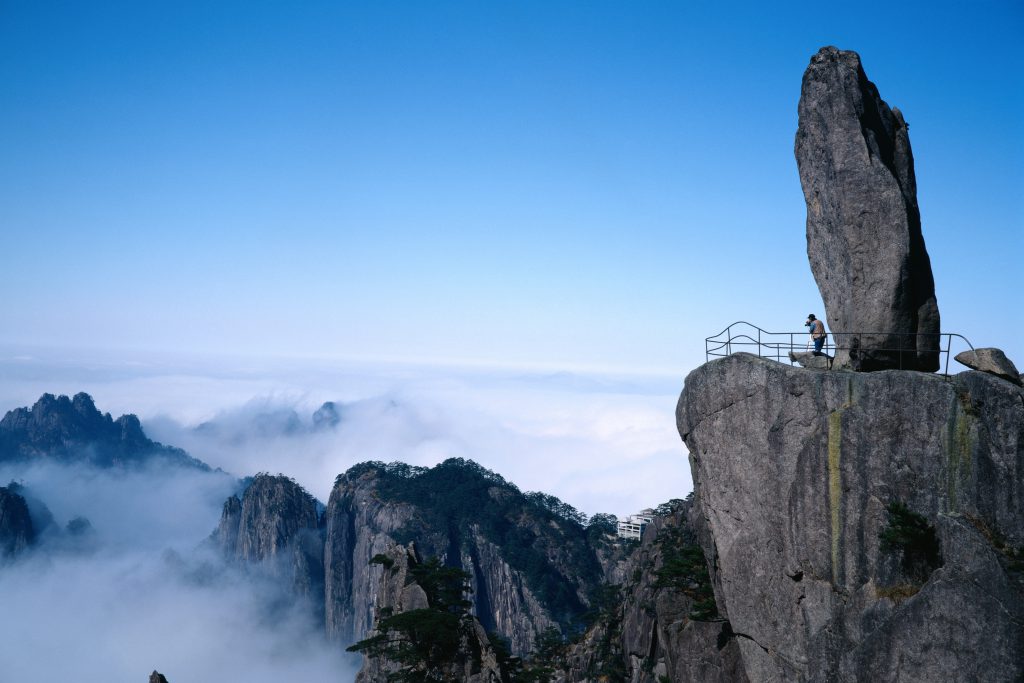 Flying-Over Rock
Seas of Clouds
Seas of Cloud contribute much to the marvelous ethereal atmosphere of the Yellow Mountain, making the peaks look like the islands seen from the sky. The whole mountain is enveloped in the misty clouds and it's as pretty as a huge ink-wash painting. You would be lucky to see this rarely seen scenery as it only occurs about 50 days a year. November to May is the best time to appreciate it, especially after rainy or snowy days, at sunrise or sunset. There are hundreds of peaks and thousands of ravines in the Yellow Mountain, but five seas of clouds are named: North Sea, South Sea, East Sea, West Sea, and the Heavenly Sea (in the middle). The three tallest peaks are Celestial Capital Peak with 1,800m, Lotus Peak with 1,873m, and Bright Top with 1,841m, which are also the best locations to see the stunning seas of clouds.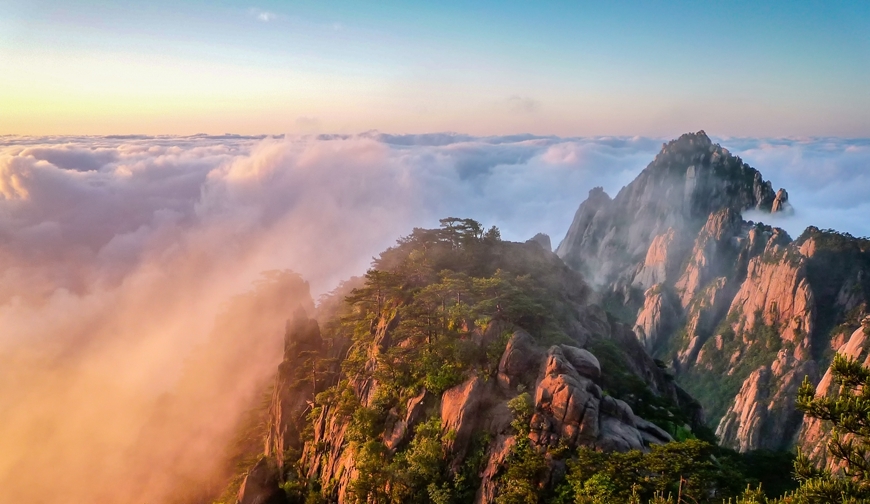 Seas of Clouds
Amazing Hot Springs
As one of the four wonders, the Hot Springs in Mt. Huangshan enjoys a nationwide reputation. It was discovered and tapped more than a thousand years ago. Gushing forth from the foot of Ziyun Peak, it has never run dry during the most severe droughts nor over flooded during excessive rain. The Hot Springs keep an average temperature of around 42℃ (105℉) averagely all year round. Taking a bath in hot spring while appreciating the wonderful natural landscapes will not only refresh your body and mind but also relax you from the fatigue of hiking. There is a tale that Huang Di (the Yellow Emperor), the earliest ancestor of the Chinese nation, used to refine his elixir in Yellow Mountain for he bathed in the hot spring and he rejuvenated and became young.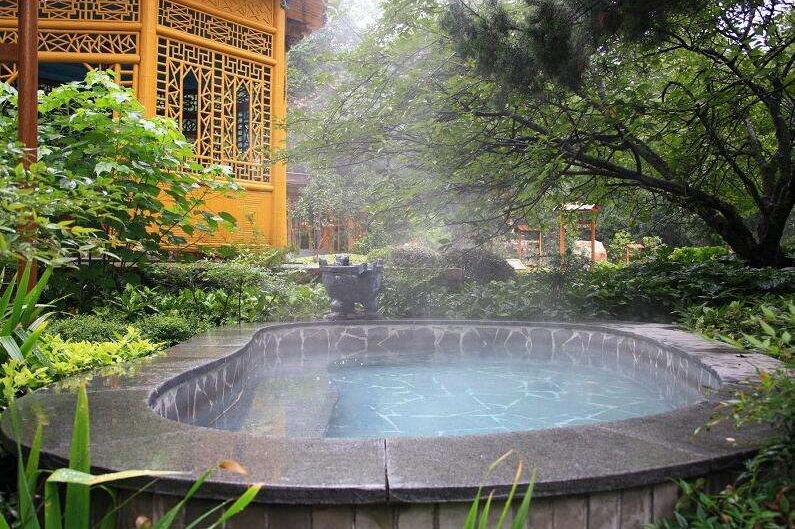 Hot Spring in Huangshan
Highlights - the Main Scenic Areas in Mt. Huangshan
Yellow Mountain can be divided into 6 main areas:
Beihai Scenic Area (North Sea Scenic Area),
Songgu Scenic Area (Pine Valley Scenic Area)
Yungu Scenic Area (Cloud Valley Scenic Area)
Yuping Scenic Area (Jade Screen Scenic Area)
Baiyun Scenic Area (White Cloud Scenic Area)
Hot Spring Scenic Area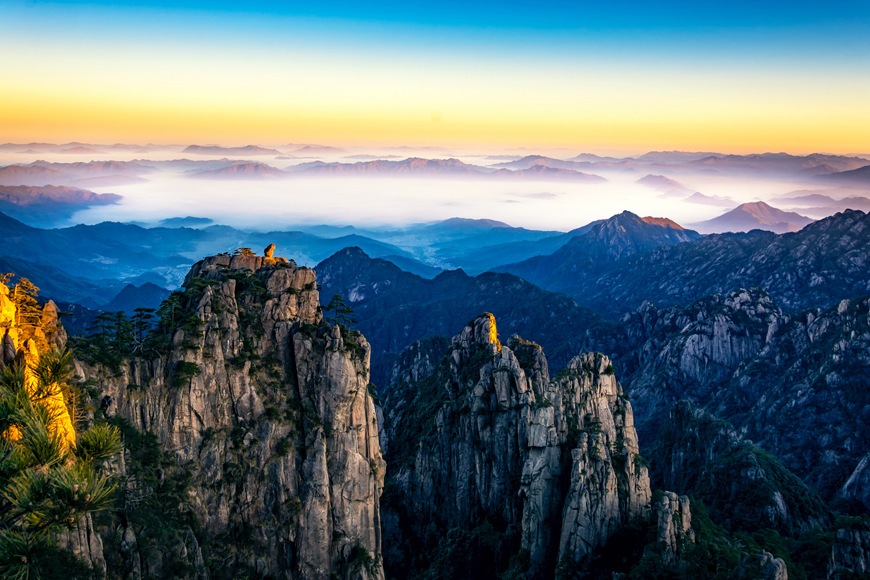 Stone Monkey Watching the Sea
Best Time to Visit Mt. Huangshan
We generally recommend to tour Mt. Huangshan scenic area from April to November within the peak season with the comfortable climate. But actually, each of the four seasons on Huangshan Mountain has its distinct beauty and respective natural landscapes. See more on: How to Plan a Trip to Yellow Mountain / Huangshan
Spring (March - May): Fresh greenery, blossoming wildflowers and bird singing

Summer (June - August):

Fresh greenery and blossoming wildflowers

Autumn (September - November):

Colorful trees, gray rocks, red maples and yellow chrysanthemums

Winter (December - February):

Snow-white mountains and frosted pines.
It won't disappoint you any time during the year to take a trip to the Huangshan Mountain. Remember to avoid Chinese public holidays such as the National Day from Oct 1 to Oct 7, for a less crowded sightseeing environment.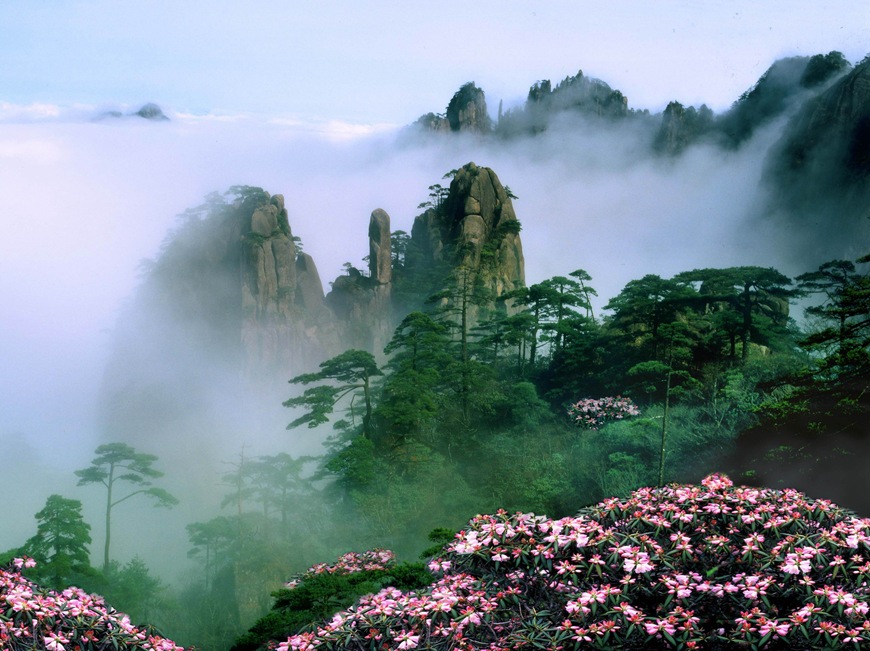 Spring in Huangshan
Transportation to Huangshan from Nearby Cities
You're suggested going to Huangshan City first by plane, train or bus. Then take a bus from the city to the Yellow Mountain which takes about 1 hour.
From Shanghai (400 km)
By Air – the fastest way: 1 hour; daily departure from and to Shanghai.
By Bullet Train – the popular way: 3 hours; There are totally 14 bullet trains available from 8 am to 7 pm, 2 trains departing from Shanghai Railway Station and 12 from Shanghai Hongqiao Railway Station.
By Long-Distance Bus (the economy way but not recommended): 6.5 hours; 2 direct buses departing at 08:37 am and 09:37 am from Shanghai South Bus Station, and 1 direct bus departing at 07:40 am from Shanghai (Main) Bus Station.
From Hangzhou (230 km)
By Bullet Train (Recommended): 1.5-2 hours; There are over 25 bullet trains available from Hangzhou East (Dong) Railway Station to Hangzhou North (Bei) Railway Station, running from 6:50 am to 9:30 pm.
By Bus: 4 hours; 1 direct bus from Hangzhou West (Xi) Bus Station at 09:50 am and 1 direct bus from Xiaoshan Bus Station at 07:20 am.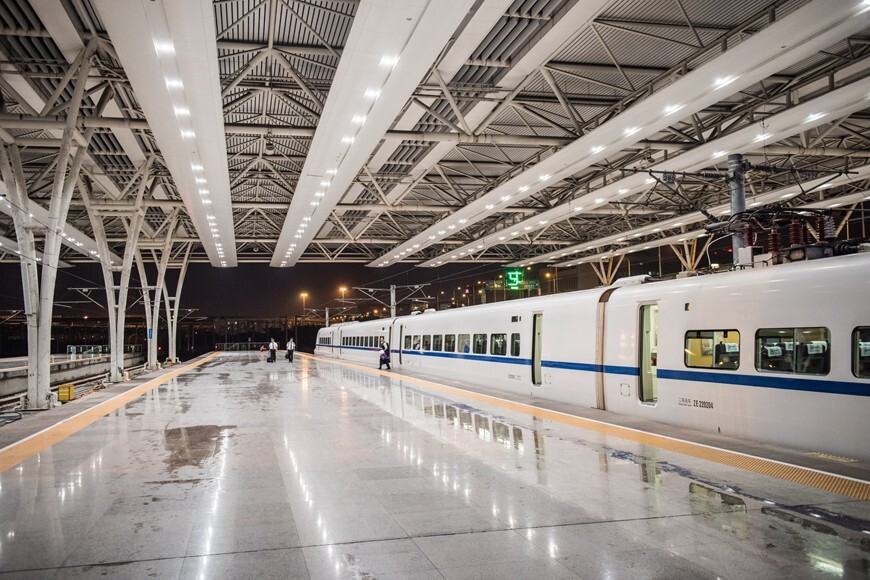 The Bullet Train
From Nanjing (350 km)
By Bullet Train (Recommended): 3-5 hours; There are 5 bullet trains available from Nanjing South (Nan) Railway Station to Huangshan North (Bei) Railway Station, running from 7 am to 4:20 pm.
By Bus: 5 hours; 2 direct buses to Huangshan City and 2 to Mt. Huangshan Scenic Area, running from 7:30 am to 3:40 pm.  
Nearby Attractions
Hongcun (/hong-tswnn/) Village
Hongcun Ancient Village, close to Mt. Huangshan Scenic Area and about 70 km the northwest of Huangshan City, is a very photogenic village in Yixian County. It has landed a place in the World Heritage List for its long history, beautiful scenery and well-preserved buildings dating over 900 hundred years. Walking through the narrow streets, you can visit many historic residences with antique furniture and beautifully carved wooden doors and archways. Famous attractions include Chengzhi Hall, Southern Lake (Nanhu) Academy, Moon Pond, etc.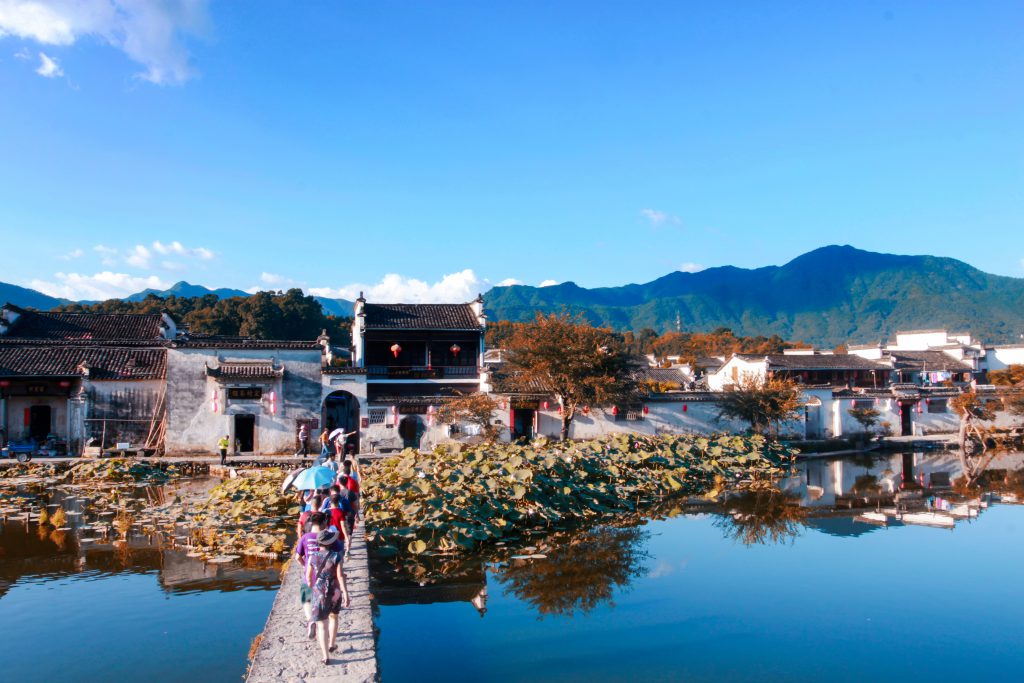 Huncun Village
Tunxi (/twnn-sshee/) Old Street
If you arrive in Huangshan too late to go to Mt. Huangshan Scenic Spot, there are some decent hotels to choose from. Located in the downtown Huangshan, Tunxi Old Street is a well-preserved ancient and bustling pedestrian shopping street. It offers visitors the chance to take in the ancient architecture and maybe buy some tea or other local products from the shops that line the streets.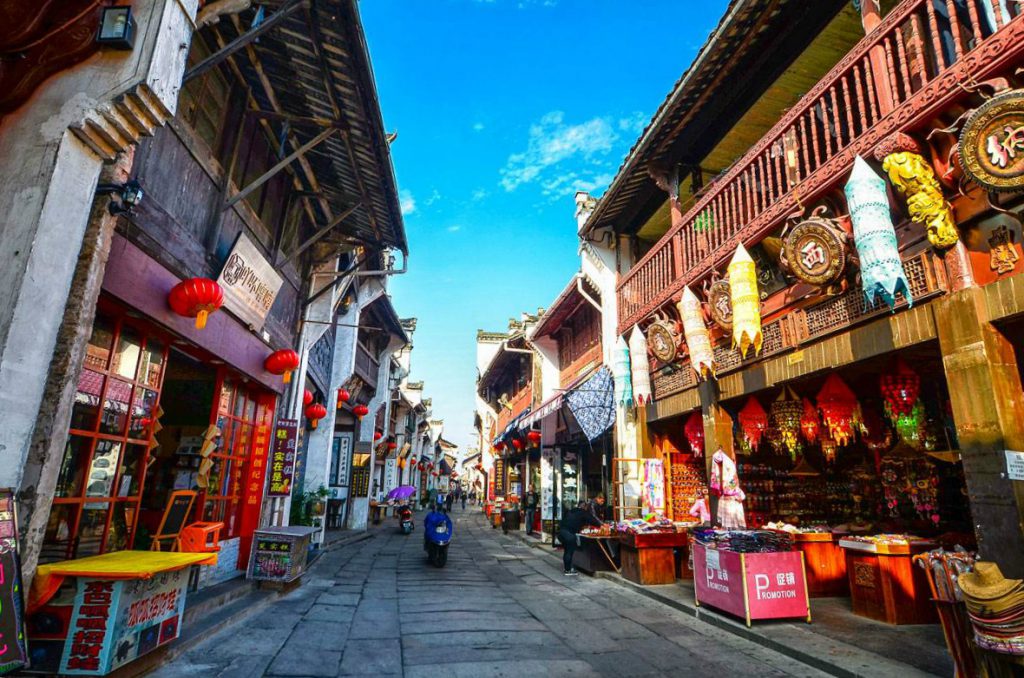 Tunxi Old Street
Related Tours