The Longji Rice Terraces - Breathtaking Scenery and Travel Tips
Numerous layers of rice terraces in Longji look like they could be the stairs of mythical giants. Located to the northwest of Guilin, the Longji Rice Terraces welcome visitors with the most breathtaking scenery, beautiful paddy fields, and authentic cultures from different minorities. You will understand why it's so popular when you have feasted your eyes on this sight in Longsheng.
Quick Overview of the Longji Rice Terraces
Location: Longsheng County, Guilin, Guangxi Province; about 95 kilometers from Guilin's city center
Meaning of Longji: the rice terraces resemble a dragon's scales
Highlights: spectacular terraced fields, minority cultures, and natural outdoor hiking
History: Construction began in the Yuan Dynasty (1271–1368) and wasn't completed until the early Qing Dynasty (1644–1912).
Coverage: 66 square kilometers
Visiting duration: 1 to 2 days
Activities: Take photos, go hiking, and explore the local cultures.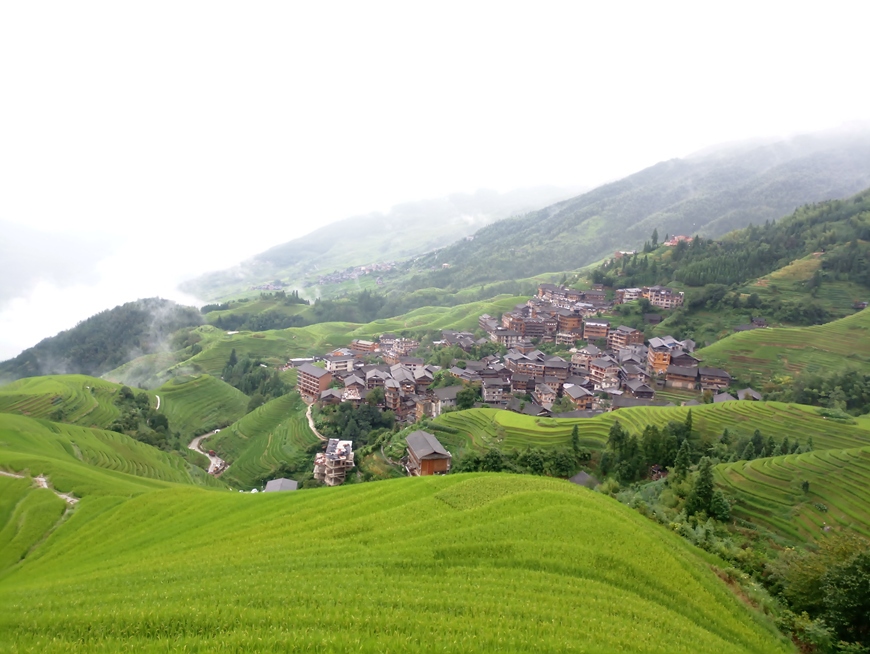 Longji in Spring
The Two Main Popular Areas at the Longji Rice Terraces
The Longji Rice Terraces include two scenic spots: the terraces around Ping'an Village where the Zhuang minority live and the terraces around Jinkeng Village where the Red Yao minority live. The two areas both display fine carvings of the terraces in the fields but they also have two different scenes to admire.
The Ping'an Terraced Fields
Minority: the Zhuang people
Features: famous, well-developed, and good facilities
Highlights: Seven Stars Accompany the Moon; Nine Dragons and Five Tigers
As the earliest developed terraced fields in Longsheng, the Ping'an Terraced Fields are popular and more convenient for travelers. You can dine out or stay for the night in one of the local wooden houses. The most famous and unique views of the Ping'an Terraced Fields are Seven Stars Accompany the Moon and Nine Dragons and Five Tigers.
Seven Stars Accompany the Moon: This consists of seven small hills, each of which stands in the middle of one of seven fields. From a distance, it looks like seven stars twinkling and guarding a moon-shaped field. It's an ideal location for travelers to take photos.
Nine Dragons and Five Tigers: The "nine dragons" in the title refer to nine small mountain ridges while the "five tigers" term refers to five small rocks around them.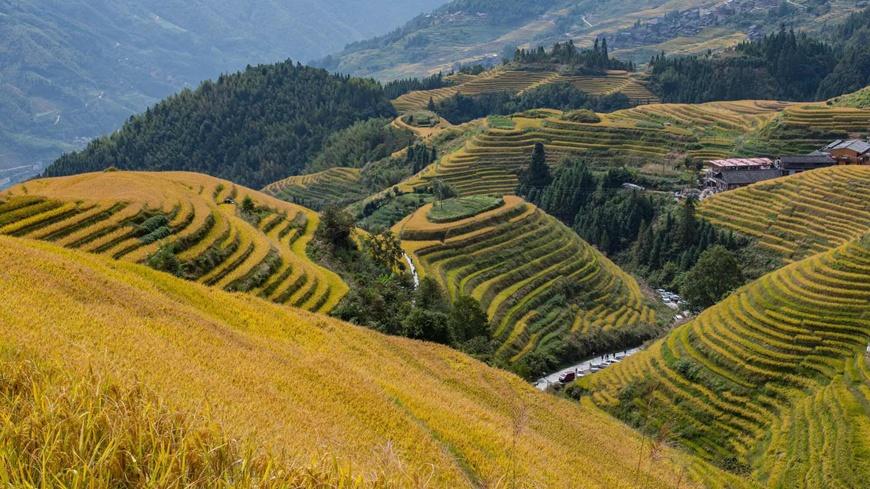 Ping'an Terraced Fields
The Jinkeng Terraced Fields
Minority: the Red Yao people
Features: less crowded, more authentic, more spectacular, and more rustic
Visiting duration: 4 to 5 hours
Highlights: West Hill Music, the 'Large-Scale Thousand-Layer Terraces', and 'Golden Buddha Peak'
The Jinkeng Terraced Fields are further away from the tourist entrance than the Ping'an Terraced Fields. The area is different from the Ping'an site in that it is more authentic, less crowded, and more natural. Without being over-commercialized, you can experience the most original natural landscape, interesting hiking routes, and the local culture. Here are three popular sites you mustn't miss in the Jinkeng Terraced Fields:
West Hill Music: the highest point on the terraces
Activities: take photos, enjoy panoramic views, and see a sunrise or sunset
The Large-Scale Thousand-Layer Terraces: the paths are good to hike along
Activities: explore the Yao people's houses and see a sunrise
Golden Buddha Peak: have a cable car trip
Activities: enjoy the views at sunset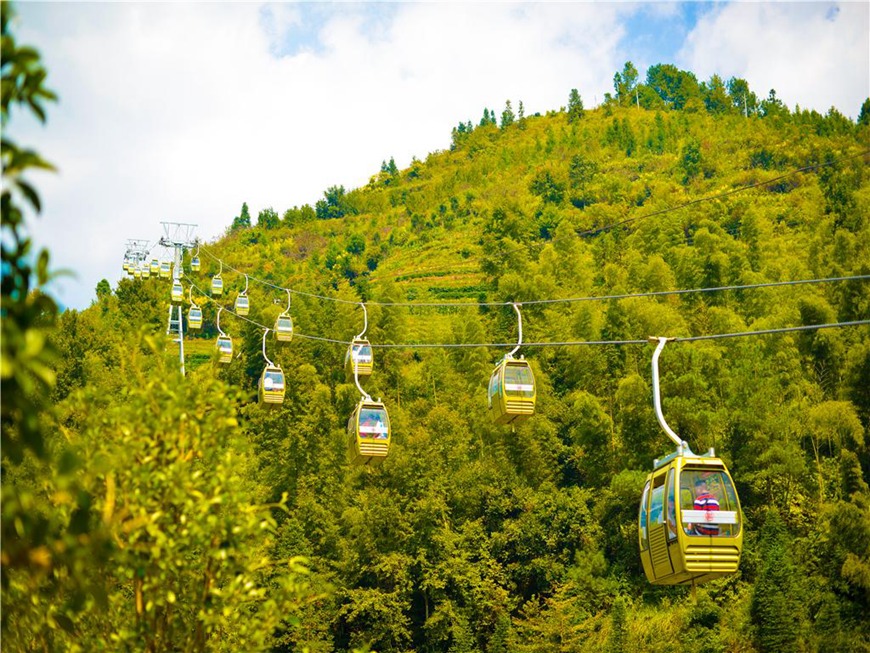 Cable cars in Jinkeng Tettaced Fields
Travel Tips
Entrance ticket price: 100 yuan
Opening hours: all day
The best place to see: Seven Stars Accompany the Moon
Accommodation: book in advance and make inquiries about the transportation needed to get there
Best Times to Visit
Each of the seasons offers a different stunning view from the tops of the terraces — just choose your favorite one.
From the middle of April to late June: The fields are filled with water and the rice terraces resemble a shining dragon. This ancient agricultural engineering wonder is regarded as being at its most spectacular at this time of year.
From July to September: green and full of life, you can see layers of green rice shoots in the summer
From late September to early November: Being golden and ripe, it's fantastic scenery to behold in the autumn. You can see the paddy fields, which have become golden in color as the harvest is ripe.
From late December to early February: covered with white snow or frost in the winter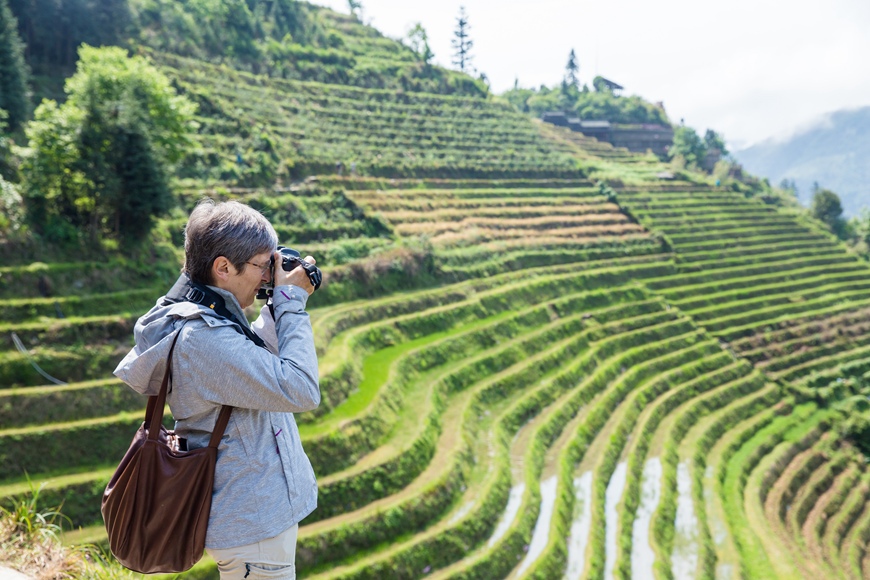 Hiking Tips
Keep in mind that if you encounter different types of road in front of you, choose to hike along the paved road. You can ask a local farmer for help if you get lost.
Rent a sedan chair before you start hiking if you don't want to walk but still want to get to the top of the mountain.
Check the weather forecast before your trip. Fine weather provides excellent views and an enjoyable hiking experience.
Wear sturdy yet breathable shoes and lightweight clothing on sunny days.
Prepare food and drinks in advance if you want to go hiking for a long period of time.
Pay attention to where you are hiking because there is a steep hike to get to your destination and you will meet many people taking selfies and other photos along the route.
How to Get There from Guilin
The Longji Rice Terraces are located 100 kilometers from Guilin's city center. It takes about 2½ hours to drive there. Below, we have detailed three ways to help you get there easier.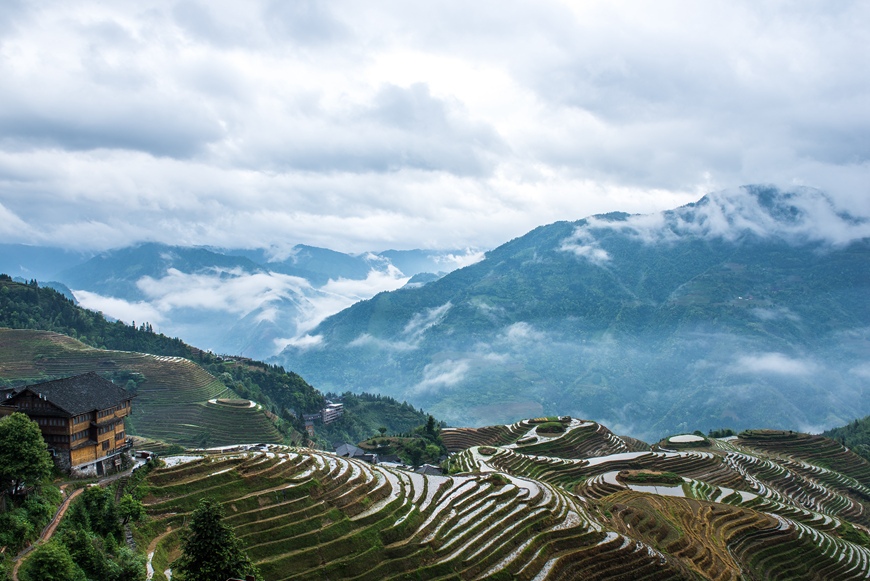 Longji Rice Terraces
1. Take a Bus from Qintan Bus Station
Take a bus at Qintan Bus Station that's headed to Longsheng Town. It costs 22–28 yuan.
After arriving in Longsheng, transfer to a local bus to reach the Longji Rice Terraces. This takes an hour and costs 9 yuan.
Be sure to decide on your destination before you get on a bus because the different buses drive to different villages, such as Longji Ancient Zhuang Village (龙脊古壮寨) or Huangluo Yao Village (黄洛红瑶寨).
2. Rent a Private Shuttle Bus
Compared with taking a bus, renting a private shuttle bus is more convenient but is also more expensive. It costs about 350 yuan to get from Guilin to the Longji Rice Terraces. You can ask one of the staff at your hotel to help you book it. If you are not traveling alone, this way is more suitable for you.
3. Join Our Mini Group Tour
Related Articles
Related Tours