A Village with the World's Longest-Haired Women Who Never Use Shampoo
In order to keep your hair soft, strong, and shiny, you have probably purchased plenty of chemical products. But these don't always work as well as you'd expect them to. There is a special village in China called Huangluo, where the women who live there are proud of their long black and healthy hair that they keep that way without using any shampoos. How do they do it? Read on to learn more about this magical village.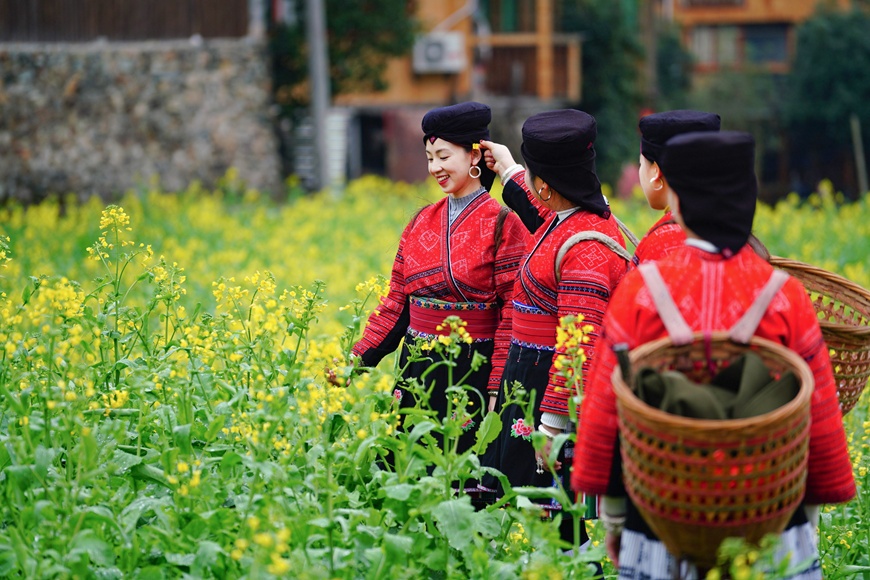 Girls in the village
Interesting Facts about Huangluo Yao Village
Most women in this village have hair that's more than 4 meters long.
Huangluo Yao Village was been listed as "the village with the world's longest hair" in Guinness World Records.
In May 2004, Xie Qiuping – whose hair reached 18 feet 5.54 inches (5.627 meters) long – was recorded as having the world's longest hair.
There are around 60 women in this village with long hair. There are 600 residents including 78 families in Huangluo Yao Village in total.
The long-haired women of Huangluo are also characterized by their red embroidered dresses.
Hair Is Regarded as a Transition to the Second Stage of Life for Yao Women
The history of the Yao tribe can be dated back to about 2,000 years ago. Guangxi Zhuang Autonomous Region's Huangluo Village was their original hometown. Today, about 600 members still live there and 60 of the women have beautiful long black hair.
They Only Cut Their Hair Once in Their Lives
For all Yao women, their long hair is regarded as their most prized possession. They believe that long hair symbolizes prosperity, longevity, wealth, and good luck. Therefore, they expect to grow their hair as long as possible.  It's like a fairy tale that these women only cut their hair once in their lives. From birth to death, eighteen is a historic age in Chinese people's lives. At 18 years old, women have already grown-up and they can get married. In order to celebrate this significant moment in their lives, they cut off their hair to symbolize starting a new life. The cut hair is kept by the women's grandmothers. It will be returned to them again when they get married. On that day, the bride will combine the hair that was cut off with her normal hair.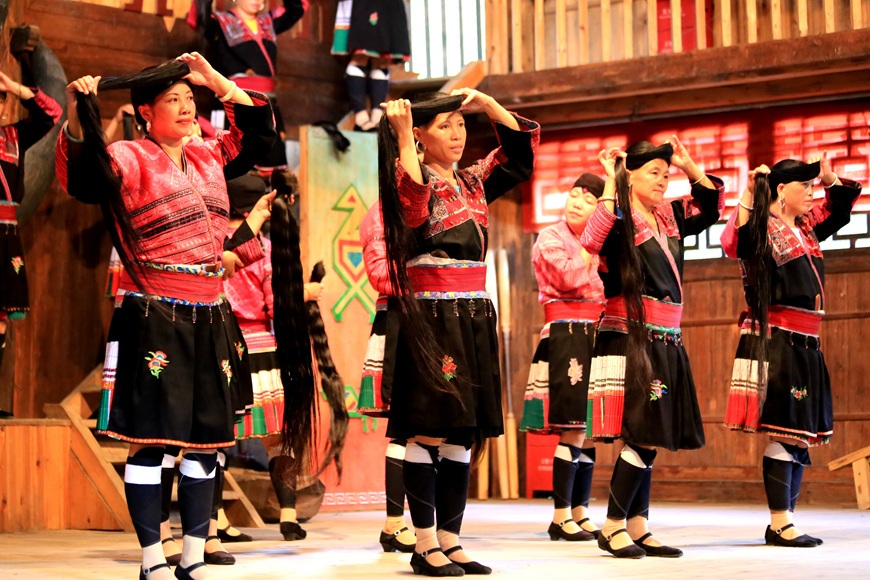 The show for long-haired women
What's the Secret to Growing the Shiny Long Hair?
The locals have a special secret to keeping their hair healthy and long. This secret is given to their daughters generation by generation. In ancient times, shampoos didn't exist at all. Local women used to wash their hair in rivers or fountain water. This custom has remained until now. Maybe by coincidence, they found that using rice water and tea seeds to wash their hair helped to keep it shiny and smooth. In fact, records show that this fermented rice water is rich in vitamin B, which can promote hair growth. Moreover, they eat vegetables or fruit daily that they have grown in their fields. This diet is completely natural and healthy, and it's likely that this good daily lifestyle is another reason why they have beautiful hair.
You Can Make the Natural Shampoo at Home
Do you want to imitate their special way of keeping their hair healthy? Here are some tips to teach you how to make and use the mixture step by step:
Rinse a cup of rice.
Put it into a bowl and then soak it for 15 minutes in water.
Drain the water into a bowl.
Leave the water at room temperature for a day until it becomes slightly acidic and begins to ferment.
Pour it into a pan, boil it, and then let it become cool.
Add some essential oils.
Wash your hair with this water and don't use shampoo.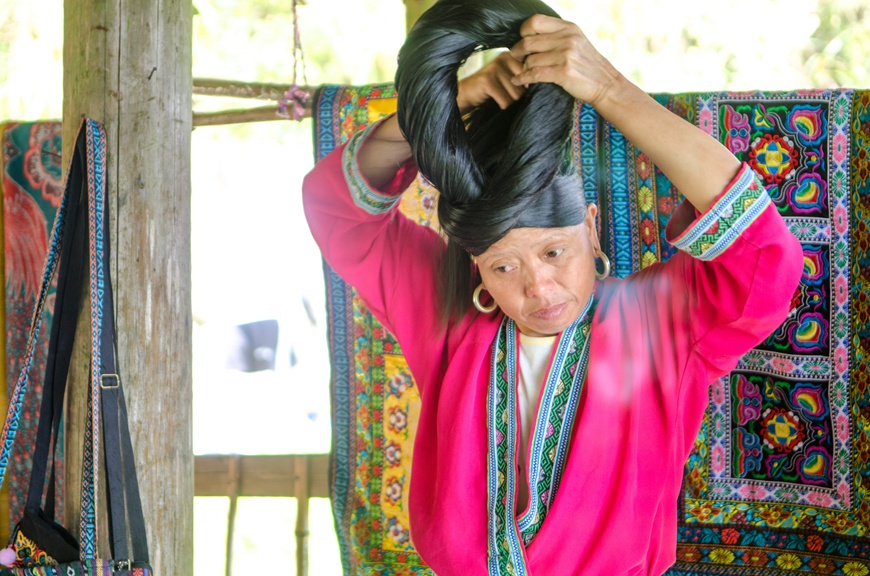 Braid her long hair
Travel Tips for Visiting Huangluo Village in Guilin
Location: Huangluo Yao Village, Multinational Autonomous County of Longsheng, Guilin, Guangxi Zhuang Autonomous Region
Nearby attraction: it is part of the Longji Rice Terraces
Opening times: all day
Best season: fall (October and November)
Recommended duration: one day
Facilities: a cable car, washrooms, small stores, restaurants, and hotels
Accommodation: There are many hotels or inns at the foot of the mountain.
Related activities: admire the long-haired women and how they comb their hair; admire a sunset or sunrise; taste some local dishes
Prepare: bottled water and food to hike the mountain with; wear comfortable clothes and shoes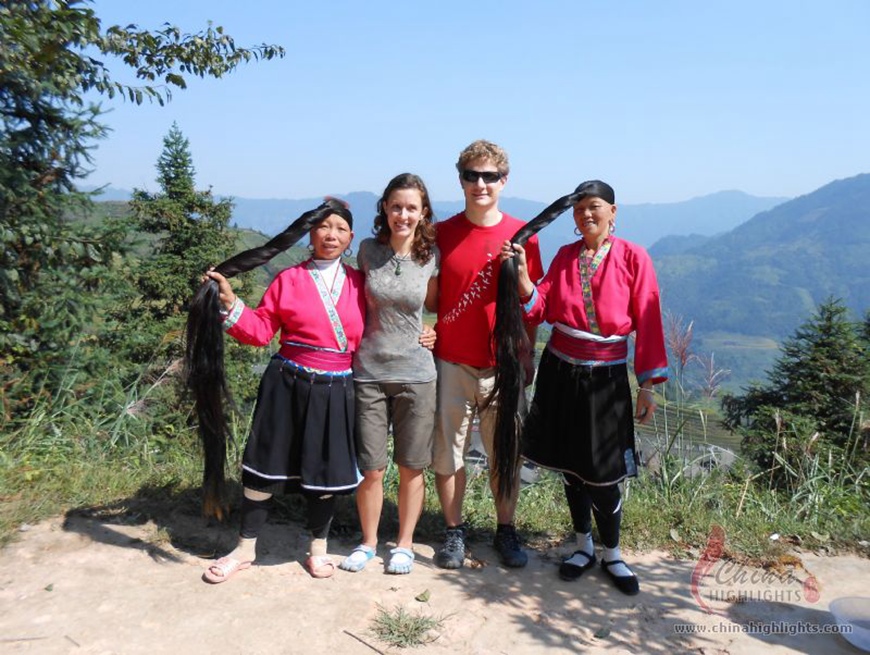 Our guests with Yao women
How to Get There
By bus: It's about 100 kilometers from Guilin's city center. You can take a bus to Jinkeng Rice Terraces from Guilin Railway Station.
Don't forget to tell the driver you want to go to Huangluo Yao Village. Here is a helpful translated phrase: "我要在黄洛瑶寨下车,谢谢." "I want to get off at Huangluo Yao Village, thanks."
Related Articles
Related Tours