Mini Group: Longji Rice Terraced Fields and Minority Villages Tour
Approx. 8 hours
Daily
Group tour (Max 10)
Description
Overview
During this 1-day tour, you'll hike to the Longji Rice Terraced Fields and visit two minority villages. You'll admire the most beautiful scenery of the terraced fields from different angles and discover the local minority cultures of the Zhuang and Yao peoples.
Highlights
Visit and explore two Longji Zhuang Ethnic Minority Villages.
Admire the Longji Rice Terraces from the best viewpoints.
Free Guilin/Yangshuo hotel pickup and drop-off included.
Mini group of 8-10 participants ensures a better experience.
Itinerary
8:00 am - 10:30 am, Hotel Pickup and Drive to Longji Ancient Zhuang Village.
Your guide will be waiting for you in your hotel's lobby or other appointed location at the agreed time, which is usually 8am.
You'll join a small group with no more than 10 participants, which is a great size to ensure you enjoy a better travel experience.
After collecting all participants, your tour group will head to the first destination - Longji Ancient Zhuang Village. It takes about 2 hours (108 kilometers) to get there from Guilin while it takes about 2½ hours (152 kilometers) to get there from Yangshuo County.
10:30 am - 12:00 pm, Visit the Ancient Zhuang Village.
The Longji Rice Terraced Fields are located in Longsheng County, Guilin. They span across six villages and have a long history of more than 2,000 years.
The local Zhuang and Yao people have farmed these mountainous fields day after day and year after year their entire lives.
Their ancestors would never have dreamed that this tough terraced land, farmed with their tears and sweat, could be transformed in such a way over time and now reward the locals with amazing scenery that attracts the rest of the world.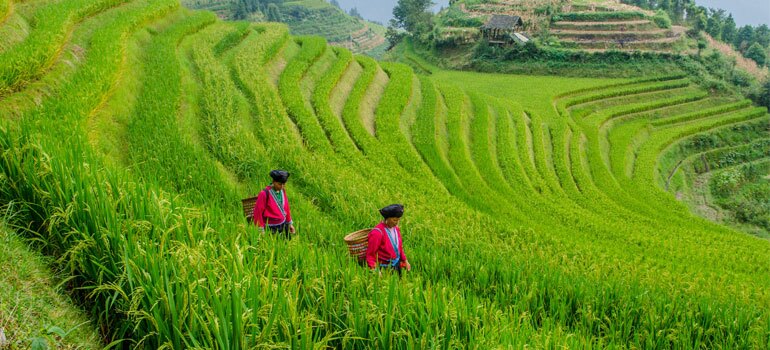 Longji (Dragon's Backbone) Terraced Rice Fields
The ancient Zhuang village you are going to visit is a small and quiet village where more than 300 Zhuang families live. Many of the local residences have a history of over 100 years. This village has now become a window into the Zhuang culture for the rest of the world. Longji Ancient Zhuang Village is the originating point of the Zhuang people's terraced fields. The highest altitude in the village is about 1,300 meters while the lowest altitude there is 350 meters. The terraced fields there look magnificent.
12:00 pm - 1:00 pm, Hike from the Ancient Zhuang Village to Ping'an Village.
After admiring the beautiful terraced fields from Slender Ditch, you will hike to another famous village - Ping'an Village. This hike takes about 1 hour to complete and it is a distance of about 8 kilometers. The condition of the road you'll hike along isn't bad - there are no steep or dangerous paths and only a medium level of energy is required.
Hiking Tips: For children over 3 years old, this hike can be a little challenging, but most complete it with extra encouragement from their parents.
1:00 pm - 2:00 pm, Lunch Break
After completing the 1-hour hike, you will finally arrive at Ping'an Village. Take a break and enjoy a delicious lunch at a local farmer's family restaurant. I highly recommend you to taste delicious local dishes, such as bamboo rice and other minority dishes.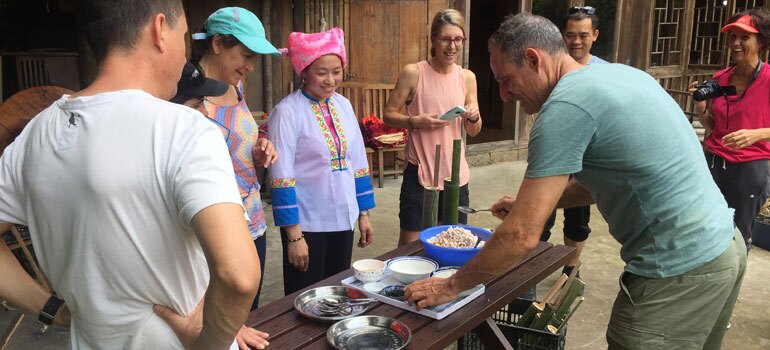 Making Bamboo Rice
2:00 pm - 3:30 pm, Visit the 'Seven Stars with the Moon' Viewing Point.
After lunch and feeling refreshed, you'll visit the most famous village in Longji - Ping'an Village. You'll see the beautiful scenery of Longji's magnificent terraced fields — this area is a paradise for shutterbugs.
Many award-winning pictures were taken in this village. That's why it has become more and more famous, attracting many tourists each year.
First, you'll head to the Seven Stars with the Moon viewing point. There, you'll see seven terraced fields surrounding a small hill - that's why people gave it this name.
On the way, you'll have a chance to see many long-haired Yao Ladies. You can speak with an elderly Yao lady with very long hair who has come from another village nearby so that you can learn about another ethnic group. The Yao people favor red clothing and the women always have long hair.
In their culture, girls are only allowed to have their hair cut twice in their life. Do you know when? We'll keep it a secret and you can ask this lady yourself.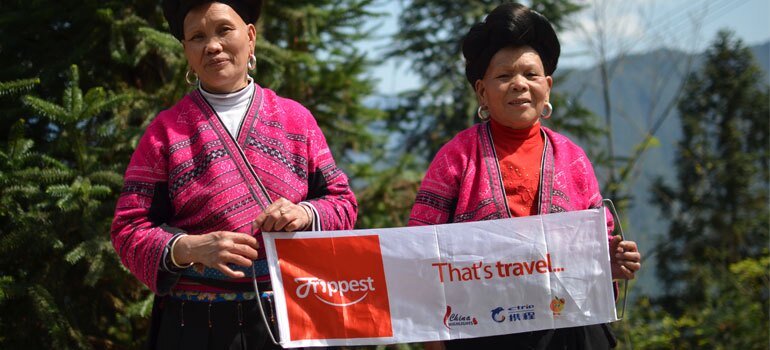 Meet with Yao Ladies
3:30 pm - 4:00 pm, Visit the Nine Dragons and Five Tigers Viewing Point.
Keep walking, you'll go to the most beautiful viewing point - Nine Dragons and Five Tigers. This viewing point is the highlight of the day. See the awe-inspiring view of the terraced fields, consider the wisdom of the Zhuang people and all the hard work they have put into this land, and appreciate the beautiful harmony between man and nature.
4:00 pm - 6:00 pm, Drive Back to Guilin or Yangshuo.
Your trip comes to an end after visiting the Nine Dragons and Five Tigers. You'll be dropped off safely at your hotel in Guilin or Yangshuo.
Know Before You Book
What's Included
English-speaking professional guide.
Transport between attractions, including pickup and return to your hotel.
Lunch
Entry/Admission - Ancient Zhuang Village.
Entry/Admission - Ping'an Village.
What's Excluded
Tipping of guide & driver recommended on good service on a 2:1 ratio separately (usually RMB 50-100 per person).
Accommodation, travel insurance and any other personal expenses during tour.
Airport transfer.
What Do I Need To Bring
A moderate amount of walking is involved. Comfortable walking shoes are recommended.
If it rains, the stone road might be very slippery so we recommend that you wear anti-skid shoes.
Please be ready and waiting in your hotel lobby 10 minutes prior to your scheduled pickup time.
Additional Info
Guilin hotels pickup and drop-off areas are available within the urban center of Guilin City. For further distances, you need to hire a taxi to the appointed hotel which your tour guide will tell you the day before the trip.
Yangshuo pickup and drop-off areas are available within the urban center of Yangshuo County. For further distances, you need to take taxi to the Green Lotus Hotel (碧莲江景酒店). The Banyan Tree Yangshuo and Alila Yangshuo are outside of free pickup area.
The tour guide will contact you through hotel or leave a message for you regarding the exact pickup time the night before tour. 
While we endeavour to cater for specific dietary requirements, some meals and food activities are set in advance and may be difficult to adjust. Please advise us of any dietary requirements at the time of booking so that we can ensure you'll enjoy this trip.
If the number of participants are more than 6, we need to transfer to shuttle buses at the scenic area because there is a vehicle restriction for driving up or down the hill. The shuttle bus fee is included in pricing. 
Not wheelchair accessible. Not recommended for travelers with back problems and pregnant travelers.
Cancellation Policy
We will charge a cancellation fee of 100% if booking is cancelled 48 hours or less before event.
Ours operate rain or shine. In periods of extreme or unsafe weather, we will discuss with you for alternative arrangements or cancel the tour at our discretion and provide a refund.
+86-18807734970
For 48-hours last minute booking