How to Visit the Li River - 3 Recommended Ways
Listed by National Geographic as one of the "Top 10 Watery Wonders" of the world, the Li River is a treasure and shining star of Yangshuo. How do you visit the Li River? Is it best to go hiking, to ride a bike, or to take a bamboo raft? The three classic ways to visit the Li River have been detailed below for you.
Three Ways to Visit the Li River
1. Bamboo Rafts — the Best Way to Get Close to the Li River
Features: traditional, original, flexible, and interesting
Route: Yangdi Village to Nine Horses Fresco Hill (recommended) or Nine Horses Fresco Hill to Xingping Village
Visiting duration: 1 to 1½ hours
Suitable for: people who want to get close to the Li River or whose time is limited
If you want to get closer to the stunning Li River, taking a trip on a bamboo raft is the best way. Spend 1 hour sitting on a raft, enjoying the sight of the unique mountains and clear river that surround you. Slow your pace and focus on the beauty of the Li River, feeling as though you are part of a real traditional Chinese painting.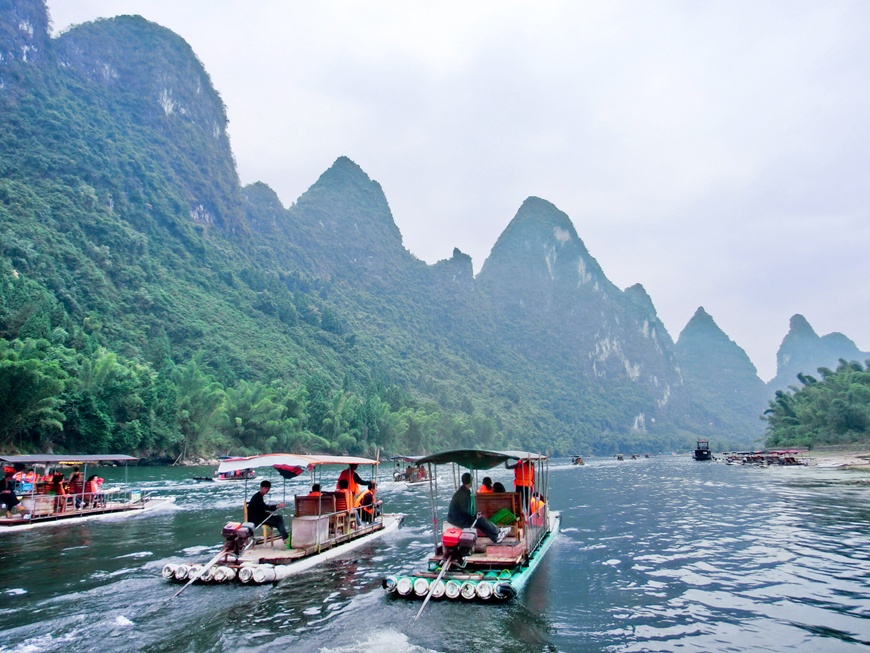 Bamboo rafting
2. Cycling — Enjoy the Landscape Alongside the Li River
Features: less crowded, beautiful views, and an authentic local lifestyle
Riding route: alongside the Yulong River (a tributary of the Li River)
Duration: from 30 minutes to a whole day (most people prefer to ride their bikes for about 2 to 3 hours in the afternoon)
Suitable for: those who love outdoor activities
If you enjoy doing outdoor activities, riding a bicycle alongside the Yulong River is a must when you're in Yangshuo. There, you can not only see beautiful natural views but can also witness the most authentic local lifestyle, such as watching the local farmers ride in their ox carts as they plow the fields. Forget all your troubles and enjoy this peaceful, harmonious afternoon.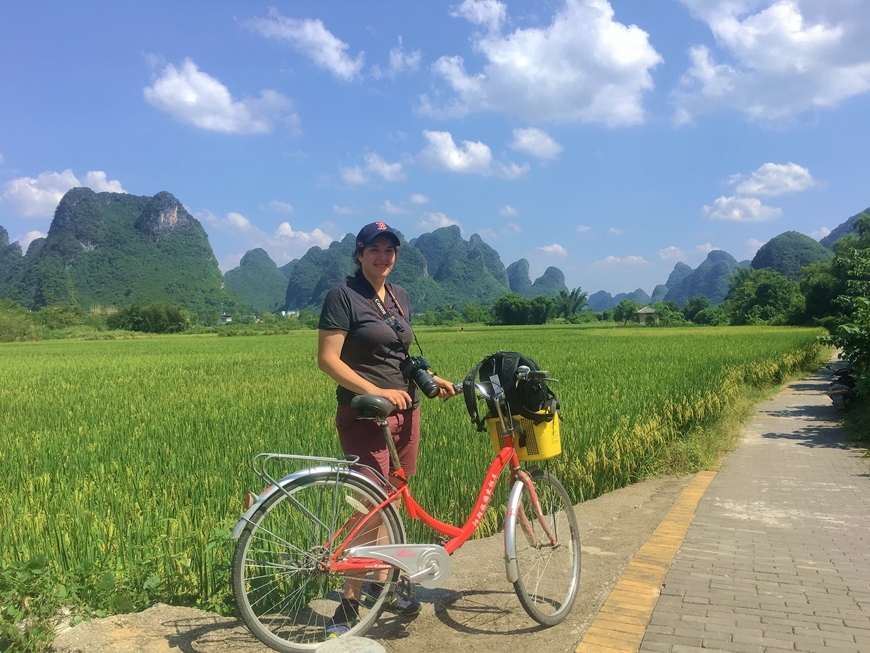 Cycling alongside the Li River
3. A Cruise — Take a Panoramic Journey Across the Li River
Age suitability: 7 to 70 years old
Duration: 4 to 5 hours
Route: Mopanshan/Zhujiang Pier to Yangshuo
Scenery along the way: Elephant Trunk Hill, Wangfu Rock, Nine Horses Fresco Hill, 20-Yuan Bill Hill, Yangdi Village, Yellow Cloth Shoal, Xingping Ancient Town, and Schoolboy Hill
Advantage: Enjoy a panoramic view of the Li River.
Disadvantage: Spend half a day on the cruise, which may be crowded during the peak seasons.
If you have enough time and you want to have a panoramic view of the Li River, taking a cruise is a good choice for you. Spend half a day peacefully admiring the views along the Li River. The sight of various unique small hills accompanying the clear Li River resemble a classic traditional Chinese picture.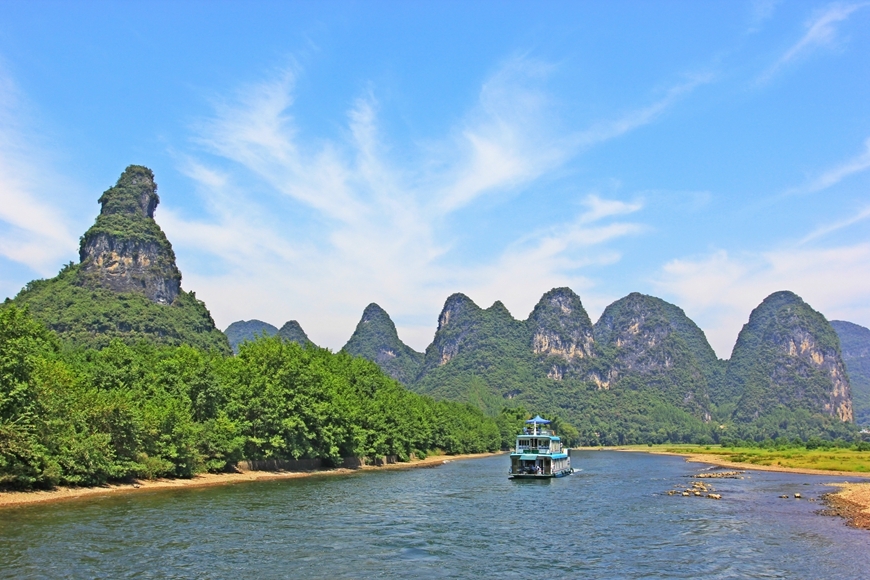 Taking a cruise
How to Choose the Best Way to Visit the Li River
1. Are you traveling alone?
Taking a cruise or riding a bike are both suitable for solo travelers because the price remains the same when you are alone. If you take a trip on a bamboo raft, however, you have to pay for the vacant seats.
2. Do you like outdoor activities?
Riding a bike or taking a trip in a bamboo raft are suitable for those who love the outdoors.
3. Are you traveling with your children or grandparents?
To ensure everyone's safety, passengers must be aged between 7 and 70 years old to take a cruise. Therefore, if you are traveling with children or elderly people, taking a trip on a bamboo raft is more convenient for you.
4. Do you have enough time?
If your time is limited, riding a bike or taking a trip in a bamboo raft is best. You can decide how long you spend there and what order you want to see the sights in.
5. How much do the three types of travel cost?
A cruise is between 50 and 100 USD.
A bamboo raft trip costs about 30 USD.
Hiring a bike costs about 15 USD.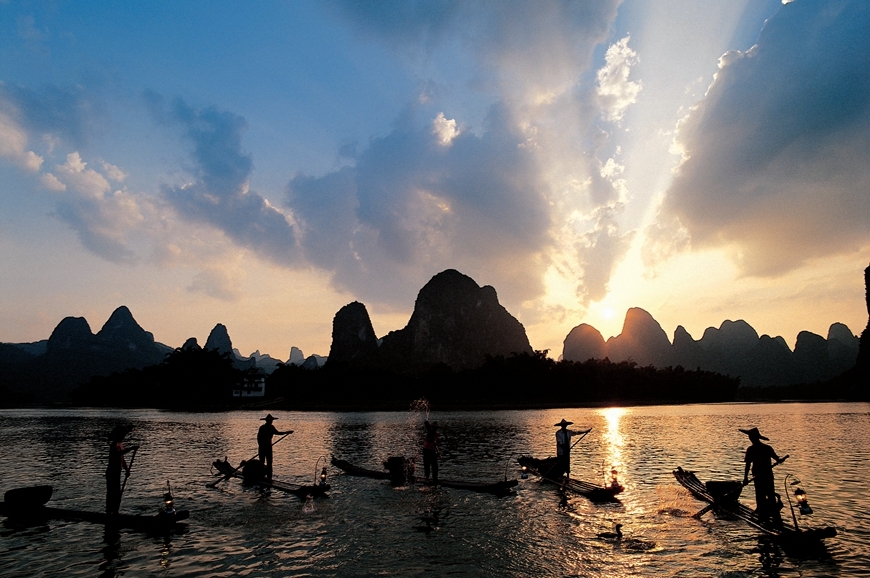 Li River
Join Trippest on Our 1-Day Yangshuo Highlights Tour
Trippest helps you avoid various difficulties that may arise during your trip -- Contact us!
The language barrier: The raftsmen cannot speak English. Trippest will provide a professional English-speaking guide to accompany you on your trip.
Paying an extra fee for vacant seats: If you are going to take a bamboo raft alone, you have to pay for the cost of the vacant seats. Our mini group tour, which has no more than 6 people, helps you save money.
Tourist traps: Our guide will help you avoid various tourist traps.
Related Tours