Full-Day Private Li River Hiking Tour Including Xingping and Xianggong Hill
Approx. 8 hours
Daily
Private tour
Description
Overview
Follow the trail through bamboo groves, treading between golden rice fields (in early autumn), and climbing the Xianggong Hill to have a panoramic view of Li River, which is highly recommended by photography enthusiasts, and even enjoy the countryside sunset on the return way. This is how to fully appreciate the beauty of the Li River and Yangshuo.
Itinerary
Li River Hiking Trail
The Quanjiazhou–Lengshui riverside trail is now reopend. There is a 11-km (6½-mile) or around 3½-hour hike from Quanjiazhou to Xingping: From Guilin, it's about 1½ hours by road to Quanjiazhou village. From there, hike about 2 hours (7 km or 4 miles) on a winding road/track between hills and the river to the Lengshui village pier opposite Jiumahua Shan (九马画山 "Nine Horse Painting Hill"). Then take a ferry across the Li River. Continue on the riverside walk downriver for about 1½ hours (5 km or 3 miles) to reach Xingping Ancient Town. You can also take a tuktuk (10 minutes) to Xingping from Jiumahua Shan. Tuktuk fee is included.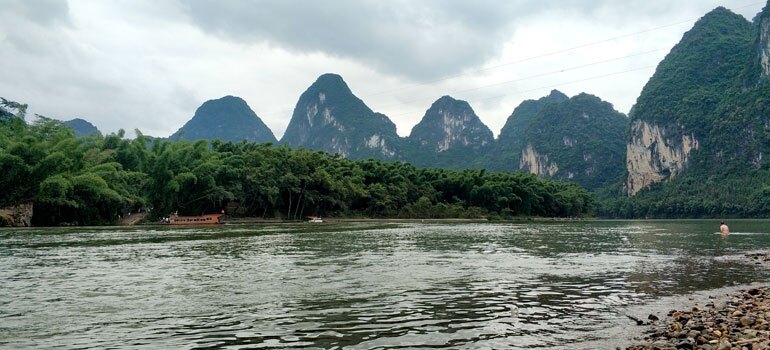 Hiking along the riverside
Xingping Ancient Town
Once, in ancient times, Xingping was the largest town along the Li River, and is 63 km (39 miles) from Guilin and 25 km (15.5 miles) from Yangshuo, on the east bank of the river. The historic sites here can be found in Xingping Old Street. The old street is a one-kilometer long stone street lined with old brick buildings and assembly halls like those of many different provinces. Xingping is one of the best photographic locations in Guilin. Photographers go there to take photos of the best-known attractions on the Li River, the sunset and sunrise over the Li River and cormorant fishing. The ironic image of Guilin – an old fisherman in his coir raincoat on a bamboo raft with his cormorants – is taken in Xingping.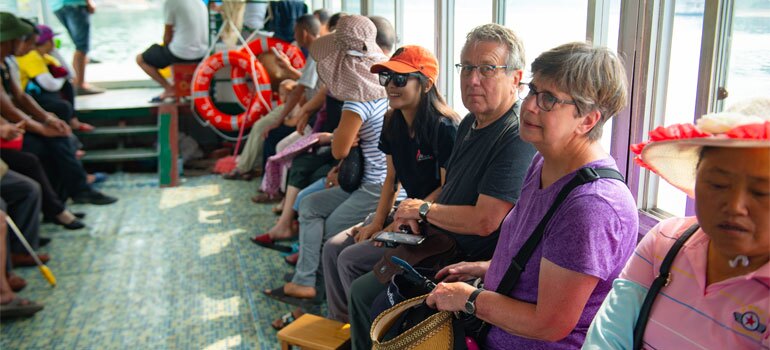 Take the ferry across the Li River to Xingping Ancient Town
Xianggong Hill
Locate nearby the Putao Town, 28km north of Yangshuo, Xianggong Hill is one of the best place for photos of the breathtaking views especially the sunrise over the bend in the Li River. It takes approximately 15-20 minutes to peak. You'll have opportunity to watch the Li River running round a right-angled bend and the fantastic Karst scenery.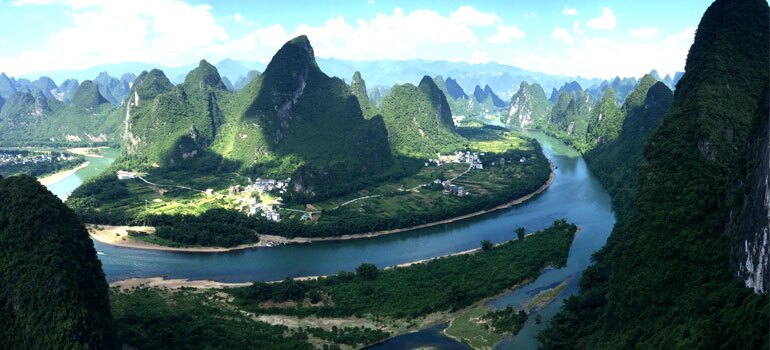 Xianggong Hill
Know Before You Book
What's Included?
English-speaking professional tour guide service.
Comfortable vehicle with A/C.
Bottled water.
Ferry boat and tuktuk fee.
Entry/Admission - Li River Scenic Area
Entry/Admission - Xianggong Hill
What's Excluded?
Lunch fee (RMB 60-80 per capita, depending on appetite).
Tipping of guide & driver recommended on good service on a 2:1 ratio separately (usually RMB 50-100 per person).
Accommodation, travel insurance and any other personal expenses during tour.
Airport transfer. 
What Do I Need To Bring?
A moderate amount of walking is involved. Comfortable walking shoes are recommended.
Additional Info
Xianggong Hill could be temporarily closed due to government activities, which we can NOT be informed in advance. We may visit Cuiping Five Fingers Mountain instead, which is Located nearby the Putao Town, 22km north of Yangshuo. Cuiping Wuzhishan (Wuzhi Hill) is a nice place to take sunset photos. It takes around 20 minutes to climb up and you will photograph numerous karst mountain peaks and some villages with many paddies surrounded by a river. A wonderful place not to be missed in Yangshuo. The tour guide may adjust the itinerary according to the current situation.
In Guilin, the hotel collection and drop-off areas will be within the urban areas. For further distances, you need to hire a taxi to the appointed hotel which your tour guide will tell you the day before the trip.
In Yangshuo, the hotel collection and drop-off area should be within the urban area. For further distances, you need to hire a taxi to the Green Lotus Hotel (碧莲江景酒店). Banyan Tree Yangshuo and Alila Yangshuo are outside of free pickup area.
Ferry Crossings could be closed due to bad weather. You could do is take a local bus or private transport and do a section of the hike without the ferry crossing.
Lunch is not included. The tour guide can recommend you some good restaurants in Xingping Ancient Town.
The tour guide will contact you through hotel or leave a message for you regarding the exact pickup time the night before tour. 
Not wheelchair accessible. Not recommended for travelers with back problems and pregnant travelers.
Cancellation Policy
We will charge a cancellation fee of 100% if booking is cancelled 24 hours or less before event.
Ours operate rain or shine. In periods of extreme or unsafe weather, we will discuss with you for alternative arrangements or cancel the tour at our discretion and provide a refund.
+86-18807734970
For 48-hours last minute booking