Bamboo Rafts - Get Closer to the Li River
Taking a trip on a bamboo raft is an interesting and original way to see the wonderful landscape on both sides of the Li River. Compared with taking a cruise, hiking, or riding a bike, crossing the river on a bamboo raft is more flexible and convenient. Just choose a route you like and spend about an hour on the river, enjoying the sights in peace.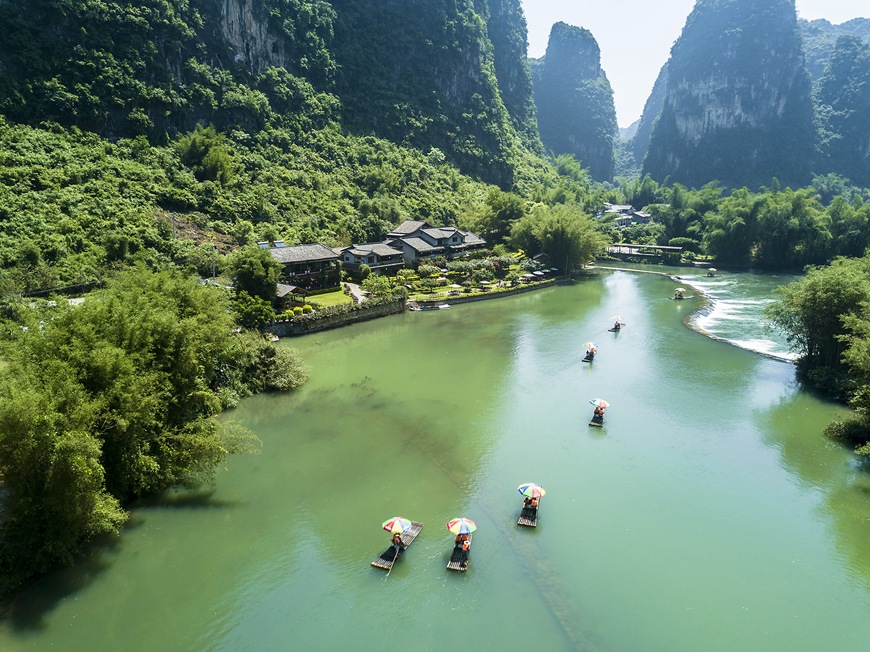 Many bamboo rafts on the river
Why You Should Cross the Li River on a Bamboo Raft
Traditional and original: A bamboo raft is a traditional form of transportation, which has a history of thousands of years. It's romantic to take a bamboo raft on the Li River without being surrounded by noise or crowds.
Get closer to the Li River: You can even touch the river when you are seated on a bamboo raft (although this is not recommended).
Flexible: You can choose your preferred route, time, and duration of the trip. It takes about an hour to enjoy a round trip.
Beautiful: The routes you can take on a bamboo raft are beautiful and full of highlights.
Shorter: Compared with spending 5 hours on a cruise, a trip on a bamboo raft is much shorter. You can choose to spend between half an hour and 2 hours on the raft.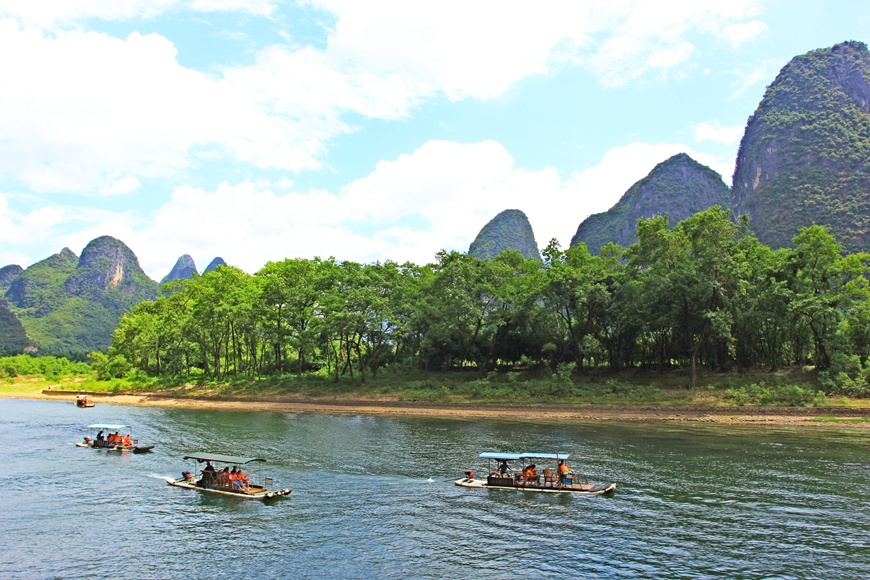 What You Should Know
Route: Yangdi Village to Nine Horses Fresco Hill (recommended) or Nine Horses Fresco Hill to Xingping Village
Duration: 1 to 1½ hours
Facilities: seats for 4 to 6 people and a sunshade
Boarding times: 8am to 6pm
Boarding location: Xingping Pier, which is about 60 kilometers from Guilin. You can take a bus at Guilin Bus Station.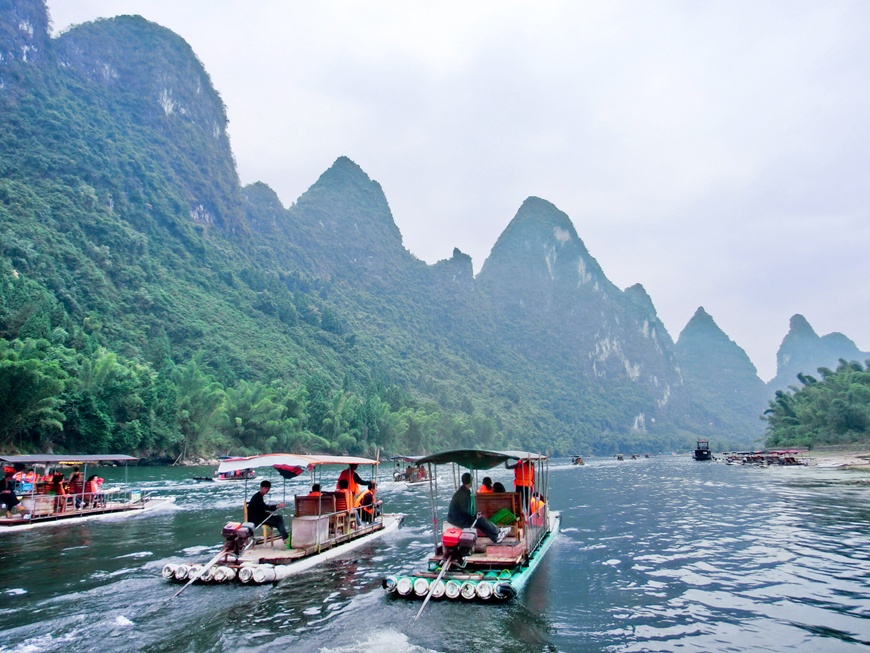 Machine-controlled bamboo rafts
Bamboo rafts are not made of real bamboo. The material looks like bamboo but the rafts are actually made from plastic pipes. It's slightly noisy when you're traveling because the rafts are powered by a long-tail outboard motor. There will be an experienced boat driver to control the raft and ensure your safety.
There is a steel sunshade on top of each bamboo raft. It helps to protect you from rain or strong sunshine. Don't worry about your trip on a bamboo raft being affected too much by the weather.
In order to ensure the safety of passengers, there are some restrictions you should know about:
Passengers must be aged between 7 and 70 years old.
Bamboo raft trips are not available between 11:30am and 1pm.
During bad weather conditions, your rafting trip will be canceled and you will receive notice of this shortly beforehand. Don't forget to check the weather forecast before your trip.
Have lunch in advance. There is no food or drink on the bamboo rafts. If you want to enjoy food while you're traveling on one, prepare some snacks and drinks for yourself before your trip. You may encounter some vendors during your visit to the Li River who will try to sell you food, snacks, and drinks at high prices. Try to refuse them and either prepare some food for yourself in advance or have lunch in a local restaurant (not in a tourist area).
Don't forget to wear sunscreen and sunglasses during sunny days. It's really hot in summer.
Take care of your luggage and don't let it get wet.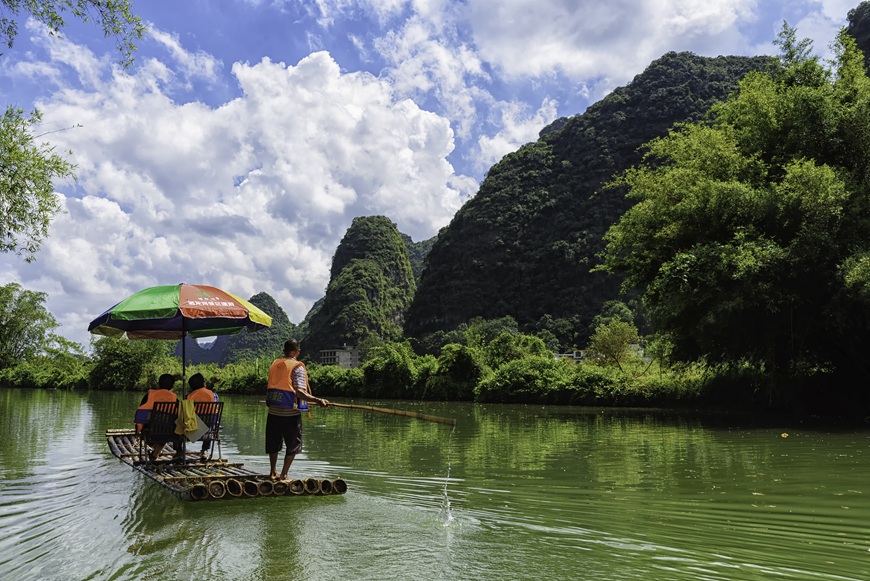 Hand paddling a bamboo raft
Join Trippest on Our 1-Day Yangshuo Highlights Tour
Trippest helps you avoid various difficulties that may arise when taking a trip on a bamboo raft, such as:
The language barrier: The raftsmen cannot speak English. Trippest will provide a professional English-speaking guide to accompany you on your trip.
Paying an extra fee for vacant seats: If you are going to take a bamboo raft alone, you have to pay for the cost of the vacant seats.
If you are planning a tour to Yangshuo, please feel free to contact us!
Related Tours