One-Day Li River and Yangshuo Countryside Highlights Tour
Approx. 8 hours
Daily
Group tour (Min 2, Max 10)
Description
Overview
In this day you'll have a bird-view of the amazing landscape of the hills and rivers on the top of a mountain, you'll wander the millennial ancient street by the side of Li River, try some local specialities and snacks. What's more you'll have a bicycle ride into a beautiful and peaceful local village of Yangshuo. Escape from the hustle and bustle of the city and enjoy a wonderful day!
Highlights
Bird's eye view overlooking the Li River from mountain top.
Cycling around Yangshuo Countryside and relax yourself. 
Free Guilin/Yangshuo hotel pickup and drop-off included.
Small group of 8-10 participants ensures a better experience.
Itinerary
8:00 am - 10:00 am, Hotel Collection and Drive to Xianggong Hill.
Your guide will be waiting for you in your hotel lobby or other appointed location at the agreed time, usually between 8 am and 8:30 am. The tour guide will hold a Trippest banner so that you recognize him/her immediately. You'll join a group has a maximum of 10 members, which is a great size to ensure you enjoy a better travel experience.
After collecting all the members, you will head to the first stop - Xianggong Hill. It takes about 1½ hours (60 kilometers) driving from Guilin while it only takes 1 hour to get there from Yangshuo County.
10:00 am - 11:00 am, Capture the Breathtaking Views of the Li River from the Peak.
Climbing up more than a hundred steps, normally takes 10-15 minutes. When on the peak, you'll be taken aback by the amazing view of the beautiful karst landscape set as countless hills around the Li River. If you are a shutterbug, this is one of the best place for photos of the breathtaking views over the bend in the Li River. Tens of thousands of award-winning pictures were taken there. You'll see the sea of clouds around the hills and rivers - it's a mind-blowing view.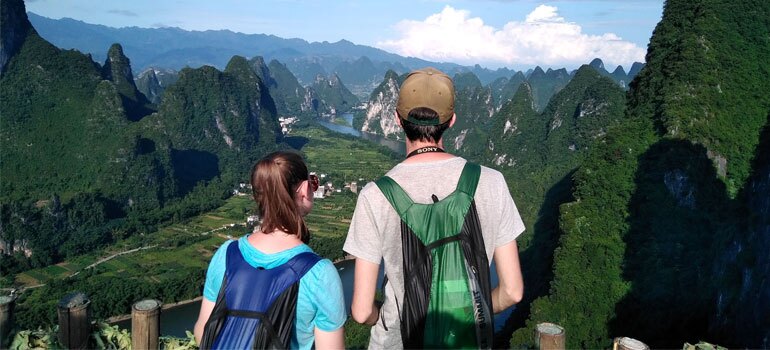 Panoramic View of Li River from Xianggong Hill
11:00 am - 11:30 am, Crossing the Li River.
You will take a 8-minute ferry across the river with local villagers to the other side.
11:30 am - 1:00 pm, Strolling Down the Xingping Old Street.
In the vicinity of Yangshuo, Xingping village is more than 1000 years old and houses a number of historic residences. If you visit here on market day occasionally, the village comes alive. By the way, Xingping is also the location of the photo to on the back of 20 yuan banknotes.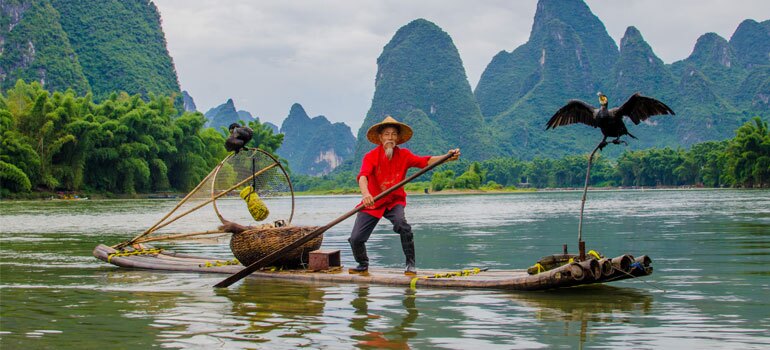 Fisherman on the Li River
Lunch is not including in this tour. I highly recommend you to try local specialities, like Beer Fish and Stuffed Guilin Snails. Our guide will assist you with options - whether it be snacks, rice noodle stalls or restaurants in and around Xingping. Cafe also can be founded here.
1:00 pm - 2:00 pm, Transport to Yulong River Scenic Area.
Take a lerisurely ride along the countryroad to the Yulong River. Have a nap to refresh yourself is necessary. Or you can just soak up classic rural scenes outside the car window, surrounded by towering, limestone peaks.
2:00 pm - 4:30 pm, Cycling the Picturesque Countryside.
Yulong River a tributary of the Li River, smaller and quieter. Cycling is one of best ways to get close to the countryside of Yangshuo. Follow the beautiful Yulong River past rice paddies, wallowing water buffalo and farmers crop. The fields vary in colors according to the change of seasons. Cycling path is flat, by bicycle is easy for most people. If you look for an more comfortable way to tour, I recommend you to choose electric scooter.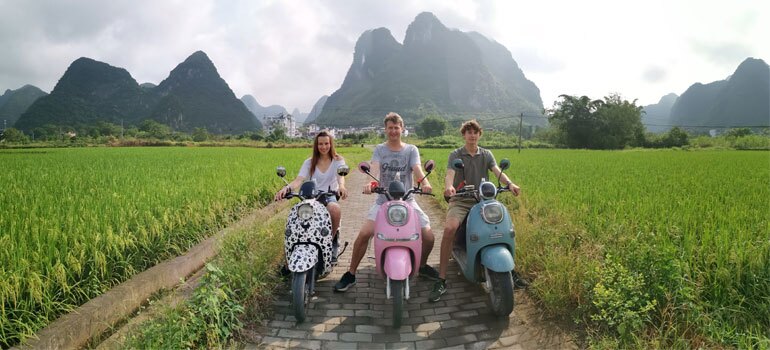 Cycling around Yangshuo Countryside
Another highlight of a trip to Yulong River is taking a bamboo raft. But this is an optional activity, you can ask your tour guide to book for you on site. No motorized raft, and row by a real bamboo-raft man. Rafting quietly and casually on the beautiful Yulong River. You can see the hills on both banks in different shapes. There are thick bamboos along the river and the banana trees are green in four seasons.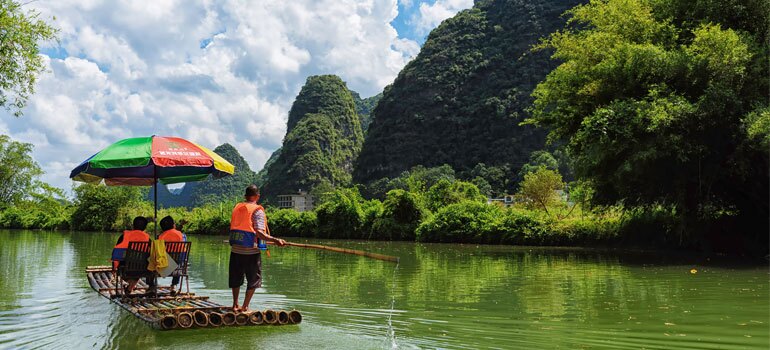 Yulong River Bamboo Rafting
Essential rafting part: Shui E Di 水厄底 - Gongnong Bridge 工农桥 (Duration: 40 mins), Price: RMB 160 per raft. Maximum 2 Pax.
4:30 pm - 6:00 pm, Return to Your Hotel in Guilin or Yangshuo.
After enjoying the beautiful rural scenery in Yangshuo, your trip comes to an end. You will be transferred back to your hotel in Guilin or Yangshuo.
If you stay in a hotel in Yangshuo, we can drop you off at the West Street.
If you stay in Guilin, your driver will take you back to Guilin and drop you off at your hotel. The journey will take about 1½ hours.
Know Before You Book
What's Included
Transport between attractions, including pickup and return to your hotel.
English-speaking local guide service.
Entry/Admission - Xianggong Hill
Ferry fee across the Li River.
Cycling fee along the Yulong River.
What's Excluded
Lunch fee (RMB 60-80 per capita, depending on appetite).
Bamboo rafting along the Yulong River (RMB 160 per raft, maximum 2 pax).
Tipping of guide & driver recommended on good service on a 2:1 ratio separately (usually RMB 50-100 per person).
Accommodation, travel insurance and any other personal expenses during tour.
Airport transfer.
What Do I Need To Bring
A moderate amount of walking is involved. Comfortable walking shoes are recommended.
Please be ready and waiting in your hotel lobby 10 minutes prior to your scheduled pick up time.
Additional Info
The tour guide will contact you through hotel or leave a message for you regarding the exact pickup time the night before tour. 
Guilin hotels pickup and drop-off areas are available within the urban center of Guilin City. For further distances, you need to hire a taxi to the appointed hotel which your tour guide will tell you the day before the trip.
Yangshuo pickup and drop-off areas are available within the urban center of Yangshuo County. For further distances, you need to take taxi to the Green Lotus Hotel (碧莲江景酒店). The Banyan Tree Yangshuo and Alila Yangshuo are outside of free pickup area.
Xianggong Hill could be temporarily closed due to government activities, which we can NOT be informed in advance. We may arrange Cuiping Five Fingers Mountain instead, which is located nearby the Putao Town, 22km north of Yangshuo. Cuiping Wuzhishan (Wuzhi Hill) is a nice place to take sunset photos. It takes around 20 minutes to climb up and you will photograph numerous karst mountain peaks and some villages with many paddies surrounded by a river. A wonderful place not to be missed in Yangshuo. The tour guide may adjust the itinerary according to the current situation.
Cancellation Policy
We will charge a cancellation fee of 100% if booking is cancelled 48 hours or less before event.
Ours operate rain or shine. In periods of extreme or unsafe weather, we will discuss with you for alternative arrangements or cancel the tour at our discretion and provide a refund.
+86-18807734970
For 48-hours last minute booking