Top 10 Famous Local Foods and Restaurants in Kunming
Ninety-nine percent of people ignore Kunming, the capital of Yunnan. Most people only regard this place as a transit point in their travels, but we think this is truly a treasure city of Yunnan. 
This is a well-known capital of flowers. The flowers sold by a catty are the easiest romance to buy. Various ethnic minorities gather in Kunming to make the city's culture more intense. Surrounded by mountains on three sides, the forest coverage rate is close to 100%, the pace of life is appropriate. In short, Kunming has thousands of reasons for you to stay. 
Kunming's delicious food is even more desirable. At the beginning of the night, the streets and alleys of Kunming are very lively, with high-end hotels, roadside restaurants, snack bars and barbecue stalls crowded with people everywhere. From breakfast to supper, the food changes in all manners in the hands of the Kunming people, showing good taste after another. The variety of rice noodles that are well-known to people all over the country is surprising. In this article, we will share with you the specialties of Kunming and recommended shops. It is worth slowing down and tasting with your heart.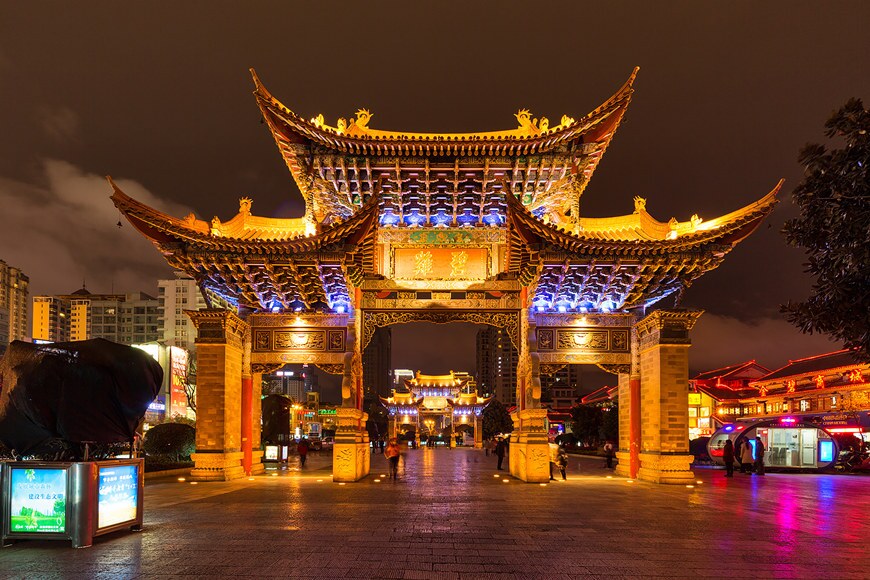 Jinma Biji Square in Kunming
Breakfast
Wake up in the morning, the whole street is filled with mouth-watering fragrance. Kunming has many types of breakfast, and all of them are memorable. 
/Er'kuai/ 饵块
Er'kuai is a rice cake made from pounded rice. In Kunming, there is a small shop that burns Er'kuai every 100 meters. Whether roasted, boiled, fried, Er'kuai are transformed into different flavors by Kunming people. The most recommended is the roasted Er'kuai. It is pressed into a thin piece and rolled with a fried dough stick, which is very chewy and enjoyable.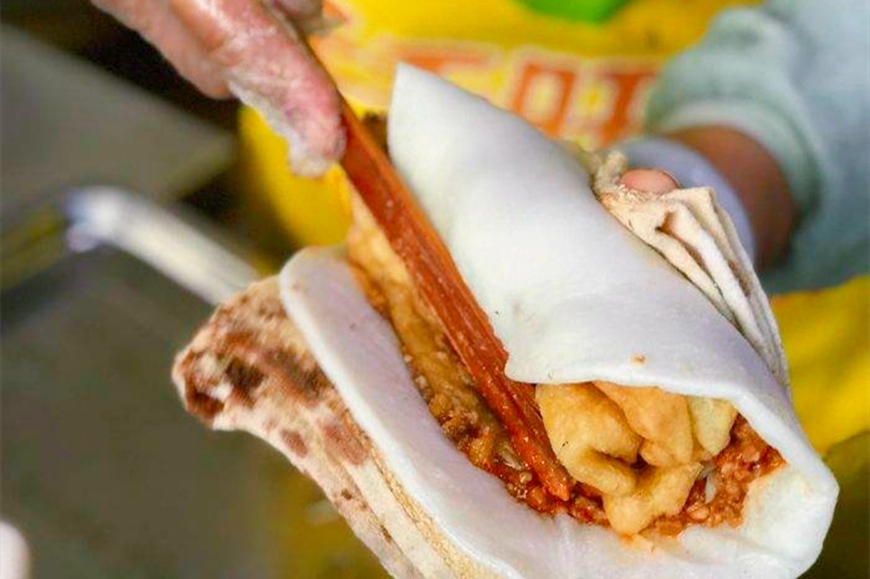 Shao Erkuai
Recommended restaurants:
Hou Xiang Ruan Roasted Er'kuai: No. 1 Lijiang Road
Halal Sister Ma's Er'kuai: Opposite to Guotuo Building, Qingyun Street
Babajiao Er'kuai: 50 meters northeast of the intersection of Beijing Road and Yong'an Road
/Posu Buns/ 破酥包 
Posu Bun is a traditional snack in Yunnan. It is steamed from low-gluten refined white flour, lard, cloud leg meat, etc. According to legend, this steamed bun is known as the "broken(Po) crispy(Su) bun" because it is not broken when it falls on the ground. The layered "Posu buns" are completely different from the buns we usually eat. The meat filling is added to the old Kunming's favorite mushrooms. The dough is softer and the pastry is wrapped in layers of fillings. The taste is quite rich.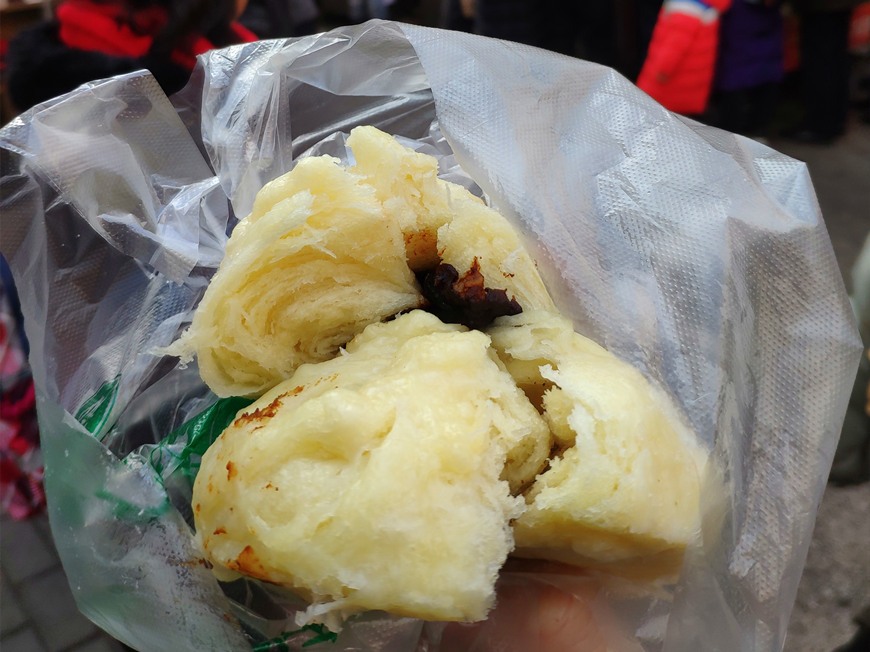 Posubao
Recommended restaurants:
Cuimanlong Po Su Bao: No. 174, Renmin East Road
Fuxiangju Po Su Bao: No. 25, Taoyuan Street
Huixiang Po Su Bao: No. 86, Nanqiang Street 
/Rice Milk Baba/ 米浆粑粑 
Speaking of the most traditional breakfast in old Kunming, rice milk baba is one of the most representative signs. The white rice syrup is poured into a black round mold and baked at a high temperature until the leather belt is browned. You can smell this sweet and sour scent all over the way. It's both soft and solid, so this one is enough for breakfast. 
Recommended restaurants: 
Zhaiji Rice Milk Baba: No. 16 Sujiatang Road
Haoweilai Rice Milk Baba: Near No. 76 Huapu Road
Mijiangjiang: Meteorological Road, East of Industrial and Commercial Bank of China 
/Thin Soy Flour/ 稀豆粉
Thin soybean flour plays an important role in the daily life of Kunming people. It is made of fine white pea powder, cooked into a gruel, and then added coriander, chili powder and other condiments. Paired with bait cubes or fried dough sticks, the taste is smooth and waxy, which gives you a lot of energy for a day.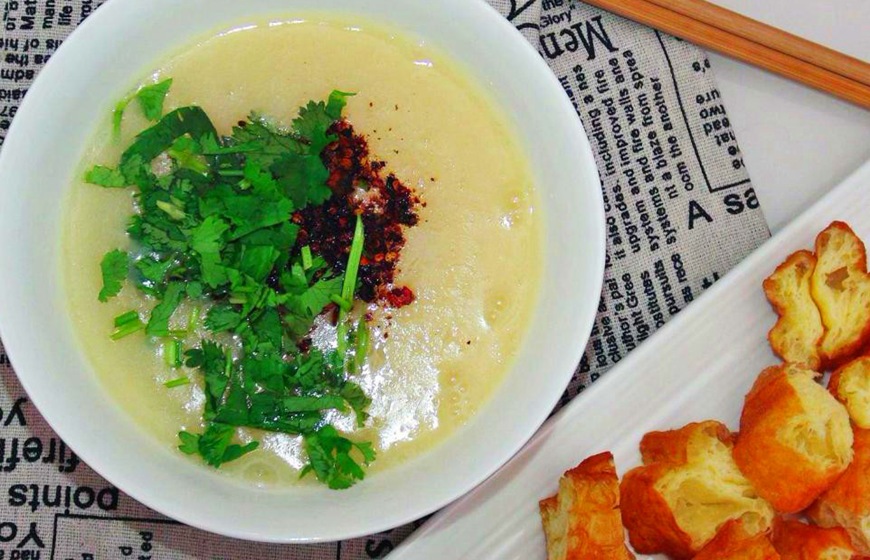 Xidoufen
Recommended restaurants: 
Douxiangyuan: 15 Longxiang Street
Aqiao Weidao: 221 Dongfeng West Road
Yunping Flavor Shop: 35-39 Huguo Road
/Guandu Baba/ 官渡粑粑
As early as the Ming and Qing Dynasties, Guandu Baba was quite famous. In the 1950s and 1960s, people in Guandu used a basket to carry freshly baked baba walking along the streets and alleys to sell them. Gradually, this kind of chewy flour with characteristic pie fillings has become one of Kunming's representative delicacies. Guandu Ancient Town has the most authentic Guandu Baba.
Recommended restaurants: 
Glasses Baba: Next to the good people's health pharmacy on the pedestrian street
Zhengzong Guandu Baba: Inside the new farmer's market on Daguan Road 
/Rice Noddles/ 米线
If a taste represents a city, it is undoubtedly rice noodles that represents Kunming. No matter you are in a busy city or a deep alley, rice noodles must be everywhere here. According to rough statistics from the City Times in 2019, there are 32,288 rice noodle shops in Kunming, twice that of Guangxi and three times that of Chengdu. Kunming's rice noodles can be described as half the sky of Kunming cuisine. 
There has a variety of rice noodles that are worth trying, such as canned rice noodles, stinky tofu rice noodles, braised rice noodles, cold rice noodles, fried rice noodles and so on.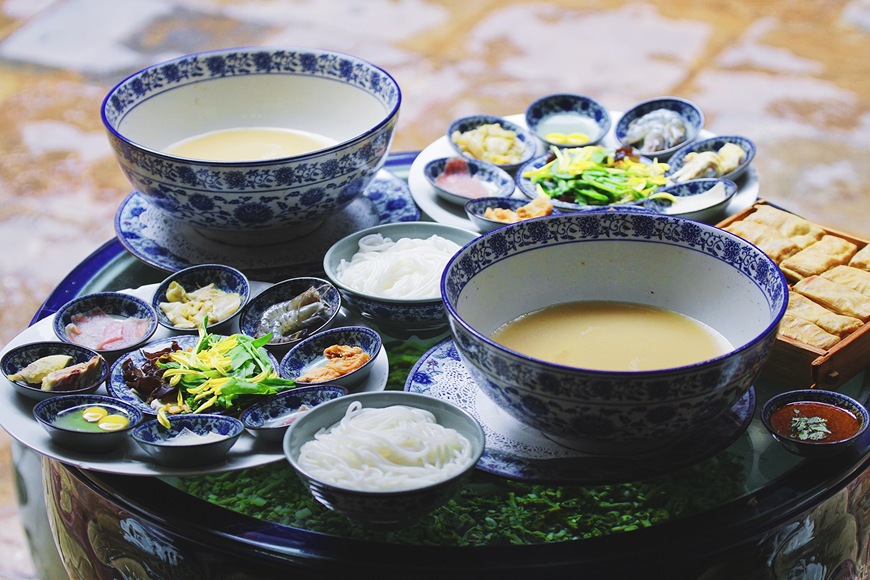 Cross-the-bridge Rice Noodles
1. Tiepeng Small Pot Rice Noodles:The most popular rice noodles by the locals. The hot stinky tofu with rice noodles is full of fragrance and spicy taste.
Address: No. 7, Unit 2, Building 15, Huafu Garden, Jinxing Community, Beijing Road 
2. Niangziqing Cross-bridge Rice Noddles: This shop is the signature of Kunming Cross-bridge Rice Noodles. We recommend the classic chicken soup rice noodles and Matsutake rice noodles. The meat, vegetables, and rice noodles are placed in different dishes. When the soup is boiling in the pot, put the meat and vegetables first and then put the rice noodles. Take a sip of the soup, the fragrance is overflowing, and the rice noodles are extremely smooth.
Address: 6A Floor, Baida Xintiandi, Dongfeng West Road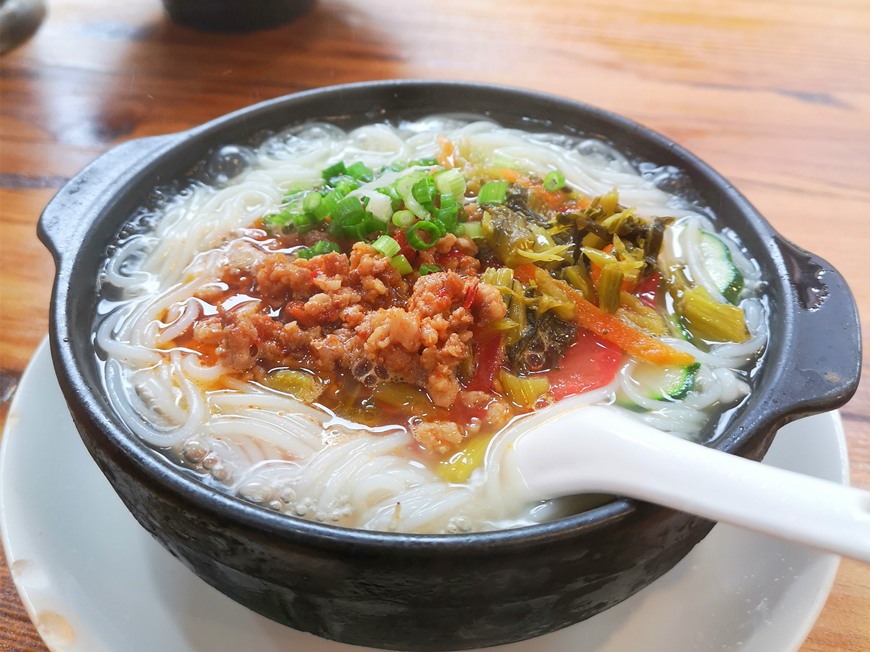 Small Pot Rice Noodles
3. Three Bowls of Bean Curd Rice Noddles: The combination of bean curd and rice noodles can really arouse the curiosity of diners. The small bowl of bean curd rice noodles is very rich and impressive.
Address: No. 17 Wenmiaozhi Street 
4. Mengpopo: You can find rice noodles that correspond to any season in this shop all year round. When you come to Kunming in summer, the cold rice noodles with shredded chicken, peanuts, and shiitake mushrooms must not be missed.
Address: Shop No. 15, Building 9, Jiurutang Community Phase 3, Jiaochang North Road 
Yunnan Dishes
/Steam Pot Chicken/ 汽锅鸡 
There are different ways of eating chicken in different regions, such as Guangdong Salt-baked Chicken, Jiangsu Beggar's Chicken, Shandong Dezhou Braised Chicken... and Kunming's Steam Pot Chicken is well-known throughout the country. Cooking with a steam pot not only preserves the nutrients of the ingredients, but also ensures the original taste of the chicken. The soup is fresh and the chicken is firm and tender.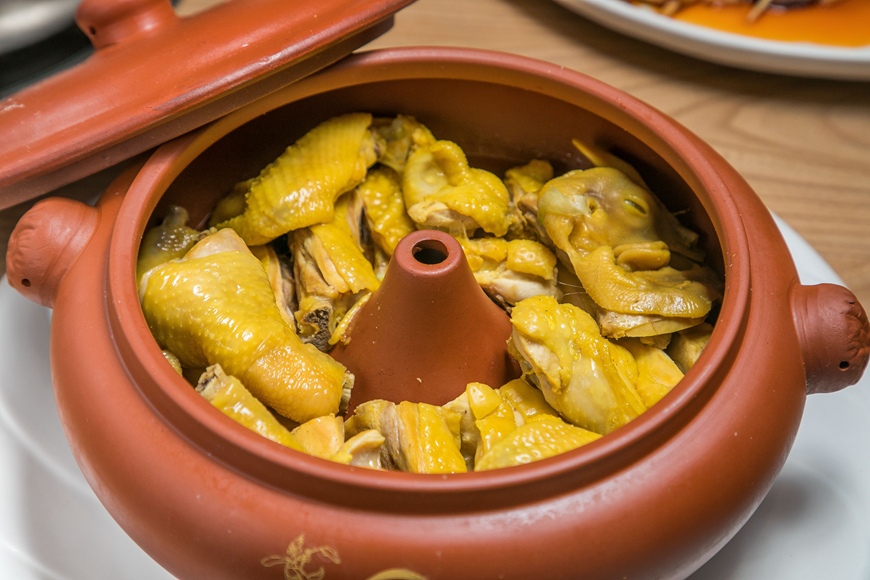 Steam-pot Chicken
Recommended restaurant:
Yunhaiyao (云海肴), located in No. 88, Nanqiang Street, Wuhua District. 
/Wild Mushroom/ 野生菌 
Yunnan is a "wild mushroom kingdom", and Kunming has hundreds of types of mushrooms. For these delicacies gifted by nature, Kunming people have developed different cooking methods, such as stir-frying, sashimi, and steaming. However, among the many ways, Yunnan people still love wild mushroom hot pot. After being cooked in the pot, there is no need for dipping at all, just pick the fungus out of the pot and put it in your mouth. The taste is too fresh.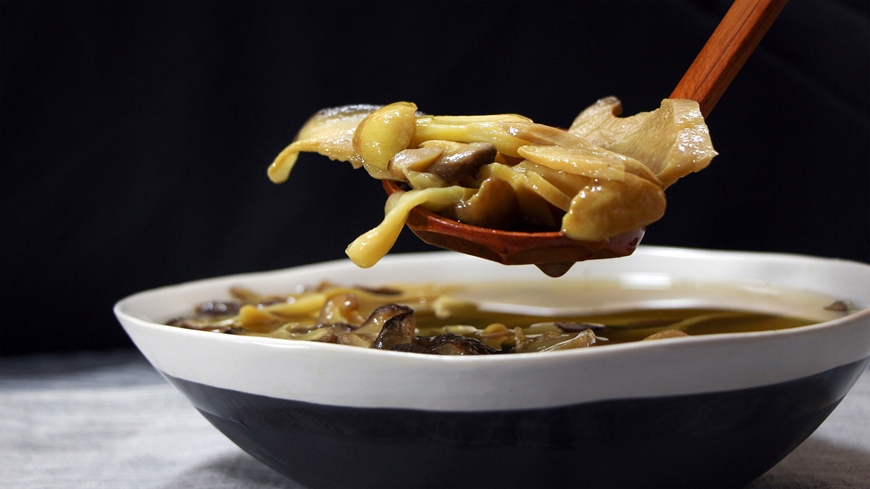 Wild Mushroom
Recommended restaurant:
Yiduojun Hot Pot (一朵菌), located in 2nd Floor, No. 192, Baoshan Street, Wuhua District. 
Snacks
/Yunnan mashed potatoes/ 炸洋芋 
How much do Kunming people like to eat potato? You will understand when you can see a small fried potato stall every ten meters on the road. Yunnan potato has a variety of methods, including mashed potato, potato cake, Dai-flavored cold potato, dried-baked potato shreds and so on. The most recommended potato cake is sprinkled with chili noodles. 
Recommended restaurant:
Jiejiewang Fried Potato (街街旺炸洋芋), located in Next to Haikun Hotel, Chuanxiao Lane, Panlong District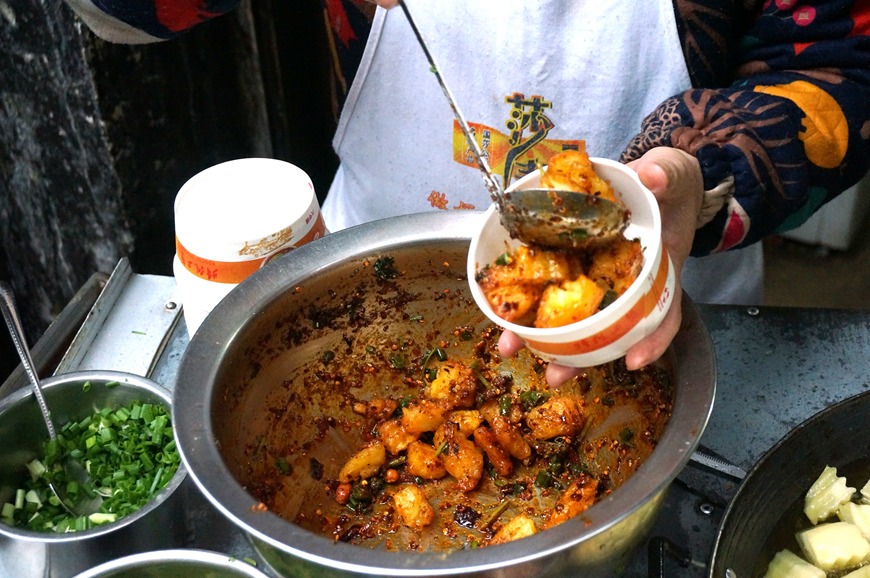 Mashed potatoes
/Fried Tofu/ 烧豆腐 
On the streets of Kunming, you can still see many people sitting at the small table in the grill, turning the small round tofu, dipping it in tofu sauce and chili. Now it has become the taste memory of Kunming people since childhood.
Recommended restaurant:
Jianshui Puji Tofu (建水普记烧豆腐), located in No. 24, 1st Floor, South Annex Building, Yangjia Primary School, Xishan District. 
/Poruda/ 泡鲁达 
Poruda is a specialty drink in Yunnan. At first it was popular in Southeast Asia and then spread to Yunnan. The aroma of coconut milk is paired with small sago, plus a slice of baguette and different fruits. In summer, drinking a cup of Paluda can clear away heat.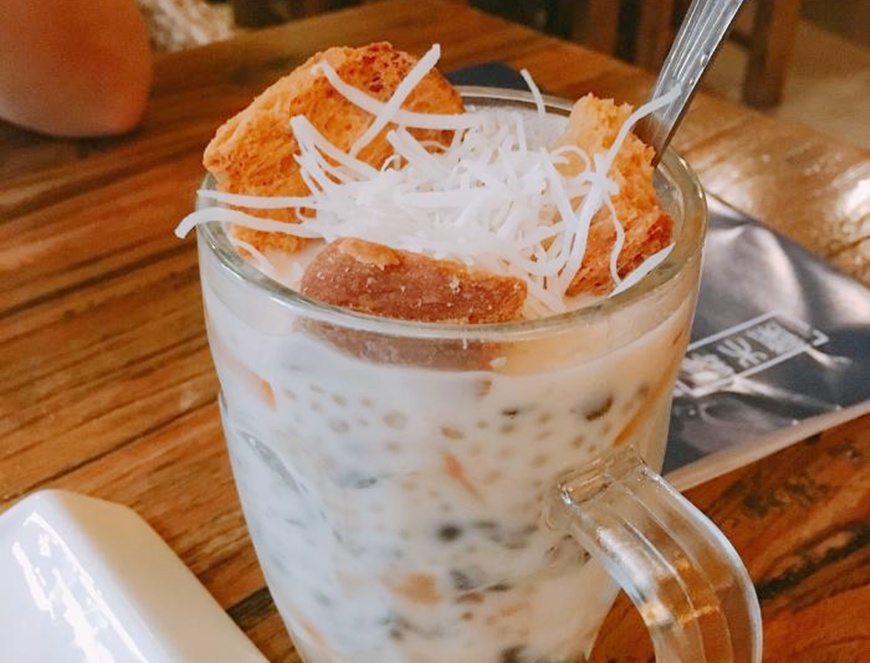 A cup of Poruda
Recommended restaurant:
Poruda One Cup(泡鲁达一杯), located in 41 Dingxin Street. 
Anyway, we have been fascinated by Kunming, not only because of the beautiful scenery here, but also the deliciousness that fills the city. Kunming, no matter which season you come, it will give you full surprises. 
Related Tours