Kunming City Tour: Dragon Gate, Huating Temple and Daguan Pavilion
6 hours
Every day
Private tour
Description
Overview
If you're short on time in Kunming but keen to give its top attractions the attention they deserve, this day tour is ideal. Take in the rock-face Dragon Gate and Huating Temple in the West Hill, and visit the Daguan Pavilion overlooking Dianchi Lake, all with a private guide to share their stories and significance. Your tour includes a Chinese restaurant lunch, entrance fees, and private transport with hotel pickup and drop-off.
Highlights
View the rock-face Dragon Gate carved into the West Hill above Dianchi Lake.
Visit the ornate Huating Temple, one of the oldest Buddhist temples in the region.
Explore the lakeside Daguan Pavilion and admire the views over the West Hill.
Itinerary
Kunming Dragon Gate
At around 9am, your private English-speaking tour guide and vehicle will pick you up from your hotel lobby and drive to Dragon Gate at West Hill (Xishan Forest Park). Located 37km west of the downtown Kunming, the Dragon Gate at West Hill is closed to the Dianchi Lake. This group of grottoes, sculptures, corridors and pavilions were hacked from the cliff between 1781 and 1835 by a Taoist monk and his co-workers.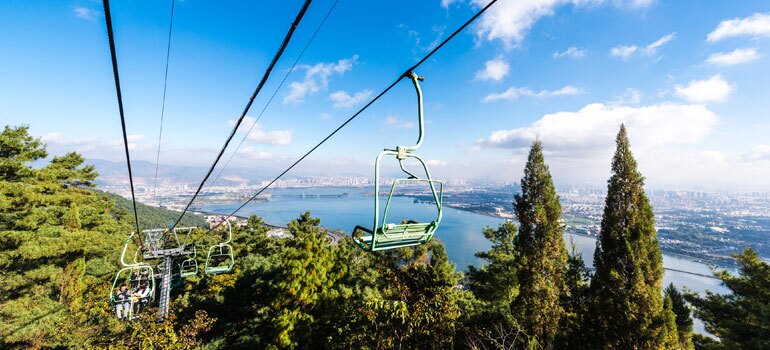 Dianchi Lake View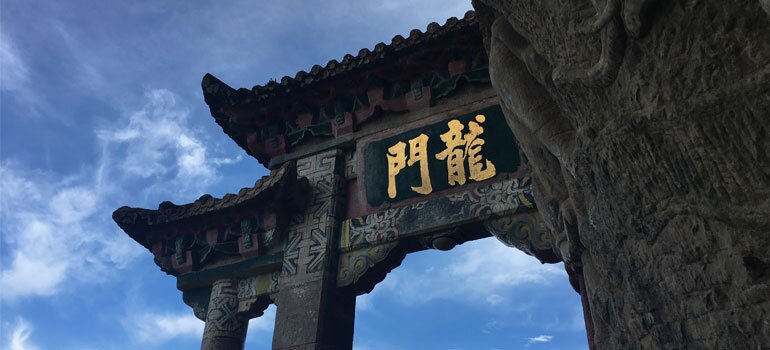 Dragon Gate
Huating Temple
Next, your will visit Huating Temple, which is one of the oldest and largest Buddhist complexes in Kunming with 572 painted sculptures and more than 260 stone carvings of animals and birds, which are of marvelous shape and some romantic feel. Still remained in the temple are 17 stone stele of Ming and Qing Dynasty, along with 7 tower tombs from Qing Dynasty.
Daguan Yuan Park
After lunch, you will visit Daguan Pavilion (in the Daguan Yuan Park), which is located at the terminus of Daguan Road and is 6 km from the city center, near Dianchi Lake and facing Taihua Mountain which is on the other side of Dianchi Lake. Completed in 1690 during the Qing Dynasty, the park consists of hills, ponds, pavilions and rockeries in a style similar to that of the gardens of the Yangtze River Delta. Its lovely gardens and buildings have won the name of "West Lake Junior" commanding a panoramic view of Dianchi Lake with the charming Sleeping Beauty Hill in the background. After that, you will transfer be transferred back to your hotel.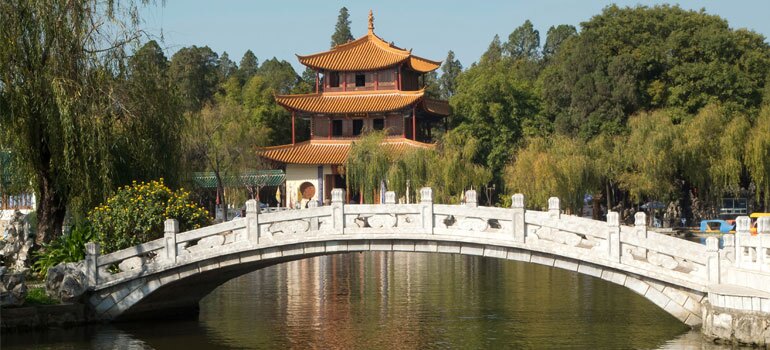 Daguan Yuan Park
Know Before You Book
What's Included
Friendly English-speaking tour guide.
Transfer by reliable driver and air-conditioned vehicle.
Lunch
All entrance tickets as listed in the itinerary.
One-way chairlift and eco-car at the West Hill.
What's Excluded
Gratuities (recommended).
Accommodation, travel insurance and any other personal expenses during tour.
Airport transfer.
Additional Info
Comfortable walking shoes are recommended.
You will receive details about tour guide and exact pickup time in your voucher the day before. And the tour guide will also contact you through hotel or leave a message for you regarding the exact pickup time the night before tour.
NOT recommended: if you have trouble with steps road or if you have to use a wheelchair, it might be a bit challenging for you to visit the Dragon Gate.
30-minute steps down from the West Hill.
While we endeavour to cater for specific dietary requirements, some meals and food activities are set in advance and may be difficult to adjust. Please advise us of any dietary requirements at the time of booking so that we can ensure you'll enjoy this trip.
Cancellation Policy
We will charge a cancellation fee of 100% if booking is cancelled 48 hours or less before event.
Ours operate rain or shine. In periods of extreme or unsafe weather, we will discuss with you for alternative arrangements or cancel the tour at our discretion and provide a refund.
+86-18807734970
For 48-hours last minute booking