Great Wall Hiking: 3 Steps to Climb the Great Wall of China
The Great Wall of China is a must-see attraction when you go to China. How many steps to climb the Great Wall of China? The Great Wall is 21,196 kilometers in total. And it's almost over 30 million steps to climb the whole sections of the Great Wall. But don't worry, most travelers just experience about 3-hour hiking for 4-6 kilometers, which is about 5,000 steps.
3 Steps to Hike the Great Wall
You may not know how to climb the Great Wall. Here are 3 steps to help your Great Wall trip easier.
Step 1: Before You Climb the Great Wall
Before you climb the Great Wall, preparation is important to ensure you have a satisfactory experience. There are three essentials to prepare before your trip.
Select a Suitable Section of the Great Wall That You Like
The Great Wall consists of numerous sections that were built in different dynasties. How can you choose which section to visit among the numerous sections of the Great Wall? There are ten famous sections that have been carefully selected for you to read about.
The best times to visit the Great Wall of China are during spring or autumn. Spring in Beijing is warm, and the flowers and trees are full of vigor. Autumn in Beijing is cool, and it's also the best hiking season because of the comfortable weather and colorful scenery. To guarantee your safety, try to avoid bad weather. If you can't choose one of the best seasons, you can choose a sunny day, which is beneficial and beautiful when hiking the Great Wall.
More information: Beijing Weather and Travel Tips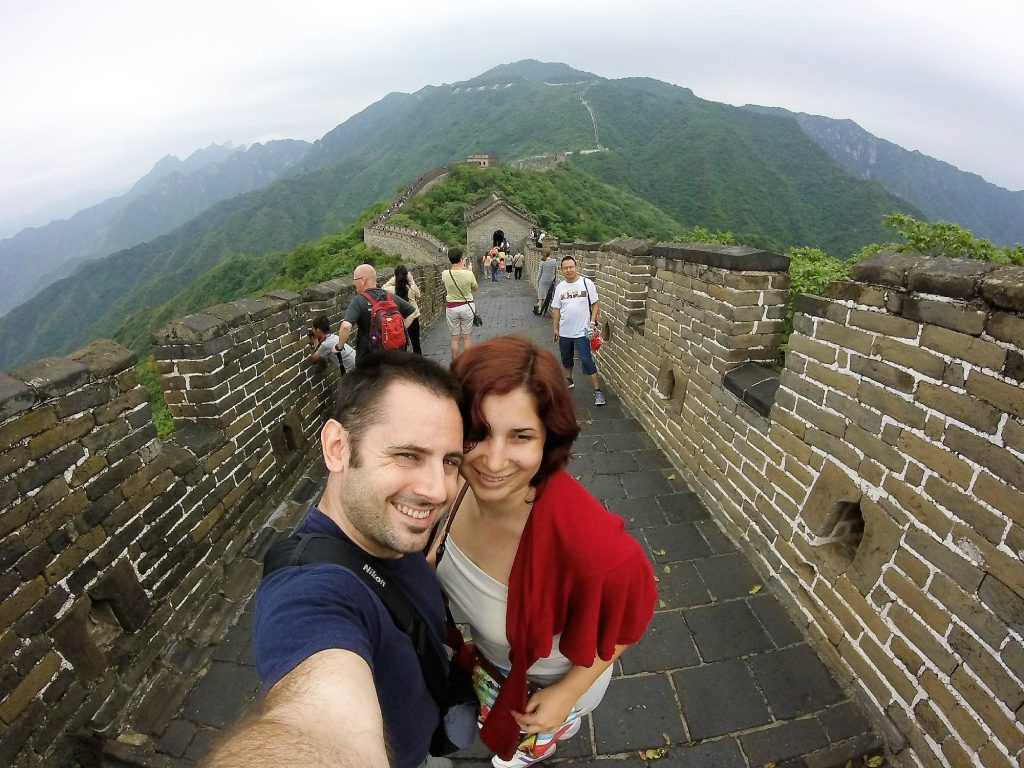 At the Mutianyu Great
Prepare Enough Equipment, Water, and Food
To have a wonderful experience, adequate preparations are essential.
Walking Conditions
There are some steep steps and uneven surfaces as well as some sections that you have to climb using your hands. Some sections of the Great Wall are challenging and you need to be physically fit, such as the Jiankou, Gubeikou, and Jinshanling sections of the Great Wall.
Prepare Water and Food
If you want to spend a long time hiking, be aware that there are no restaurants or shops on almost all sections of the Great Wall. It's essential to take water and food with you.
What to Take?
Check your bag and ensure you take everything you need from this hiking list: a backpack, a hat, sunglasses, an alpenstock, gloves, sunscreen, kneepads, a map, and an umbrella.
What to Wear?
Wear comfortable shoes, and dress for the weather.
Step 2: When You Arrive at the Foot of the Great Wall
Start your trip with a light burden and do warm-up exercises before your hiking journey.
Refuse Unnecessary Sales — Travel Light
When you arrive at the foot of the Great Wall, you are very likely to encounter some vendors. Concentrate on the hike ahead and try to avoid unnecessary shopping. You will certainly regret having to carry an extra burden as you hike across the Great Wall.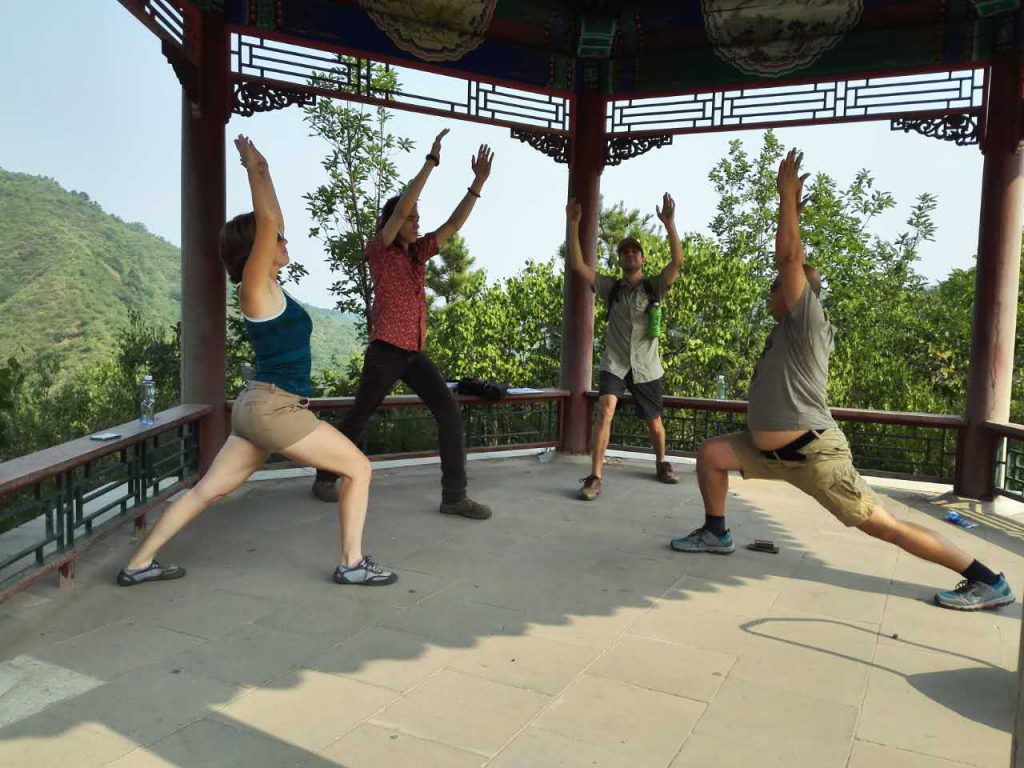 Doing warm-up exercises
Hiking the Great Wall is a challenging activity, and you need to spend a half-day or full day on the Great Wall. Doing warm-up exercises is helpful to avoid pulling any muscles.
Step 3: During the Hike
During the hike, catch a glimpse of the beautiful scenery but don't forget to watch where you're stepping.
It's a challenging activity for most visitors to hike the Great Wall for half a day, especially some wild sections of the Great Wall, which are really steep and perilous. Watch your step, however excited you are when visiting the spectacular Great Wall.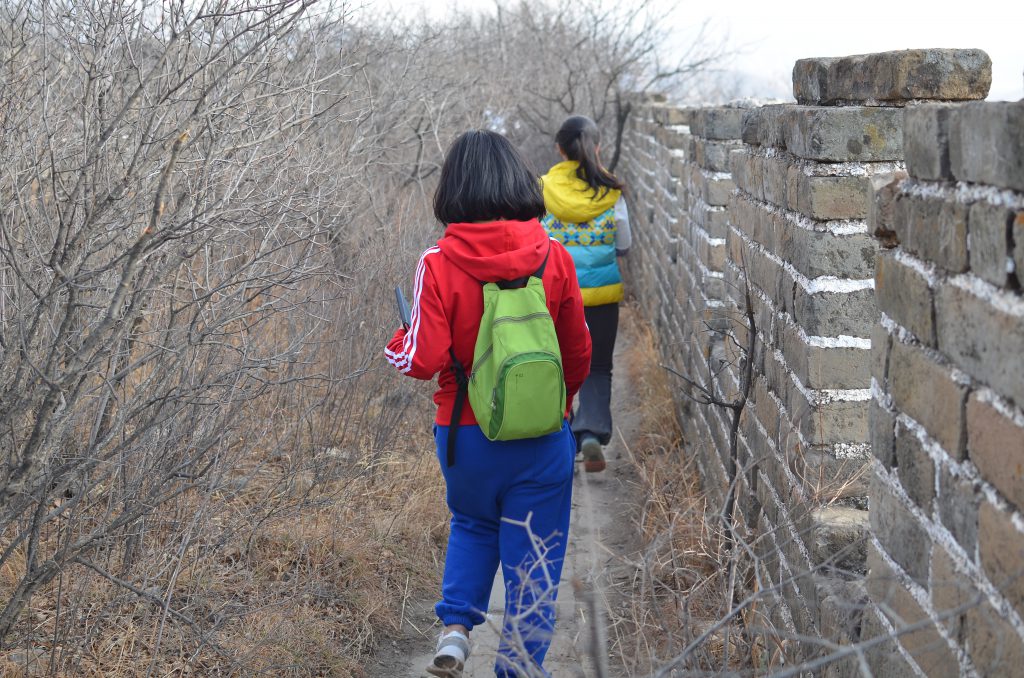 Hike the Great Wall
Catch Wonderful Sceneries
The most spectacular scenery is the panoramic view of the Great Wall. Don't waste too much time on taking photos at the first section of your trip. After you have started hiking the Great Wall, wonderful sceneries will appear in front of you one by one and you can't stop catching them on camera.
Don't Forget to Take a Meaningful Photo of Yourself
Some people may think it's not particularly special to take a photo of themselves at the Great Wall. But, rest assured, your parents or friends will like it. It's especially worthwhile if you only plan to travel to China once in your life.
Other Tips About Climbing the Great Wall
Apply some sunscreen to avoid being burnt by the strong sunshine and ultraviolet radiation.
Don't overestimate your physical condition, and don't challenge yourself to hike across damaged or forbidden sections. This ensures you avoid any injuries on dangerous terrain.
Get up early to escape the traffic jams in Beijing. The peak traffic period in the morning is around 7:30am to 9am. More information about Beijing's traffic
Protect this example of world heritage:
Don't leave rubbish on the Great Wall. Take away your rubbish and keep the Great Wall clean, beautiful, and less polluted.
Don't take the stones or bricks away. The Great Wall consists of numerous bricks and stones — don't take part of its body away. Just admire it and keep the Great Wall complete.
Don't scribble on the Great Wall. Scribbling on the wall is not a good way to remember your precious trip. Travel is about discovering yourself; not leaving traces of yourself everywhere.
Related Tours