Top 6 Popular Beijing Local Foods You Can't Miss
What to eat in Beijing? In the eyes of Beijingers, delicious local foods are some of the most important aspects of Beijing's culture. Beijing is not only a comprehensive center of China but is also a center for Chinese food. People travel from all parts of the country and take all kinds of delicious foods to Beijing. There are some famous and delicious Beijing's foods that you can't miss.
1. Beijing Roast Duck — the Iconic Dish in Beijing
Beijing roast duck is the iconic dish in Beijing, which you can't miss. It's not only a famous local dish but is also popular with people from all corners of the world. A famous celebrity said that: "After a dinner of Peking duck, I'll agree to anything". It's a vivid example to describe how delicious Beijing roast duck is.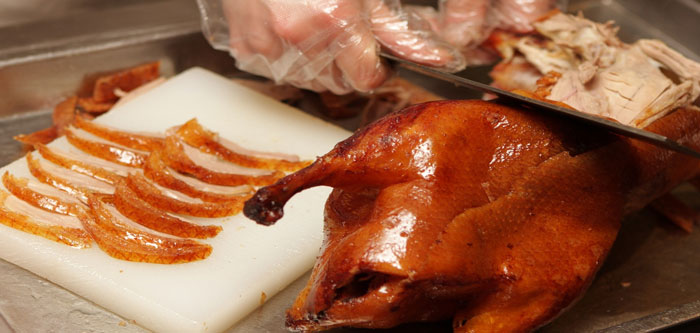 Beijing Roast Duck
DaDong "SuBuNi" Roast Duck is one of the most famous roast duck restaurants in Beijing. In 2017, DaDong Roast Duck Restaurant opened a branch in New York. Within the first 2 hours of serving Beijing roast duck, 2,500 reservations were booked for the following year, and the phone line was overloaded.
History: The first mention of Beijing roast duck was during the Yuan Dynasty (1271–1368).
Ingredients: roast duck, sauces, scallions, and cucumber
Taste: crispy skin, juicy on the inside, and tender meat
How to eat:
Dip the crispy pieces of skin in sugar before eating them. After that, pile slices of duck together and eat them with cucumber, scallions, and bean paste.
Recommendations:
DaDong Roast Duck Restaurant, Quanjude Roast Duck Restaurant, Li Qun Roast Duck Restaurant, and Bianyifang Roast Duck Restaurant
2. Jiaozi — the Most Representative Chinese Food
Jiaozi is a traditional Chinese food and has a history of over 1,800 years. As the most famous Chinese food, it is not only popular in China but is also popular throughout Asia.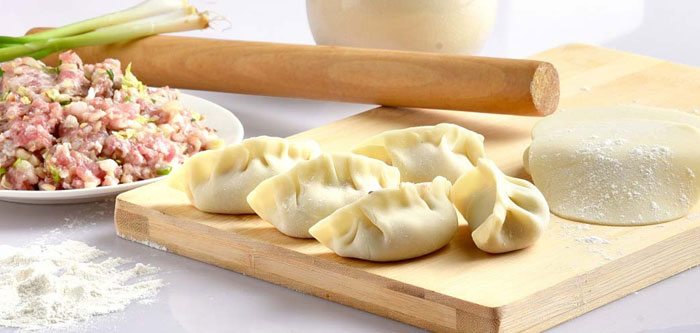 Beijing jiaozi
Ingredients: flour, ginger, vegetables, minced pork, and eggs
How to eat:
Dip the jiaozi in vinegar and chili before eating it.
How many dumplings are suitable for an adult?
About 500 grams of dumplings are sufficient for an adult.
Where to eat:
Different from Beijing roast duck, you can find dumpling restaurants anywhere in Beijing. Generally speaking, if you find a restaurant with a lot of local customers, the food will be delicious.
3. Zhajiangmian — a Classic Food of Old Beijing
Zhajiangmian is a very popular local food in Beijing. Hand-pulled wheat noodles and minced pork are mixed together in a bowl. To balance out the taste, fresh vegetables are added on top of the noodles. Mix the toppings through the noodles to your liking.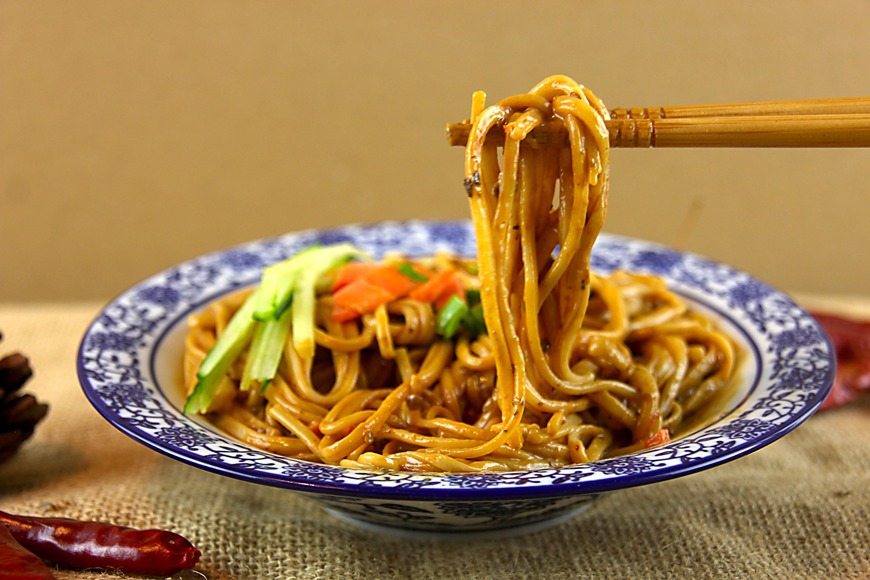 Beijing Zhajiangmian
Ingredients: hand-pulled noodles, vegetables (such as julienned cucumber, bean sprouts, and crunchy radishes), tofu, and pork
Taste: salty
Features: a quick dish, classic local food, Chinese noodles
Recommendations:
Hai Wan Ju, Old Beijing Zhajiang Noodles King, and Youyifu Old Beijing Noodles
4. Manchu Han Imperial Feast — a Grand Chinese Meal
Manchu Han Imperial Feast was a grand feast in the Qing Dynasty (1644–1912). It originated from a banquet during the Kangxi Emperor's 66th birthday celebrations. His birthday banquet was not only a celebration but was also an important diplomatic activity to solve the disputes between the Manchu and Han Chinese people. It's said that Manchu Han Imperial Feast consisted of 320 different dishes. These dishes were a combination of the Manchurian and Han cultures. After the Kangxi Emperor saw these dishes, he gave the feast the name of "Manhan Quanxi".
Dishes: at least 108 varieties
Features: one of the grandest meals in Chinese history, Manchu and Han dishes, it was only served in the Forbidden City during the Qing Dynasty
Recommendation:
Fangshan Restaurant. It was founded by former imperial chefs of the Qing Dynasty.
5. Beijing Hot Pot — a Popular Winter Food in Northern China
Hot pot is a famous type of cuisine in China. Many people have tasted Sichuan hot pot or Chongqing hot pot but what are the features of Beijing hot pot? There are four main differences: a different type of pot, different ingredients (Beijing hot pot includes instant-boiled mutton), different container, and different seasonings.
History: Hot pot originated in Mongolia and was introduced in Beijing during the Yuan Dynasty (1271–1368).
Ingredients: mutton, beef, turnip, cabbage, frozen tofu, and vermicelli.
How to eat:
Put your favorite seasoning in your bowl. Boil your preferred ingredients in the pot and wait for several minutes. Eat the cooked food with dipping sauces.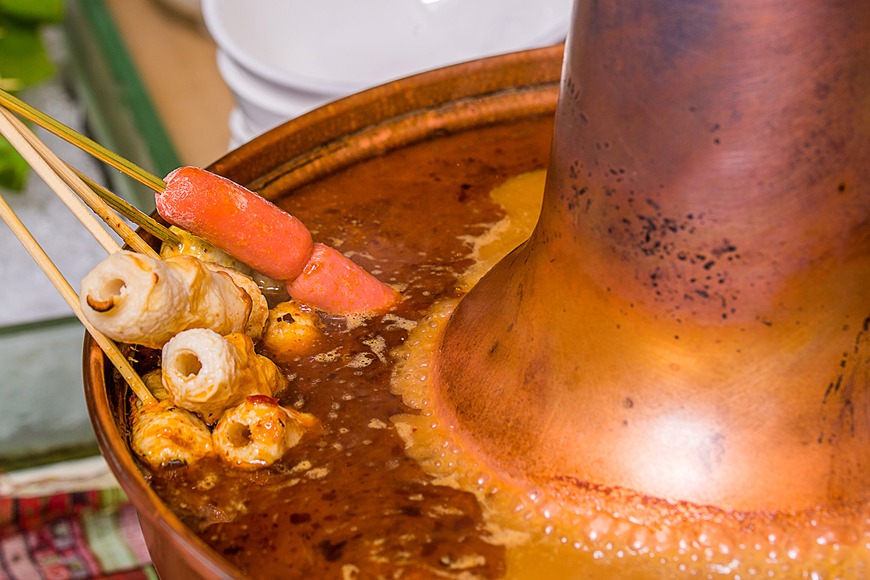 Beijing hot pot
6. Beijing Flour Food — Three Typical Delicious Foods
Xiànbĭng: Chinese Pie
Xianbing is a popular staple dish in Northern China. The pan-fired pie is made of flour, meat, vegetables, and seasonings. The delicious pie is thin and crispy on the outside with juicy fresh meat and vegetables inside.
Jiānbĭng, a Common Breakfast in Northern China
Jianbing is a traditional Chinese breakfast and has a history of 2,000 years. You can buy it across the city in many shops. A jianbing consists of a large and thin pancake, eggs, spring onions, and a báocuì. The crispy and delicious pancake makes it a popular choice for the locals.
Beijing Jianbing
Shāobĭng, Another Popular Breakfast in Beijing
Shaobing is a baked Chinese cake, which is made with or without stuffing. The stuffing varies and can consist of pork, beef, mutton, onions, and other vegetables. It is a popular local food in Northern China, and people often eat a shaobing with a cup of soybean milk or a bowl of douhua as their breakfast.
Related Tours