Zhangjiajie National Forest Park - Find the Pandora World of Avatar
Zhangjiajie is known for its unique tourist sites, including strange-shaped pillars, hidden valleys, seas of cloud, and limestone caves. It is one of the must-see places in China. The main attractions of Zhangjiajie are in Wulingyuan Scenic Area. Towering sandstones mesas, dense forests, and deep ravines are the gorgeous natural landscape of the scenic area. Zhangjiajie National Forest Park is the most famous part of it.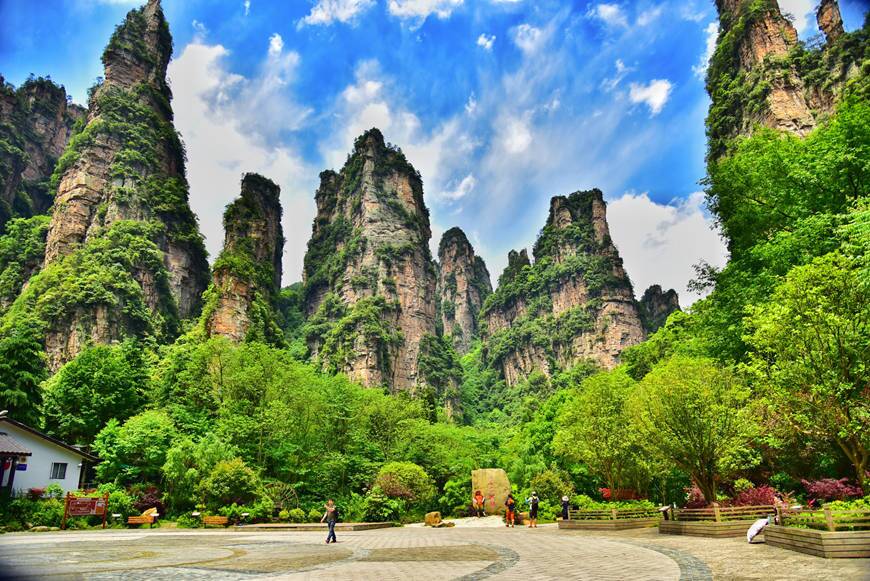 Zhangjiajie National Forest Park
Chinese: 张家界国家森林公园 Zhangjiajie Guojia Senlin Gongyuan /jung-jyah-jyeah-gwor-jyah-snn-lin-gong-ywhen/
Location: Wulingyuan District, Zhangjiajie City, Hunan Province
Area: 4,810 hectare (48,100,000 km²)
Suggested time for visiting: 1-2 days
Opening hours: 7 AM – 6 PM
Admission: CNY 248 (valid for 3 or 4 days)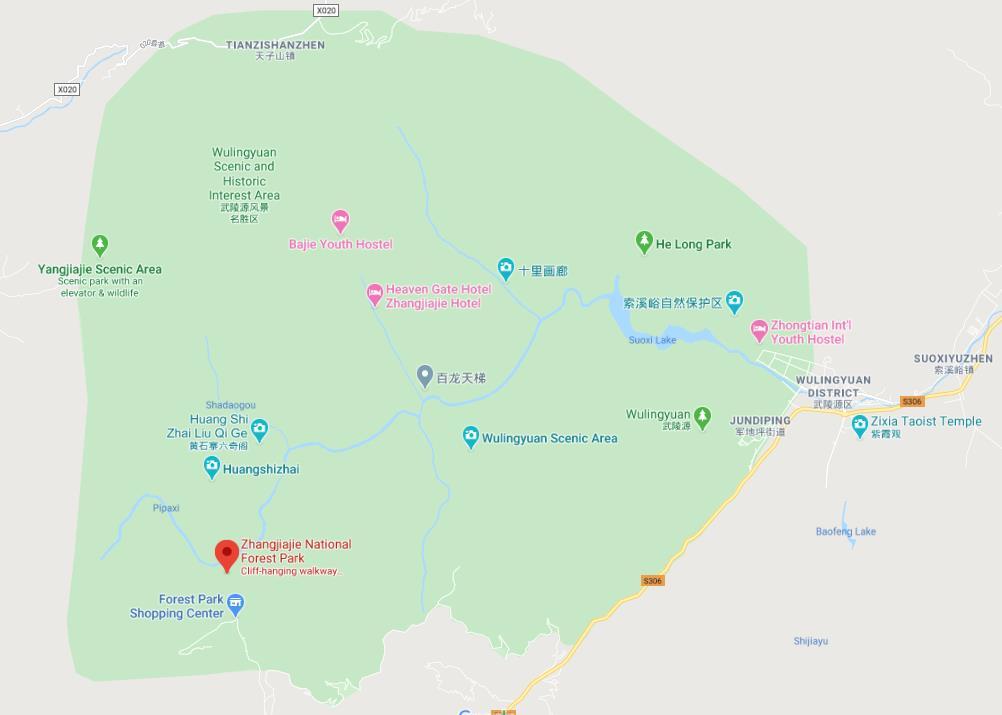 Map of the Park
Highlights of Zhangjiajie National Forest Park
Zhangjiajie National Forest Park is quite huge with many different scenic areas. Plan well in advance to make full use of your time in the places you are most interested in. The most popular and famous scenic areas are Yuanjiajie, Tianzi Mountain, and Gold Whip Stream. These three areas are suitable for tourists at any age. Walking is not hard at the main attractions as there are cable cars, elevators, a tram, and shuttle buses available and concrete paths and steps have been built.
Yuanjiajie Scenic Area
Visiting time: 2.5 hours
Fitness needed: Moderate
Yuanjiajie (袁家界 /ywhen- jyah-jyeah/) has the prototype of the Hallelujah Mountain in the film Avatar, which makes it the most popular sight. There are many peaks and valleys. So far, some Tujia people are still living in Yuanjiajie, from whom one can experience the Tujia customs. You may hear that the easiest way to get up to Yuanjiajie is by the famous Hundred Dragon Elevator (Bailong Elevator). But we don't really recommend it (unless you arrive before 7 am or descend before 4 pm) due to typical 2-hour queues for the 2-minute ride. A 1-1.5-hour hike will be a better way if you are fit. The fame of Hallelujah Mountain and the views make this area always crowded, especially during peak travel seasons when you may find it hard to find a place free of people for photos.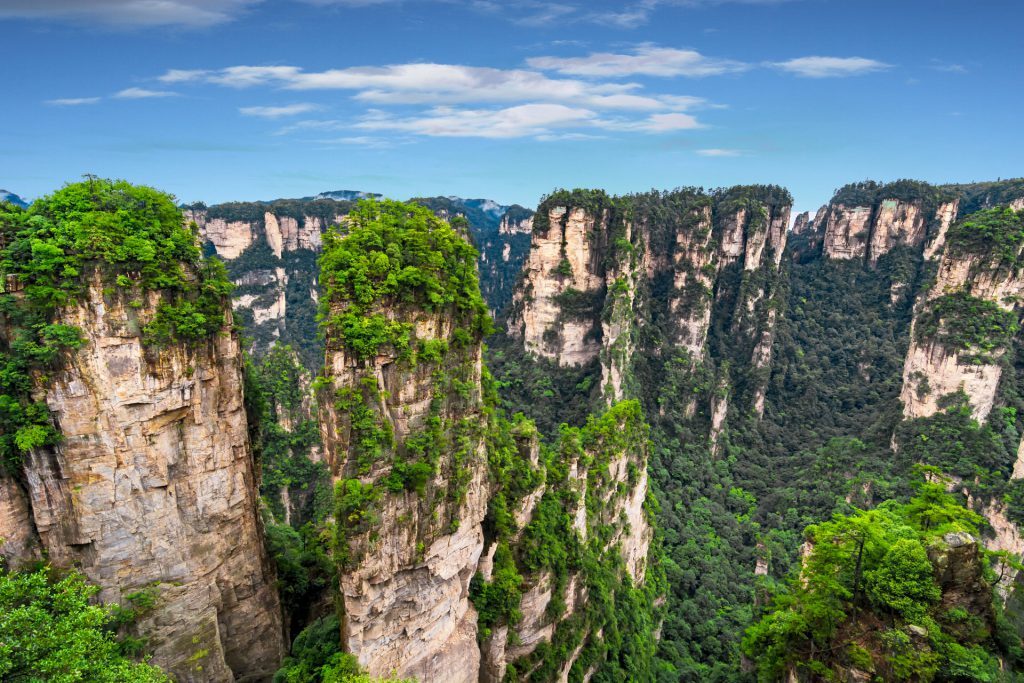 Yuanjiajie
Tianzishan / Tianzi Mountain
Visiting time: 2 hours
Fitness needed: Moderate
Tianzi Mountain (天子山 /tyen-dzrr-shan/), also called Heaven Son Mountain or Emperor Mountain, offers the best chance of photographing a sea of clouds, mainly during spring or early autumn. Don't miss the cable car up here. The 30-minute ride will take you through the towering formations and give you the opportunity to take great fly-by photos.
Cable Car of Tianzi Mountain
Gold Whip Stream
Visiting time: 2 hours
Fitness needed: Moderate
Also called Jinbianxi (金鞭溪 /jin-byen-sshee/), this stream was named after the Golden Whip Rock that it flows by,  with 5.7 kilometers long (3.5 miles). Sceneries along the Golden Whip Stream are enchanting in the Zhangjiajie National Forest Park. Flanked by ridges and peaks, the crystal-clear water makes it possible to observe every action of the fish in the water. On the way, girls from Tujia will present visitors traditional folk songs when requested. Have a good relax here after a tiring hiking!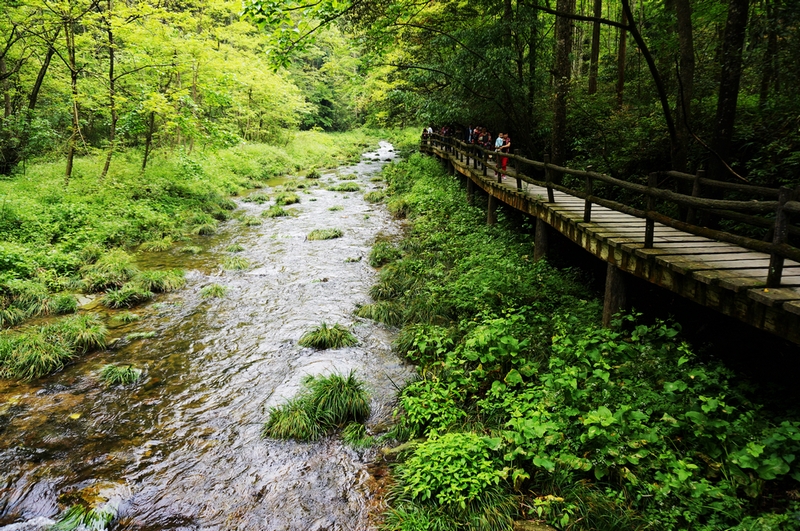 Gold Whip Stream
Best Time to Visit
Zhangjiajie National Park can be visited all year round. But what's the best season to go? It depends on what you're looking for. For weather, September and October are the best times to go, when the weather is clear and comfortable. But it's the most crowded season to visit. The national park is busy year-round except for winter from December to February. The peak season is from May to October. The short period from early-November to mid-November is considered to be the perfect time with good weather and without heavy crowds.
We don't suggest you visit it during the busiest periods - the public holidays in China: May Day (May 1–3), National Day (October 1–7), and summer holiday between July and August.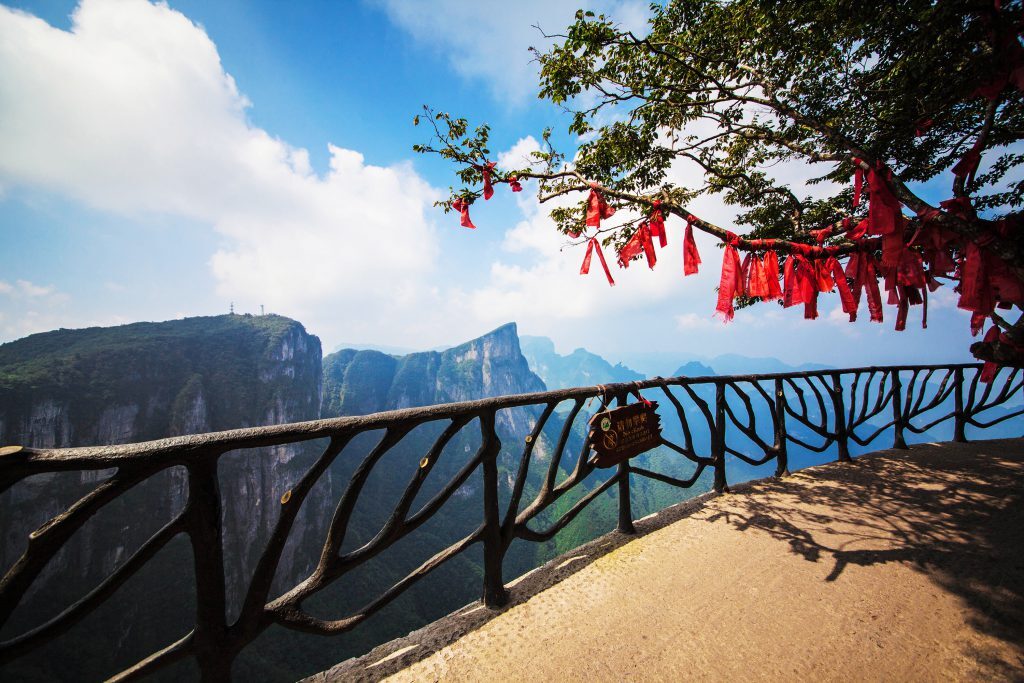 Gold Whip Stream
Recommended Tour in Zhangjiajie National Forest Park
If you have limited time in Zhangjiajie, you can take a one-day trip to gain a general visit of the National Park. In the morning, take a cable car to the top of Tianzi Mountain. There is 692 meters' difference in elevation. The aerial tramway is 2,084 meters in length and runs 6min and 22s for a single trip, during which you can get a wonderful bird's eye view. After lunch, have a short rest and head to Avatar Hallelujah Mountains in Yuanjiajie.
Where to Stay
There are no hotels in the national park, but you can choose one adjacent to the forest park. Most hotels in Zhangjiajie are concentrated in two areas:
Wulingyuan (a small town adjacent to the national park)
Downtown Zhangjiajie
Wulingyuan
It offers hotels ranging from hostels to 5-star hotels.
Advantages
Comfortable hotels and Western breakfasts
Convenient transportation to many famous spots in the scenic area (Zhangjiajie National Forest Park, Zhangjiajie Glass Bridge, Yellow Dragon Cave, and Baofeng Lake)
Disadvantages
Far away from airport / railway station (about 50-minute drive)
A bit far away from Tianmen Mountain near downtown Zhangjaijie
Recommended Hotels
5-star: Crowne Plaza Zhangjiajie
4-star: Zhangjiajie Pullman Hotel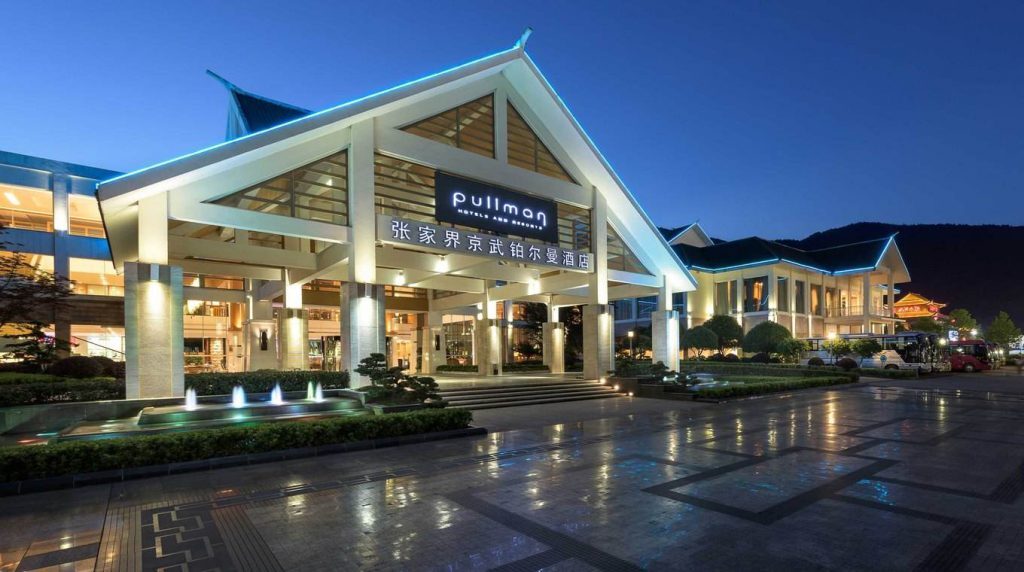 Zhangjiajie Pullman Hotel
Downtown Zhangjiajie - for Flight / Train / Tianmen Mountain
Most travelers spend more than 2 days touring Zhangjiajie. We don't recommend you stay in the downtown over one night.
Advantages
Convenient access to Tianmen Mountain and other minor sights
Close to the airport and railway station
More entertainment at night
Disadvantages
Wastes time and transportation fees driving from and to Wulingyuan Scenic Area (1 hour or more per journey)
Recommended Hotels
5-star: Sunshine Hotel & Resort Zhangjiajie
4-star: Best Western Grand Hotel Zhangjiajie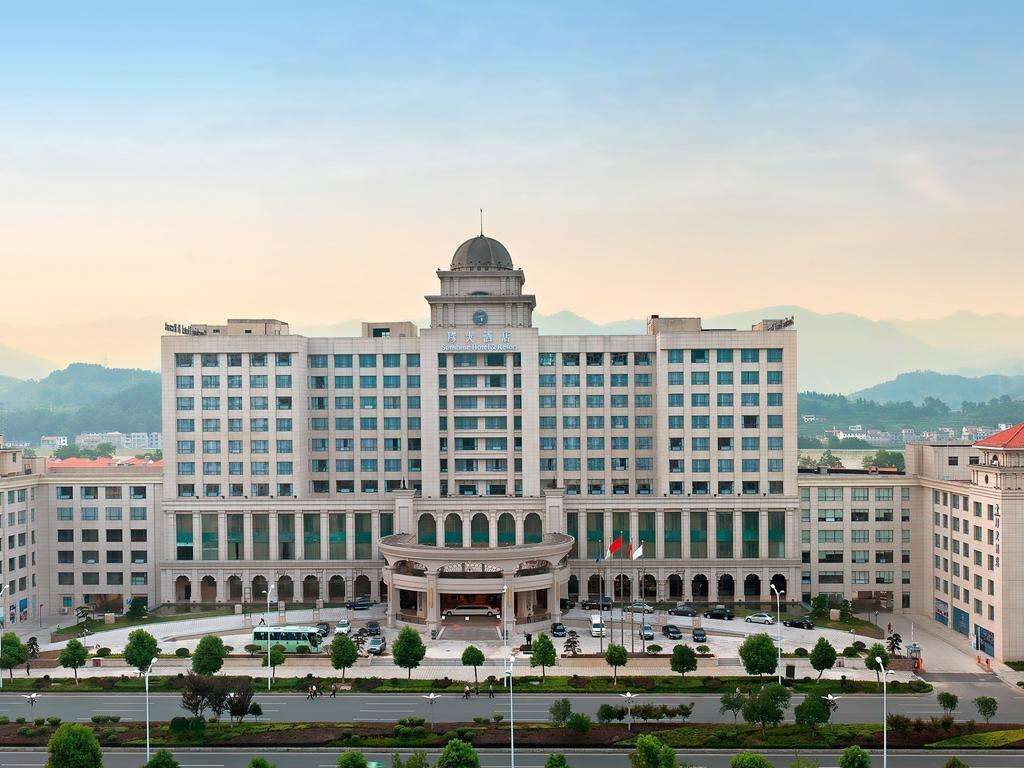 Sunshine Hotel & Resort Zhangjiajie
Transportation – How to get to Zhangjiajie National Forest Park
Zhangjiajie National Forest Park is about 30 km from downtown Zhangjiajie. There is no direct bus from the airport or train station to the national park. But you can take a taxi or a local bus to get there if you don't mind spending more extra time.
From the airport: Take a taxi. Or take public Bus 4 to Guanliping Zhuanpan (Chinese: 官黎坪转盘), then take a local bus to Zhangjiajie Scenic Area.
From Zhangjiajie Train Station: Take a taxi. Or walk about 200 meters to Zhangjiajie City Bus Station where you can take a bus to Zhangjiajie National Park. It takes about 40 minutes.
Book a tour with private transport. It is the best way especially during peak seasons when the local buses are filled with tourists and taxis raise their fares. Contact us!