Mini Group: Half-Day Xi'an Terracotta Warriors Discovery Tour
Approx. 5 hours
Every day
Group tour (Min 2, Max 10)
Description
Overview
Perfect for visitors short on time, this efficient, half-day visit covers China's iconic terracotta army - the world's largest ancient burial site - topped off by a tasty local lunch. Tours include private hotel pickup, so you can skip the hassle of navigating the city. Get detailed history and background from your group guide while getting a peek at thousands of clay warriors along with the mysterious mausoleum of Qin Shi Huang.
Highlights
A time-saving tour of terracotta warriors and Qin Shi Huang Mausoleum.
Enjoy a hassle-free, no-strings-attached visit to one of China's most iconic ancient sites.
Get a taste of authentic Xi'an cuisine with an optional lunch stop at an insider's favorite.
Enjoy round-trip hotel transfers, so you can relax and focus on taking in the sights.
Itinerary
7:30 am - 9:00 am, Hotel Pickup and Transfer to the Terracotta Warriors Museum.
Your guide and driver will be waiting for you in the morning at around 7:30 am – 8:00 am at your hotel lobby and you'll be picked up and driven to the start point of our journey - Terracotta Warriors Army. It is approx 50 minutes to drive from downtown Xi'an to the Terracotta Warriors Museum. You will acquire rich background information about the city from your well-educated, expert guide. 
9:00 am - 12:00 pm, Visit the Terracotta Warriors Museum.
Three pits have been excavated and can be visited. 
The largest pit, Pit 1, is believed to contain 6,000 warriors (only 2,000 are on display) and horses. They are all life-sized, facing east, and are lined up in battle formation. What is particularly striking is the fact that no two of them are alike.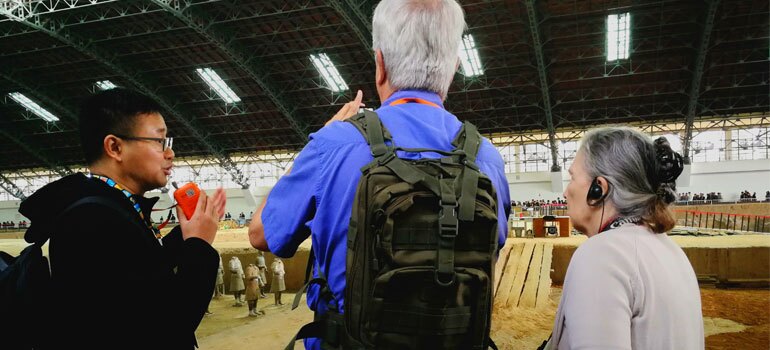 Equipped with earphone
Pit 2, which is smaller than Pit 1, contains around 1,300 warriors and horses, and it is still being excavated. It is worth mentioning that the figurines of general, the soldier on the horse, and the kneeling soldier were the first to be discovered in this pit. 
The smallest pit, Pit 3, contains 72 warriors and horses, and is believed to be the army headquarters due to the number of high-ranking officers unearthed there. The Bronze Chariot Pit exhibits two painted bronze chariots in a large scale in a small museum to the right of the main entrance. The bronze chariots are the earliest, largest, and best-preserved bronze artifacts in the world, crowned as "the King of Bronze Ware".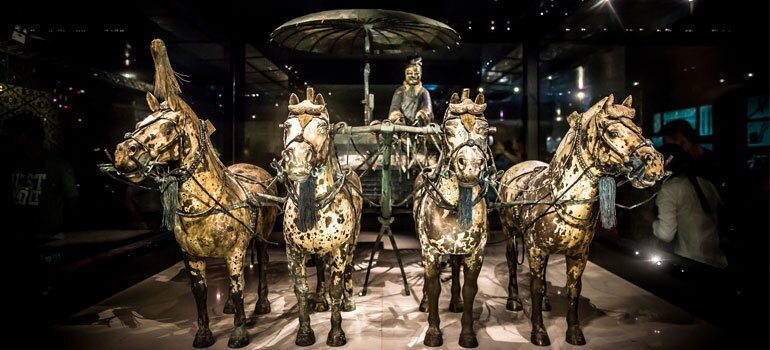 The Bronze Chariot Pit
The last site you will visit is the Mausoleum of Qin Shi Huang. According to historical records, the palace is filled with precious stones, and underground rivers of flowing mercury defend against intruders. Considered too dangerous to excavate, 95% of the mausoleum is still buried and its contents remain secret. The tomb has little to see, so we will visit the site by viewing at a distance instead of taking a close look at. You'll be transferred from the museum to the best view point where you can view the whole area of the Mausoleum of Qin Shi Huang. You'll be shocked by the large size of the mausoleum. Your tour guide will tell the story why the Qin Shi Huang choose this site to expect to continue his rule in death as it had in life, and some inference about the structure and distribution of the underground palace.
12:00 pm - 1:30 pm, Lunch Break (not included in this pricing).
Stop at our well-selected local restaurant near Terracotta Warriors Army and grab a bite of some enjoyable local Xi'an food, such as: Rou Jia Mo (肉夹馍, we also call it Chinese hamburger), Yang Rou Pao Mo (羊肉泡馍, pita bread soaked in lamb soup), noodles or dumplings. Lunch fee is at your own expense.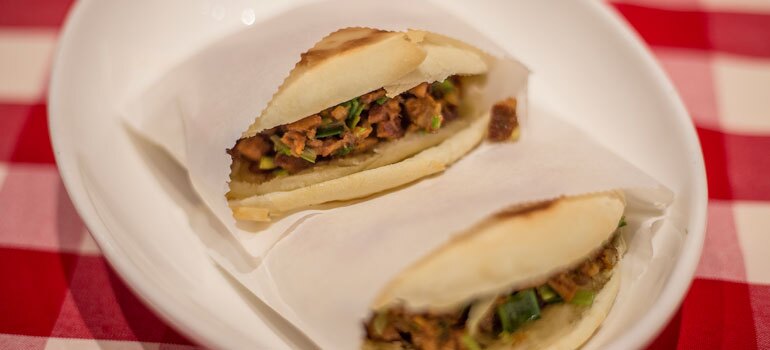 Rou Jia Mo (肉夹馍)
Please advise us of any dietary requirements on the tour, such as a vegetarian diet, Muslim food, gluten-free food, etc. so that the tour guide can make preparations in advance.
1:30 pm - 2:30 pm, Return to Your Hotel or Your Onward Transport.
After lunch, return to Xi'an for the next destination, Xi'an Ancient City Wall. A nap might be necessary for you to feel refreshed during a 50-minute driving back.
This is for the half-day, your guide and driver will transfer you back to your hotel for about one hour. If you want to be dropped somewhere at downtown, just let the tour guide know. If you need to catch a flight or a train after the tour we are more than happy to help you arrange it, too. Please book the airport transfer in advance for your onward flight.
Know Before You Book
What's Included
Transport between attractions, including pickup and return to your hotel. 
English-speaking tour guide service.
Bottled water.
Entry/Admission - The Museum of Qin Terracotta Warriors and Horses.
What's Excluded
Lunch fee (RMB 60 per capita, depending on appetite).
Tipping of hiking guide/driver recommended on good service on a 2:1 ratio separately (usually RMB 50-100 per person).
Accommodation, travel insurance and any other personal expenses during tour.
Xi'an Airport or Xi'an Bei North Station transfer.
What Do I Need To Bring
A moderate amount of walking is involved. Comfortable walking shoes are recommended.
You must bring a valid passport when on the tour.
Please be ready and waiting in your hotel lobby 10 minutes prior to your scheduled pick up time.
Additional Info
Minimum number of participants required for the tour to run is 2 (negotiable). Maximum number of participants per tour is 10.
Passport information is required for entrance ticket, please forward each individual traveler's full name and passport number at the time of booking.
You will receive details about the tour guide and pickup in your voucher the day before. And the tour guide will also call you through hotel or leave a message for you about the exact pickup time the night before tour.
Hotel pickup and drop off services are available within the 3rd Ring Zone of Xi'an City.
What If My Hotel Is Outside The Pickup Area
If your hotel is outside of the 3rd Ring Zone in Xi'an, you can
Book an additional transfer service with us, we will pick up from and return to your hotel, round-way: US$35. If your hotel is near airport, round-way: US$45.
Meet your guide at the Bell Tower Hotel (Add: 110 South Street, Beilin District, Xi'an) at around 8:00 am. On the day before your tour, you will receive a text message or email about the pickup information. 
Cancellation Policy
We will charge a cancellation fee of 100% if booking is cancelled 48 hours or less before event.
Ours operate rain or shine. In periods of extreme or unsafe weather, we will discuss with you for alternative arrangements or cancel the tour at our discretion and provide a refund.
+86-18807734970
For 48-hours last minute booking