Private Tour: Wang's Family Compound and Shuanglin Temple From Pingyao
7 hours
Every day
Private tour
Description
Overview
Explore a masterpiece of Qing architecture plus one of China's biggest Buddhist temples on a private 7-hour tour from Pingyao. Visit the Shuanglin Temple, famed for its multitude of painted clay statues, and explore the Wang's Family Compound, a walled maze of familial houses, pavilions, forts, and courtyards from the 16th century. A private guide, private round-trip transport, plus entrance fees included.
Highlights
Tour UNESCO-listed Shuanglin Temple, one of China's largest Buddhist temples.
View the 2,000 statues, galleries, and courts of the ornate temple.
Visit the Wang's Family Compound, a labyrinth of forts, houses, and courtyards from the 16th century 
Wander through the squares and halls, and learn about Wang's social hierarchies.
Itinerary
Meet your private guide at your hotel, and hop inside your private, climate-controlled vehicle.
Then, sit back and gaze out at Pingyao's suburbs as you make the roughly 20-minute journey to the village of Qiaotou, the home of Shuanglin Temple. Built about 1,500 years ago, this ornate Buddhist place of worship is famous for its ancient locust trees, frescoes, and over 2,000 clay statues of Buddha.
On arrival, head inside the UNESCO-listed complex to explore the ornately designed, mural-coated halls and courtyards. View the rows of brightly painted statues dating to the Song and Yuan dynasties, and hear from your guide how 'Shuanglin' translates as 'double forest', a reference to the two trees Buddha passed under to enter 'nirvana', the highest state of happiness.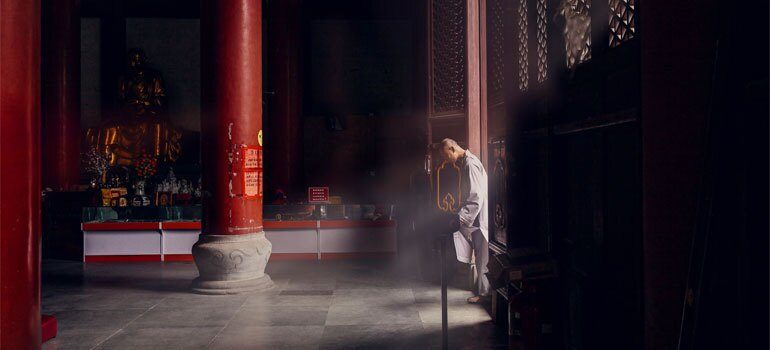 Buddhist
Having explored here, and then relax on the approximately 1-hour drive to your next stop: Wang's Family Compound.
This beautiful, hillside cluster of 123 courtyards and 1,118 rooms is a masterpiece of Qing dynasty residential architecture. Originally built in the 16th century for the prominent Wang merchant family, it was expanded and restored right up until the 19th century.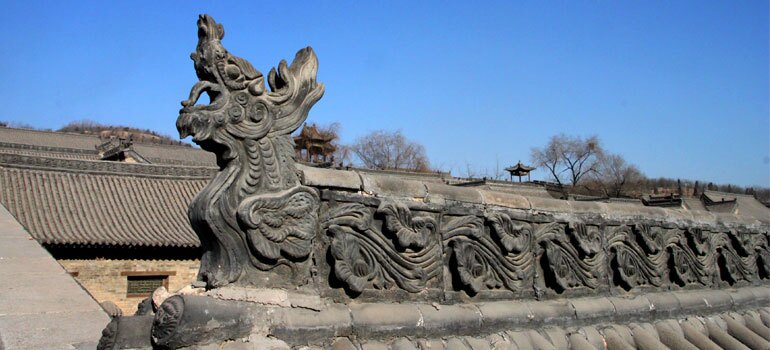 Stone Carving of Wang's Family Compound
Enter the magnificent, walled compound, and explore the labyrinthine quadrangles and alleyways. Admire the folk architecture of the houses, temples, and pavilions, and hear how they reflect the strict social hierarchies of those who lived here. On your wanders, stop to visit the exhibition halls and museums. Take in the precious artworks, calligraphy, jade, and other treasures on display, and hear about the stories and symbolism behind them.
After about seven hours' exploring, relax on your ride back to Pingyao, where your tour concludes with a hotel drop-off.
Know Before You Book
What's Included
English-speaking tour guide service
Transfer by reliable driver and air-conditioned vehicle, including hotel pick-up and drop-off.
Entry/Admission - Wang's Family Compound
Entry/Admission - Shuanglin Temple
What's Excluded
Lunch fee (RMB 60 per capita, depending on appetite).
Gratuities (recommended)
Accommodation, travel insurance and any other personal expenses during tour.
Additional Info
Comfortable walking shoes are recommended.
You will receive details about tour guide and exact meeting time in your voucher the day before. And the tour guide will also contact you through hotel or leave a message for you regarding the exact time the night before tour.
Lunch is not included in this tour. But you can have a lunch break at any time if needed, just let your tour guide know.
Cancellation Policy
We will charge a cancellation fee of 100% if booking is cancelled 48 hours or less before event.
Ours operate rain or shine. In periods of extreme or unsafe weather, we will discuss with you for alternative arrangements or cancel the tour at our discretion and provide a refund.
+86-18807734970
For 48-hours last minute booking