Half-Day Private Walking Tour of Pingyao Ancient City
5 hours
Every day
Private tour
Description
Overview
Wander the pinched lanes of Pingyao Ancient City, dozens of museums, hundreds of historic buildings and years of history unfold before your eyes. Accompanied by a private tour guide service, travel back to ancient time, discover the thriving merchant town during the Ming Dynasty.
Highlights
Visit the UNESCO's World Heritage Site, China's best-preserved ancient walled town.
Enjoy the walking tour amongst spectacular and charming ancient Chinese architectures.
Explore the banking capital of China and learn about its glorious past.
Itinerary
At around 8:30 am, you will be greeted by your private tour guide at an appointed meeting place. You will visit the highlights of Pingyao Ancient City on this half-day tour.
City Wall of Pingyao
Pingyao Ancient City is bounded by an intact city wall, gates access the old town at various points in the east, west, north and south. The Ancient City Wall is a good place to start the tour. It was constructed nearly 3,000 years ago, and at present it still keeps the original appearance of the city wall renovated in the early Ming Dynasty which is several hundred years ago. The contruction method is simply but delicate. Its circumference is about 6,163 meters, with a height at 6 to 10 meters.
Viewing on the City Wall of Pingyao
Ming and Qing Dynasties Street
The old town's main drag is Nan Dajie, also known as 'Ming-and-Qing-Dynasties Ancient Street', is the central axis of Pingyao Ancient City. During the Ming and Qing dynasties (1367–1912), Nan Dajie (South Street) controlled more than half of the financial institutions in China and was known as the 'China's Wall Street' of that period. Now it is still the most prosperous place in Pingyao.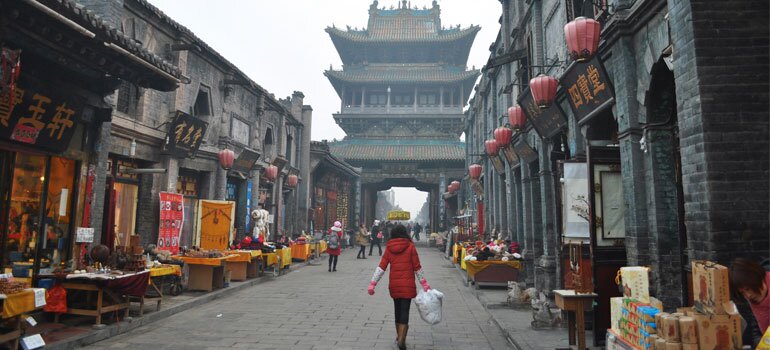 Shop around Ming-Qing Street - the Wall Street of China
The Confucian Temple
Pingyao Confucius Temple is the earliest built and the best preserved of its kind in China. It has an exhibition showing the history and development of ancient China' imperial examination system. Other precious relics on display include ancient civil officials' costumes and accessories and the examination paper of a number one scholar.
Rishengchang Former Bank
Established in 1823, Rishengchang is the first and was the biggest draft bank in China at that time, and had been famous for "Hui Tong Tian Xia", meaning "business conneting the whole world". Rishengchang is located on the West Street of Pingyao Ancient Town. From its establishment via prosperity till its closure, it operated for over 100 years. At Rishengchang, visitors will learn about its development and how it was managed via the exhibitions.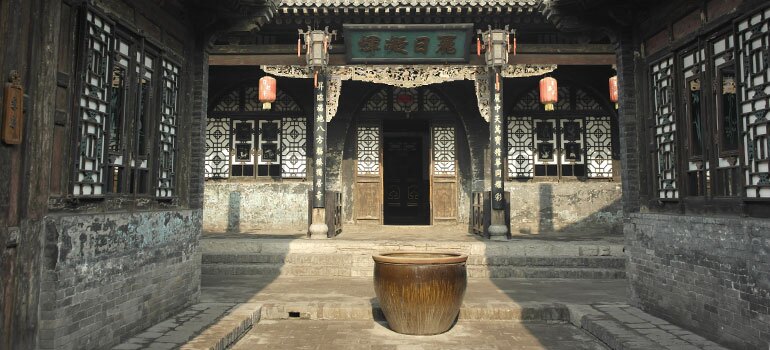 Visit Rishengchang Former Bank - First Modern Bank in China
Know Before You Book
What's Included
Knowledgable English-speaking tour guide
What's Excluded
Gratuities (recommended)
Hotel pick-up and drop-off
Lunch
PingyaoAncientCityPASS Ticket
Additional Info
Comfortable walking shoes are recommended.
You will receive details about tour guide and exact meeting time in your voucher the day before. And the tour guide will also contact you through hotel or leave a message for you regarding the exact time the night before tour.
Your AncientCityPASS ticket includes 22 attractions for one-time admission each. Your ticket is valid for 3 consecutive days, starting with and including the first day of use. Ticket fee RMB125 is not included in this tour pricing.
Cancellation Policy
We will charge a cancellation fee of 100% if booking is cancelled 48 hours or less before event.
Ours operate rain or shine. In periods of extreme or unsafe weather, we will discuss with you for alternative arrangements or cancel the tour at our discretion and provide a refund.
+86-18807734970
For 48-hours last minute booking