Seat-In-Coach: One-Day Macau City Tour from Hong Kong
9 hours
Every day
City tour
Description
Overview
Travel by ferry from Hong Kong for a full-day tour of Macau. Your guide shows you important sites including the Ruins of St Paul's Cathedral, A-Ma Temple, Senado Square and Fortaleza do Monte (Monte Fortress) in the UNESCO World Heritage-listed Historic Centre of Macau. Learn about Portuguese history in the region and see part of the old city wall. Enjoy a buffet lunch, have the option to visit one of Macau's glitzy casinos and browse the local shops before returning to Hong Kong. 
Highlights
Visit the Historic Centre of Macau, a UNESCO World Heritage Site 
Stop by landmarks such as the Ruins of St Paul's Cathedral, Senado Square and Fortaleza do Monte 
Hear the legend of the spirit of A-Ma Temple and the history of Macau 
Have the option to go inside one of Macau's famous Las Vegas-style casinos 
Includes round-trip ferry tickets, lunch, and pickup and drop-off at select hotels
Itinerary
Hong Kong Macau Ferry Terminal
Around 8am, your guide in Hong Kong will pick you up from a designated hotel in downtown Tsim Sha Tsui, Causeway Bay, or North Point. 
The evening before departure: The tour guide will send a fax to your hotel, with detailed information about pick up time, pick-up place, itinerary, and emergency contact number of the tour operator in Hong Kong.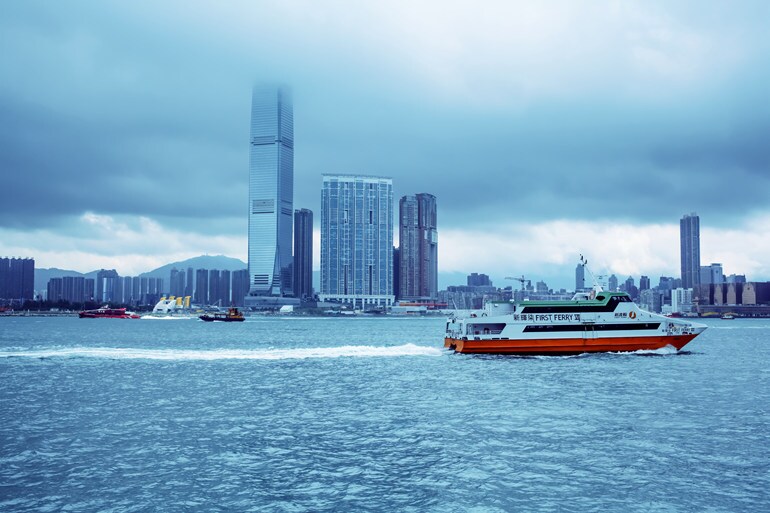 Ruins of St. Paul's
Ruins of St. Paul, the most representative scenic spots of Macau, refers to the front of St. Paul Cathedral completed in the year of 1580. No travelers will leave Macau without paying a visit to this attraction.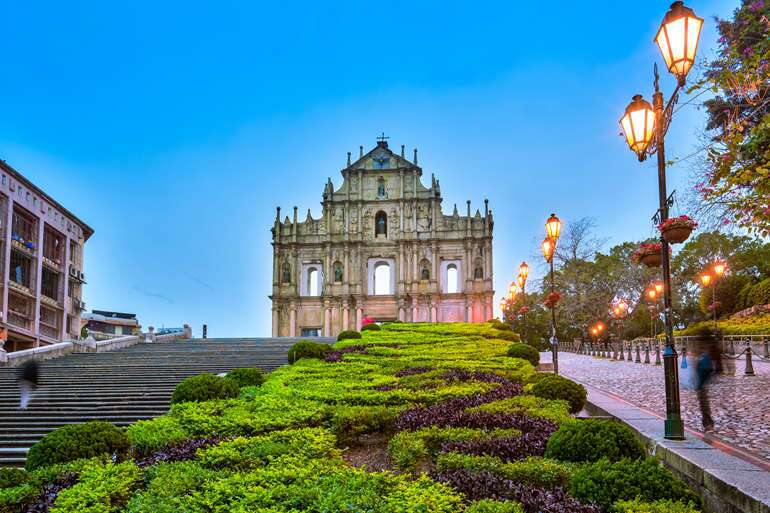 Mixing the style of renaissance and that of oriental architectures, the exquisite and magnificent cathedral used to be the largest Catholic Church, known as Oriental Vatican, affiliated to St. Paul College. As the first western university in Far East, this college enrolled quite a few foreign missionaries studying Chinese since its opening in 1594, thus becoming an important base for missionary work and promoting the exchange between China and Europe in terms of religion and culture.
Mount Fortress
Building of the Mount Fortress began in 1617 and was finally complete in 1626, the fortress was one of the principle military facilities of the city. Mount Fortress is 52 meters above sea level and has a total of 32 cannons. The fortress is made up of three levels where there are cannons on each floor.
There were also four rows of houses located nearby which were the military barracks. The fortress was always prepared with supplies and ammunition, it is said that the supplies within the fortress could last up to two years should the fortress have come under siege. Mount fortress was also the residence of the first Portuguese Governor, Francisco Mascarenhas.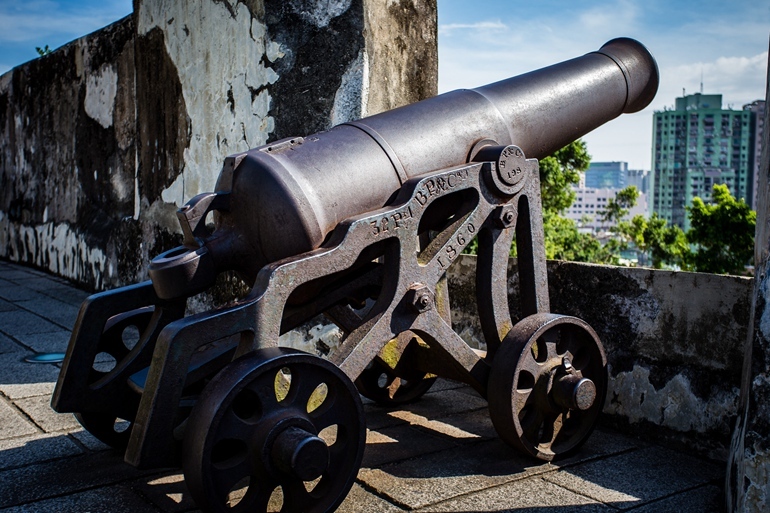 Na Tcha Temple
Located behind the Ruins of St. Paul, the Na Tcha Temple was built in 1888 and reconstructed in 1902. It is dedicated to the deity Na Tcha, a legendary figure of China who looks like a kid yet with magic power.
In Chinese Buddhist books, Na Tcha is hailed as a protector of Dharma and has been worshipped in folk since the late 17th century. Legend has it that the construction of Na Tcha Temple aimed to dispel a plague. The existence of Na Tcha Temple near the Ruins of St. Paul's Church is regarded as the symbol of harmonious fusion of Chinese civilization and western culture. In 2005, it was incorporated into Historic Center of Macau. Close to it is the Section of Old City Walls.
A-Ma Cultural Village
A-Ma Cultural Village was funded by Goddess A-Ma Foundation of Macau. Completed in the year of 2003, A-Ma Cultural Village is covering an area of 6,200 square metres. Its main architectures are statue of Goddess A-Ma, and Tianhou Palace.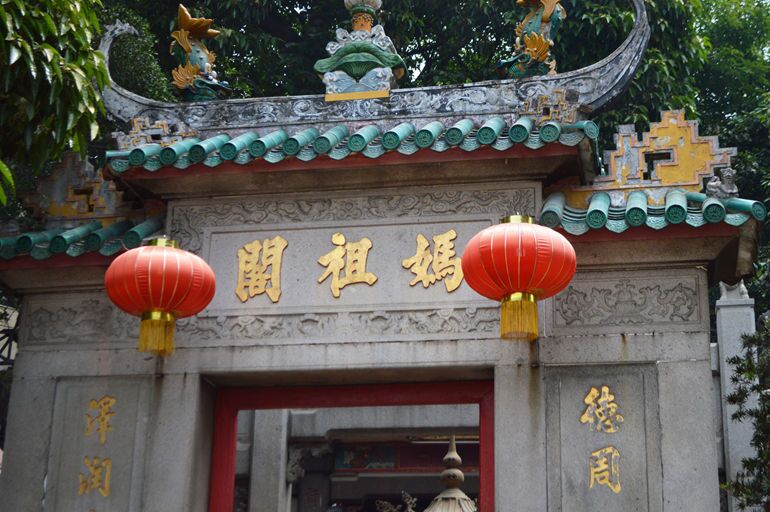 Leal Senado
Located in central Macau Peninsular, Senado Square (in Portuguese: Largo do Senado) is commonly known as Fountain. Covering an area of 3,700 square meters, it is a main city square of Macau. It was inscribed on the UNESCO's World Heritage List as part of Historic Centre of Macau in 2005.
Walking along the Largo do S?o Domingos to the Avenida de Almeida Ribeiro, visitors find one of the most well-known and prosperous business and cultural center of Macau, namely the Senado Square.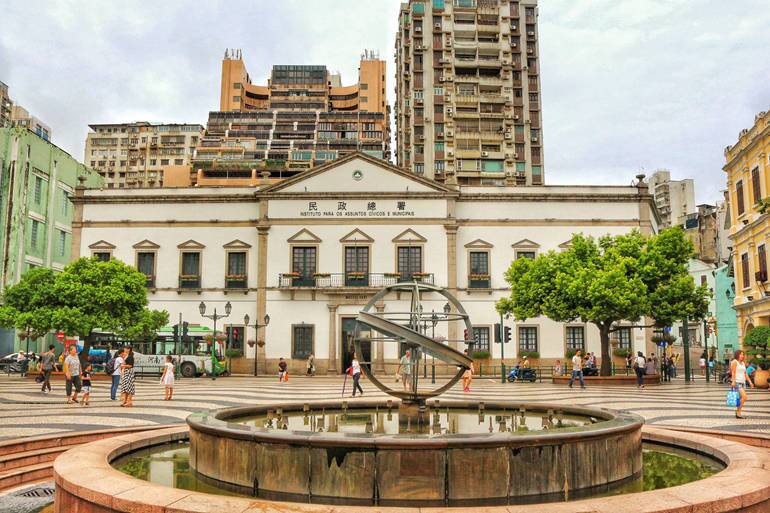 Located just opposite to the Government House (Leal Senado), the Senado Square is wave-like tiled with small black and white stones, reflecting Portuguese's "maritime complex". The tiled road extends to St. Dominic's Church and Ruins of St. Paul's. The whole square is in a shape of funnel, getting narrower as you go further. 
Lisboa Casino
Then drive to the famous casinos site (usually Lisboa) for a look around and try your hand at a table. Your guide will stay outside the casino and if you would like to know more about the casino industry or have any questions, feel free to ask. After this, we drive to the city center, Senado Square, and do some shopping for local souvenirs at the sidewalk stalls.
Know before you book
What's included?
English-speaking tour guide service.
Hotel pickup and drop-off (selected hotels only)
Simple set-menu lunch.
Air-conditioned vehicle
Round-trip Turbojet ferry
All taxes, fees, and handling charges
What's excluded?
Gratuities (recommended)
Macau visa (if required)
What do I need to bring?
Bring your valid passport
What need to note?
Not wheelchair accessible
Infants must sit on laps
To ensure your booking, please advise your Hong Kong hotel information and contact number at least one day before departure
Hotel pick-up and drop-off is the same unless specified. Consult with your tour guide and driver if you want to get out somewhere else
Since it is a group tour, sometimes you will need to wait until everybody arrives in Macau from different boats in the morning. Please kindly understand this
You MUST confirm and obtain any visa requirements prior to border crossing. All visa requirements are the sole responsibility of the traveler. BRING PASSPORT for this tour.
Dress code is smart casual to attend to Macau casinos. Gentlemen wearing shorts will be declined entry to the casino.
No Refund will be made for all confirmed bookings except in the event of tour cancellation by the operator due to bad weather or any unforeseen circumstances.
Visit to the casino is for entertainment purpose only and will lasts about half an hour.
Cancellation policy
We will charge a cancellation fee of 100% if booking is cancelled 0 hours or less before event
+86-18807734970
For 48-hours last minute booking