Wuzhen Water Town - the Most Representative Water Town of Jiangnan
As one of the Six Famous Water Towns in Jiangnan (South of Yangtze River), Wu Village (Wuzhen) is within the triangle developed by three top tourist cities: Hangzhou, Suzhou and Shanghai, which made it convenient to transport from one of them.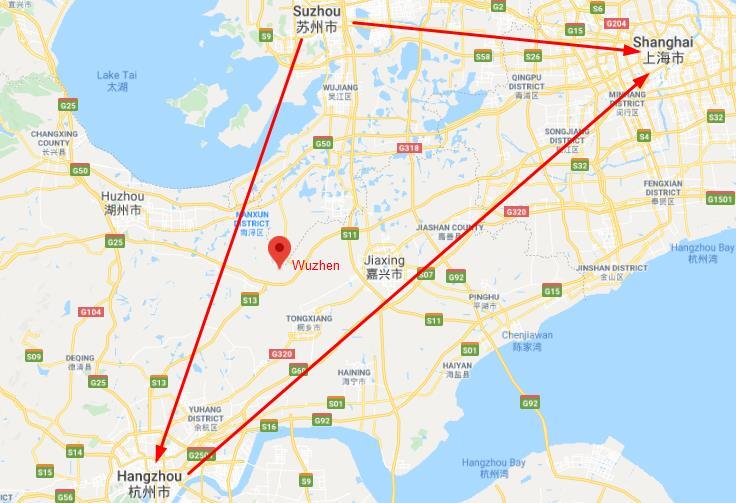 Wuzhen Location
Listed in one of the national 5A level scenic spots, Wuzhen is an ancient town with a long history of 6,000 years. It preserves the original architectural style of Chinese ancient towns. White walls and grey tiles, little bridges and flowing water, it appears as a Chinese ink painting. Carved beams and painting buildings, alleys with stone roads and old houses, it witnesses the vicissitudes of history.
Chinese: 乌镇 (Wu Zhen)
Location: In the north of Tongxiang City, Zhejiang Province
Opening Hour: East Area (07:00-17:30); West Area (09:00-22:00)
Ticket: CNY 190 for East & West Scenic Zone; CNY 150 for West Zone; CNY 110 for East Zone
Recommended length to stay: 1-2 day(s)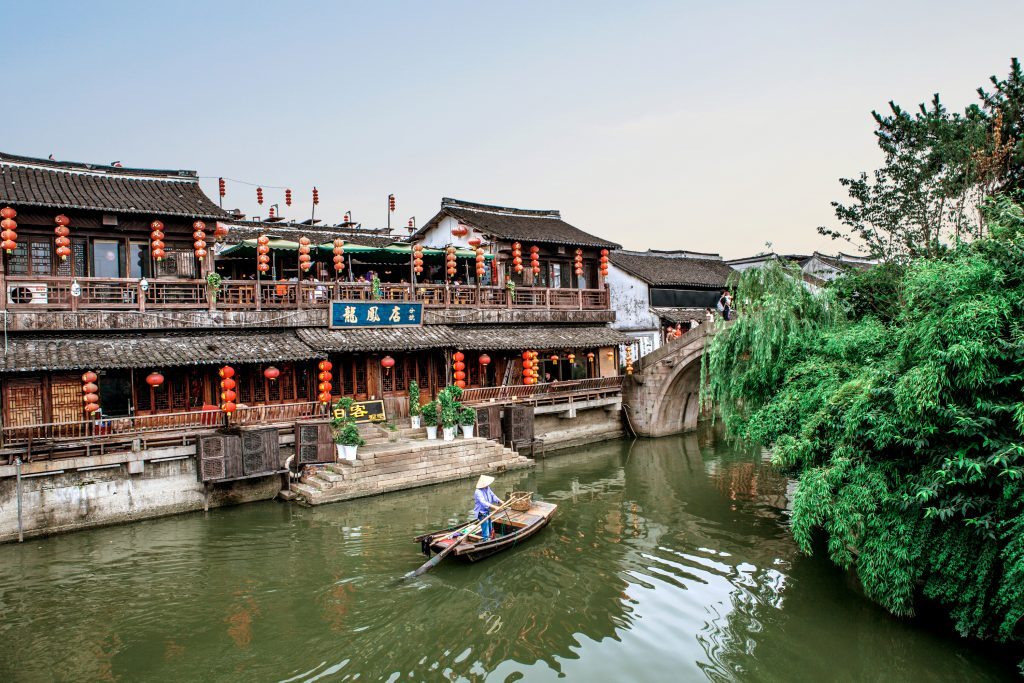 Wuzhen Water Town
What to See in Wuzhen Water Town?
East Area (Dong Zha /dong jaa/ 东栅) – Authentic and Original
Dong Zha is earlier in the development time, the area of the scenic spot is smaller, but it has more about humanities. Here're various museums, exhibiting beds, clothes, blue flower printed fabric, etc. It's also the former residence of Mao Dun, a well-known Chinese revolutionary writer. Wuzhen was the Mao family home for many generations and witnessed the growth of this great revolutionist and the changes of the little town. There are various exhibitions showing the old way of life in this water town.
In addition, the original residents still live in this area, so it's more civil and you can experience more authentic things about local people. The highlights of Dong Zha are the folk performances, such as shadow plays, Huagu Opera, martial arts performances on boats, and bamboo pole climbing.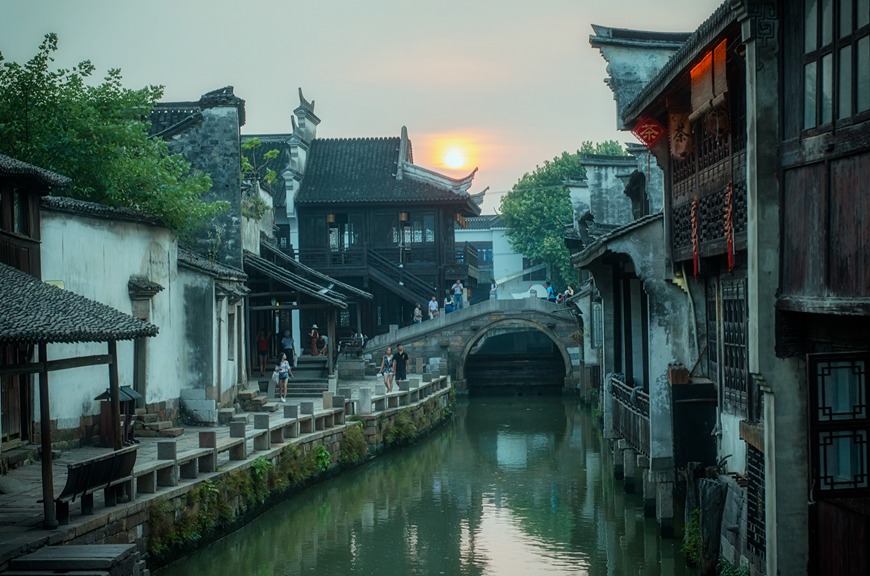 Old Street in Dong Zha
1. Shadow puppetry is a form of entertainment created by casting shadows of handmade characters onto a screen. It's a traditional art form. Accompanied by traditional Chinese instruments such as flutes, tam-tam and erhu, shadow puppetry is rustic and rich in culture. 
Show time: 8:30–11:20 am; 1:00–4:30 pm (every 10 minutes)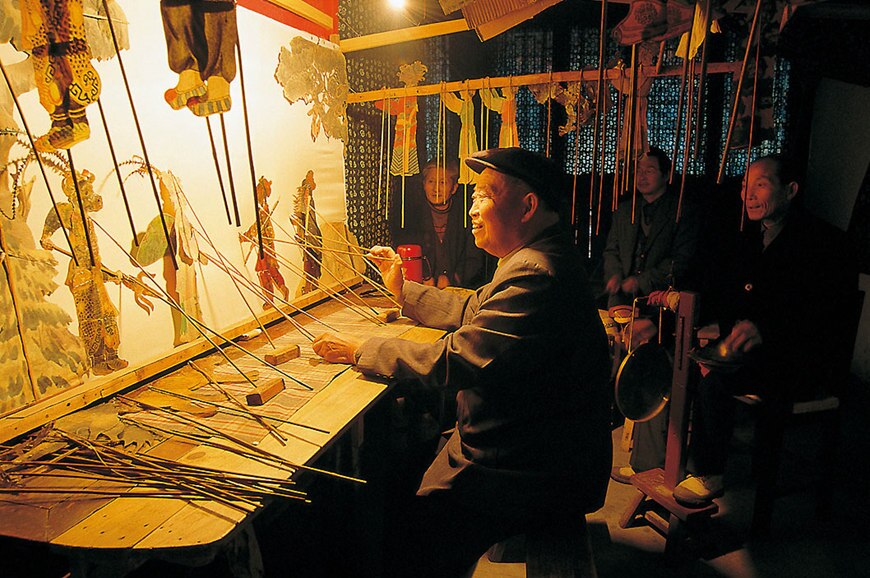 Shadow Play
2. Huagu Opera (Flower Drum Opera) is a local drama depicting country life through traditional costumes and through stories and lively music. The flower drum is sung in the local dialect, the opera form is still widely appreciated by the locals.
Show time: 9:00 am – 4:30 pm (every 30 minutes)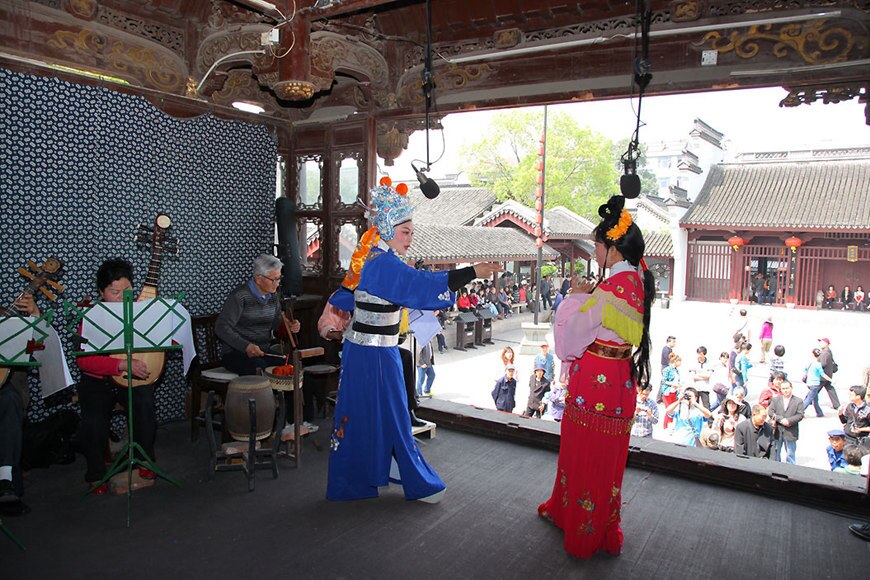 Huagu Opera
3. Martial Arts are performed on boxing boats permanently moored. The beating of gongs and drums by martial arts masters. These warriors wear martial arts uniforms and battle sabers, swords and other traditional weapons to impress the audience.
Show time: 8:30 am, 9:30 am, 10:30 am, 11:10 am, 1:30 pm, 2:30 pm, 3:30 pm, 4:10 pm  
West Area (Xi Zha /sshee jaa/西栅) – Lively and Popular
Xi Zha offers a better experience than that of Dong Zha. You may find Dong Zha interesting, but Xi Zha will be positively charming.West Area is less crowded, quieter (daytime), and vaster. Its layout is like that of East Area, with a main waterway and street on each side, but it is 1,000 meters long and has a large number of side lanes, bridges, ancient pier and secondary waterways, making it a charming place to linger.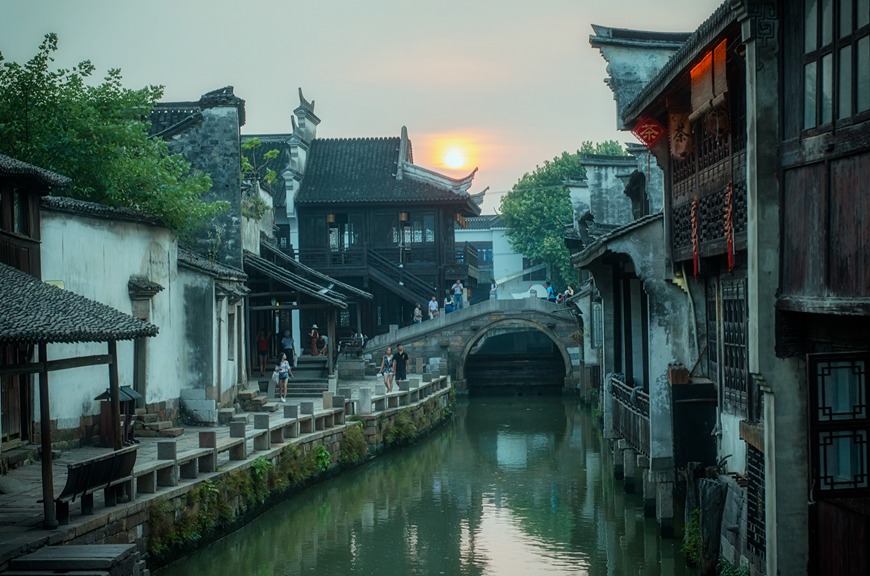 Xi Zha
Xi Zha has been rebuilt and refurbished in its original form, with many charming architectural features: corridors, bridges, balconies, pier, wooden windows and doors, gray stone walls and paving. Xi Zha has few local residents and exclusively provides accommodation for tourists. The streets here are lined with hotels, restaurants, bars, souvenir shops and craft shops. Or you can say it's more commercial than Dong Zha.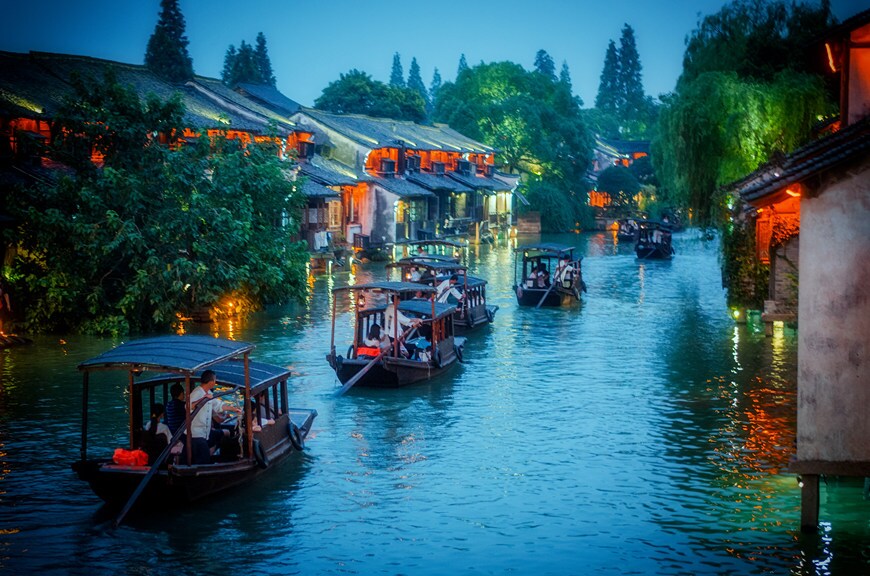 Xi Zha
Where to Stay?
If you have a limited budget, there are economic hotels for a better choice. The budget level hotels are like home stay inns. The rooms usually face a canal or street. All of these hotels are in the manage of Xi Zha Tourist Office, and guests couldn't directly contact the hotel owners in advance. The reception desk is opposite Yusheng Restaurant, where there is a computer for you to search for budget-level hotel information.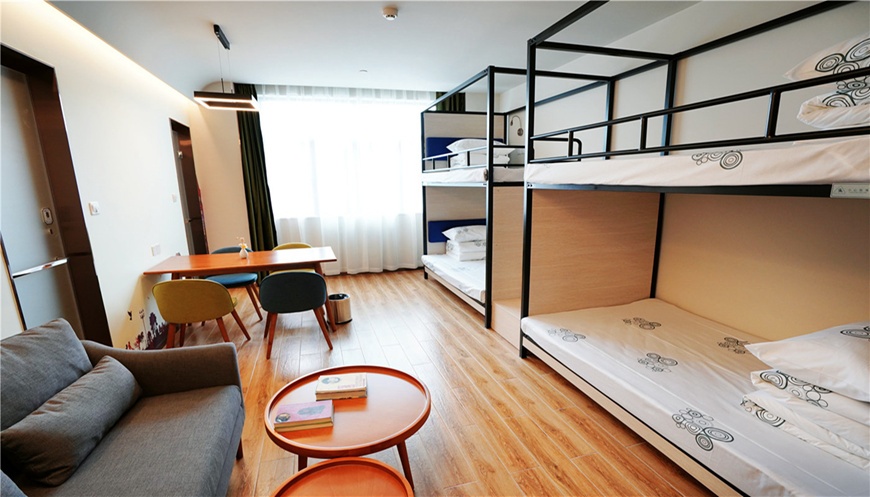 Wuzhen Youth Hostel
Please be noted that the star-rated hotels in Wuzhen Water Town do not necessarily meet national four- or five-star standards. It means they are generally up to star rating.
We recommend these hotels in Xi Zha for people who have sufficient budget - Shine Town Clubhouse, Splendid Clubhouse, and Heal Town Clubhouse. Rooms of these three hotels are mostly king-bedded. Splendid Clubhouse is the most luxurious. Shinetown features courtyards. Healtown is the lowest priced.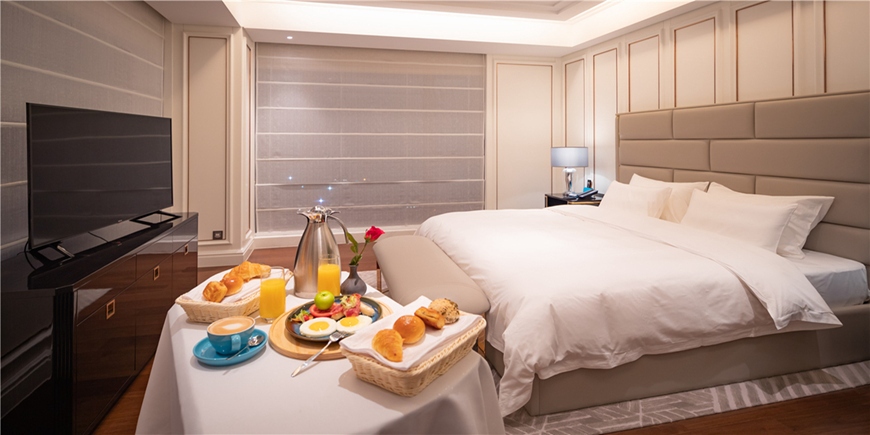 Splendid Clubhouse
Best Time for Visiting
The climate in Wuzhen is similar to that of Jiaxing City. The most picturesque time of year is in Spring and Autumn, and morning and dusk is the best time of day to be in Wuzhen - a mild fog covers the canals that run through the water town in the morning; and at dusk with sunshine glow you can enjoy a different scenery of this little town.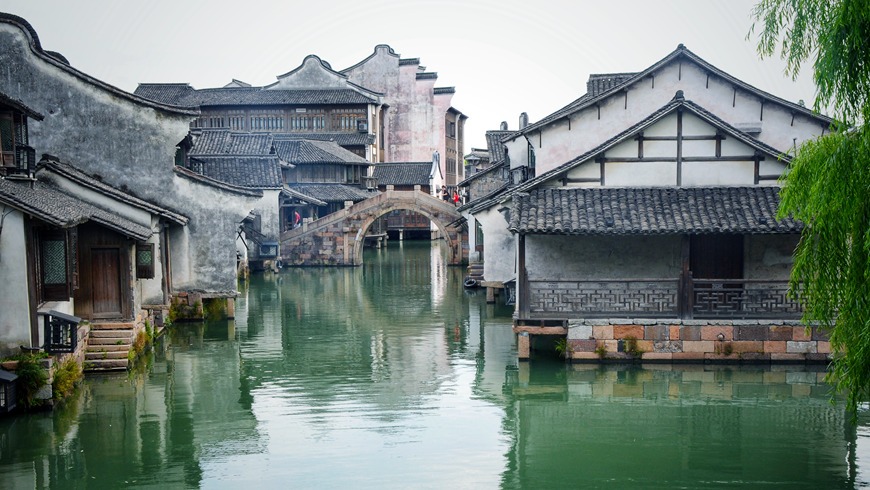 Wuzhen in Spring with Gentle Frog
Transportation
1. From Shanghai
Take a bullet train from Hongqiao Railway Station to Tongxiang Railway Station. Duration: 40 min. Upon arrival, take bus K282 to Wuzhen Bus Station and then get on bus K350 to Xi Zha.
Take a bus from Shanghai South Long-Distance Bus Station. Duration: over 2 hours. After arrival, you can take local bus K350 to Xi Zha.
2. From Hangzhou
Take a bullet train from Hangzhou Railway Station or Hangzhou East Railway Station to Tongxiang Railway Station. Then change to local city bus K282 going to the site. Duration: 25 min.
Take a bus from Hangzhou Passenger Transport Central Station (Jiubao Passenger Transport Center). Duration: 1 hour.
3. From Suzhou
Take a bullet train from Suzhou, Suzhou North, or Suzhou Industrial Park Station to Tongxiang Railway Station. Then get to the scenic site by local buses. Duration: 1.5 hours.
Take a bus from Suzhou South or North Bus Station. Duration: 1.5 hours.