The Best Means of Transportation in Guilin - Trippest Guilin Travel Guide
In this article, the readers will learn about the Guilin Transportation options and which one is best from traveling Hong Kong, Xian, Beijing or Shanghai to the pearl city of China. Guilin, which was formerly known as Kweilin is famous for its beautiful scenery. The city has been named Guilin which means "Forest of Sweet Osmanthus", as a large number of Osmanthus trees which has sweet fragrance are located in the city. The City Guilin is located in the north-east Autonomous Region of Guangxi Zhuang, China, situated near the west bank of the River Li and across the northern borders of Hunan. This city is one of the most thriving tourist destinations of China, owing to its natural beauty, Osmanthus trees, and historic treasures.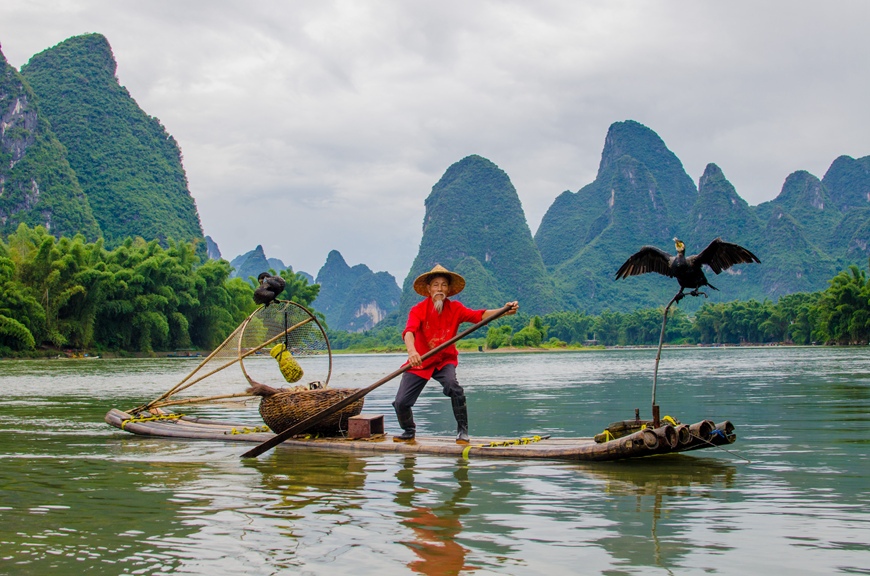 Yangshuo, Guilin
How to Go to Guilin from Hong Kong, Shanghai, Beijing, or Xi'an?
Tourists love to visit Guilin city to witness the magic of strange shape karsts, crystal clear waters, lush green vegetation of bamboos to conifers and astonishing caves. As the city is a major tourist attraction, therefore, Guilin transportation facilities are quite well-developed and convenient. One can reach Guilin city via airplane, high-speed train and even by ship. Moreover, the tourists can travel around the Guilin city by bus, taxi or even bicycles. There are many transportation options to get in Guilin and travel around the city. The tourists want to use the most convenient and economic Guilin Transportation facility, which is why this article shows a comparison of different transport facilities to enter Guilin.
From High-speed Train to Airplane, Which One Is Best? Why?
There are different ways to travel to & from Guilin city. But we are going to discuss the best mode of travelling depending on distance, convenience, and prefer ways in China. Distance, cost, comfortable facility, and time are their most considerable questions. But first, you should know the location and distance of different cities from Guilin.
Traveling To and In Guilin By Air
Although the Guilin Liangjiang International Airport is located 28 kilometers farther from City Center, yet it connects the city from other domestic and even foreign countries like Malaysia, Thailand, Korea, Singapore, Japan etc. with above 50 airlines. There are two different Flight categories to Guilin City: International Flights and Domestic Flights.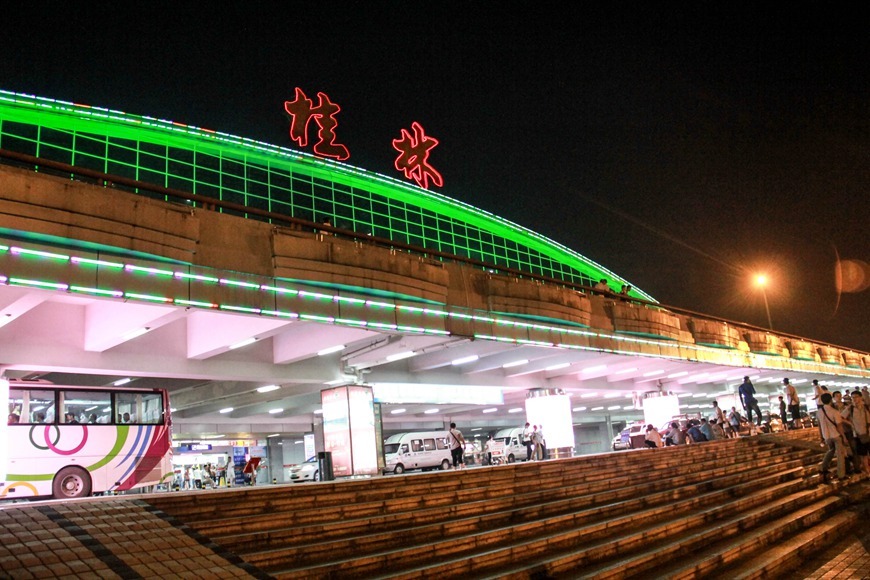 Yangshuo, Guilin
International Flights to Guilin
Travelers can catch two flights from Hong Kong every day. Both the Jorgen Air and Hong Kong Air provide one flight each per day to Guilin. It takes 1 hour to travel from Hong Kong to Guilin by air. On the other hand, Kaula Lumpur's Air Asia schedules 4 flights every week to Guilin. These flihts from Kaula Lumpur are the direct flights to Guilin. They are also thinking to increase the flights to 7 every week because of high demand of passengers to travel to the beautiful city of Guilin. Moreover, Asiana Airlines schedules different flights from Monday to Friday from Seoul to Guilin at reasonable rates. The travelers can also travel from Singapore to Guilin as the Jetstar international airlines schedules its flights to Guilin twice in every week.
Domestic flights to Guilin
One can also travel to Guilin by air from several domestic cities of China. Flights are available from Beijing, Xia'n, Shanghai, Gaungzhou, Chongqing and Kumming. Travelers can take flights of China and China Southern Airline and the flights are scheduled daily from these cities. These domestic flights has made travel to Guilin very convenient and fast from Beijing Guangzhou, Xian, Shanghai, Chongqing and other cities of China. There is a shuttle bus service provided for the travelers which takes the tourists from Liangjiang International Airport main city in just CNY20. Not only this, there are 3 stopping spots for the travelers in route from Airport: Tian'e Hotel, Guilin Train Station and Aviation Plaza's Terminal Stop. The Airport shuttle bus leaves the airport following the arrival of the flight. On the other hand, if you are taking the bus from the City Center to reach the airport then the buses run from 6:30 to 20:00 at 30 minutes interval. The bus fare is more economical than a taxi. The fare for the bus from city's center is also CNY20 while a taxi's fare is around CNY80. You must take the bus at least two hours before your flight. So far traveling Guilin by air is the most convenient, short and somehow cheap.
By High-Speed Train:
To enter Guilin city and move around the city by high-speed train there are two main railroads, The Guilin South Railway Station and Guilin North Railway Station. Daily many trains are scheduled to arrive and depart the Guilin City because these railway stations are the main city hub for Guilin-Guangzhou High-Speed Railway & Hunan-Guangxi Railway.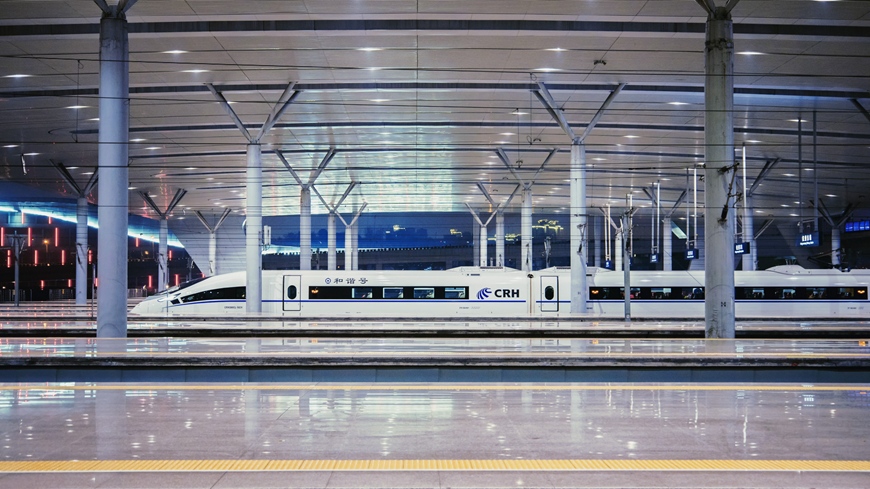 High-speed train
As the South railway station is located to the City Center's south, therefore, passengers can arrive at this station more easily as compared to the North station. It is located in the suburbs of the Northern Guilin. The tourists are advised to take the southern route for traveling in & out of Guilin city as the northern railway route are less convenient. It is easy to find Guilin Transportation from the South railway station. The passengers can easily find a bus, taxi or a bicycle to get to the city center. Not only has this, but the trains at south stations also covered major domestic cities of China with Guilin. But it takes 3 hours to travel from Hong Kong to Guilin via high speed train. The distance from Shanghai, Xi'an to Guilin is about 8 hours. And Guilin is far away from Beijing.
By Road or Long-distance Bus:
You can travel to the city of wonders by a long-distance bus as well. But it may be less convenient as compared to the train or airline. The tourists can take the bus from three different bus stations, which are the General Bus Station, the Chengnan Bus Station, and the Beimen Bus Station. The General bus station is at a 10 minutes' walk distance from Guilin's South Railway Station. Mostly the buses from this station are routed to travel to the Hunan, Guangxi or Guangdong provinces. You can also take the bus from Chengnan Bus Station and it is situated at Cuizhu Road. Now if you have taken a train that stops at Guilin North Railway Station then you can find buses from the Beimen Bus Station, as it is located near the north station.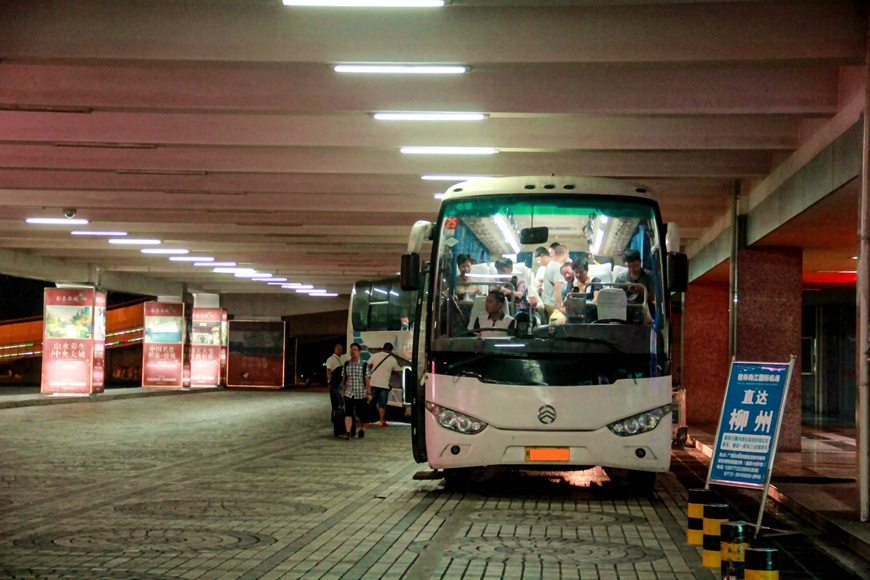 By bus
How to Get around in Guilin?
Guilin is a small city, is convenient to take public guilin transportation. Tourists can travel intercity via buses and taxis. In addition, they can also use bicycles to move around the Guilin City. Not only can these, but the tourists also use local trains and coaches within the city center. The fares of public transports are rather cheaper than taxis.  Tourists can easily find the taxis throughout the Guilin City. But it is suggested to use either buses or trains to travel in and across Guilin as the fares are cheaper as compared to other modes of Guilin transportation. Here is a brief comparison of 3 most Popular Modes of Transportation to get around the Guilin city.
By Taxi: Usually taxi service is best for the travelers who need to visit the short distance places in the urban areas of Guilin city. The traveling cost of taxi is not very expensive. The fare for 2Km distance is CNY7. It means that its fare will be corresponding to the distance you'll travel. So it is quite predictable and you can easily travel with in your budget by a taxi for short distances.
Rent-a-car or Bike: Now if you have a list of places to visit in Guilin and you want to cover as many places as possible in a day then instead of travelling by a taxi you must hire a rent a car or bike. It will not only save your money but also your time and energy as compared to hiring a taxi. The fare for this transportation service varies with the size and specifications of car, locations you want to travel and number of hours you need the car or bike. A rough estimate of fare is from $48 to $388.
Bus or Coaches: The most cheap and easily available mode of transport in Guilin or other cities of China is the coach or bus. But this transportation is suitable for visiting the tourist attractions such as from Guilin to Yangshuo, or from Guilin to Longji Terrace Fields. The fare for the bus and coach are much cheaper than taxi or rent a car or bike.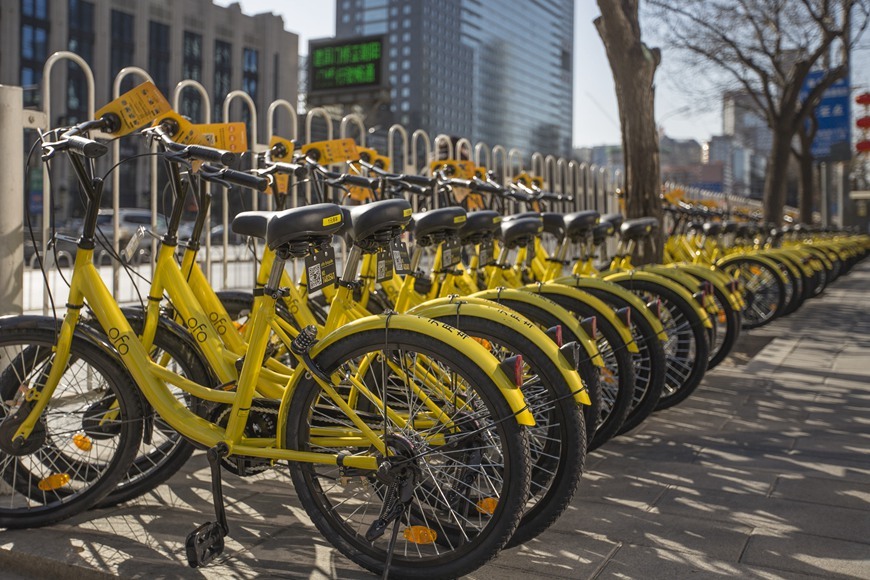 Shared bikes
How to Go to Yangshuo from Downtown Guilin?
There are two ways to get to the Yangshuo from Downtown Guilin.
You can either take the long-distance bus to get to Yangshuo because are routed to this tourist destination. You can reach Guilin city either by air or by road and can travel to Yangshuo from the bus at cheap fare rates. Travelers can take the bus to Yangshou both from the airport and the railway stations. The bus from the Guilin can stop either at the Northern Yangshou Bus Station or at Southern Bus Station. The journey is about 1.5 hours long and the total fare is around $5.5.
The other way to visit Yangshuo is by the Cruise taking the Li River route. The cruise starts its journey from Downtown and reaches Yangshou stop in 4.5 hours. Taking the cruise is a beautiful experience as you can enjoy the crystal clear water and cool breeze while your journey.
Related Tours