Private Day Tour: Erhai Lake, Three Pagodas, Dali Ancient Town
7 hours
Every day
Private tour
Description
Overview
Check through the highlights of Dali and its surrounds in one day on this 7-hour private trip. In addition to exploring the Dali Ancient Town to see its traditional Bai architecture, visit the must-see Three Pagodas at Chongsheng Monastery, take in the shores of Erhai Lake, and visit the batik-making Bai village of Zhoucheng.
Highlights
Soak in the old-school Bai architectures, courtyards, and traditional atmosphere.
Visit the Three Pagodas at Chongsheng Monastery, dating to the 9th century.
Admire views of Lake Erhai and explore Zhoucheng, the Bai village known for its batik work.
Private round-trip transportation including Dali hotel pickup and drop-off.
Itinerary
After hotel pickup in Dali, settle inside your private, air-conditioned vehicle with your guide and driver, and set off on your private tour.
Admire the views over the Cangshan mountains and Erhai Lake as you head into old Dali, whose history extends to the 8th century, when it served as a capital of the Nanzhao kingdom.
Listen as your guide sheds light on Dali's past, and learn how its walled Ming-era city is largely home to the Bai people, an ethnic minority long-linked with China's Yunnan province. Hear how the town was also a gateway to the Silk Road, and ringed by 3.7 miles (6 kilometers) of walls.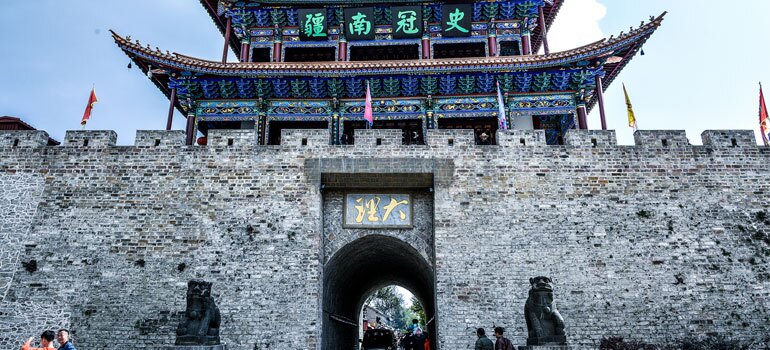 Dali Old Town
Stroll around the quaint cobbled streets and courtyards, admiring the traditional Bai folk houses with upturned eaves and richly carved windows and doors. Walk by the streams that trickle through the town, and see other houses topped with grey-green roof tiles, as well as temples, schools, and workshops.
Bai People's Houses
After your walking tour, continue to the Three Pagodas at Chongsheng Monastery. These three towering pagodas are Dali's symbols, and date back to the 9th century. Marvel at the three medieval 'skyscrapers,' set in a triangle, and explore the neighboring mountainside Buddhist temples as your guide shares information about their history and significance.
Enjoy a tasty local lunch at a restaurant, and hop in a horse-drawn carriage to enjoy a relaxing tour along the shore of Erhai Lake, which is blessed with a mild climate and stunning scenery. Take in some of the traditional settlements along the banks, and admire the mountain-backed waters.
Visit the Erhai West Shore by Horse-drawn Carriage
Finally, travel onward to Zhoucheng village, famous for its Bai batik-making. Watch the Bai women making brightly patterned batik fabrics, and learn about the techniques they use, handed down to them through the generations.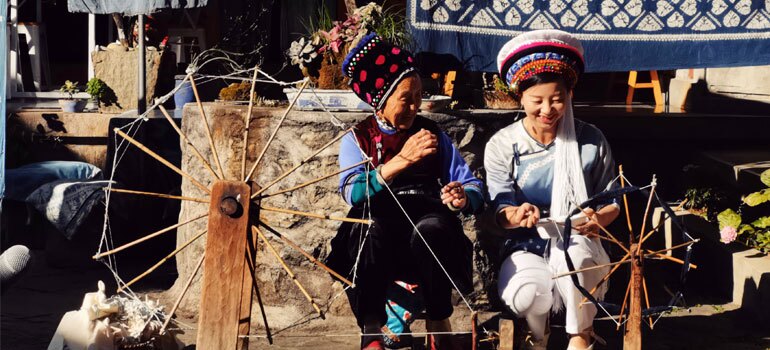 Batik-Making
Afterward, return to Dali where your tour ends with a hotel drop-off.
Know Before You Book
What's Included
English-speaking tour guide
Transport between attractions, including pickup and return to your hotel.
Lunch
All Entrance tickets.
Fee of horse-drawn carriage and making tie-dye
What's Excluded
Gratuities (recommended)
Accommodation, travel insurance and any other personal expenses during tour.
Airport transfer.
Additional Info
Comfortable walking shoes are recommended.
You will receive details about tour guide and exact pickup time in your voucher the day before. And the tour guide will also contact you through hotel or leave a message for you regarding the exact pickup time the night before tour.
While we endeavour to cater for specific dietary requirements, some meals and food activities are set in advance and may be difficult to adjust. Please advise us of any dietary requirements at the time of booking so that we can ensure you'll enjoy this trip.
Cancellation Policy
We will charge a cancellation fee of 100% if booking is cancelled 24 hours or less before event.
Ours operate rain or shine. In periods of extreme or unsafe weather, we will discuss with you for alternative arrangements or cancel the tour at our discretion and provide a refund.
+86-18807734970
For 48-hours last minute booking