The Best Thai Cooking Class in Chiang Mai
Morning Class: 9:00 am - 2:00 pm
Evening Class: 4:00 pm - 8:30 pm
Overview
Hosted by local experienced teachers, you will make your own thai foods with authentic recipes in an organic farm. With a combo of market tour, you will have a chance to learn how to choose good ingredients for cooking and discover traditional ways of life.
Highlights
Free transportation within Chiang Mai Town.
Shopping at local thai market for cooking, learn selecting good ingredients.
Cooking Thai food by yourself with long experience teacher.
Cookery Descriptions
Pickup from your hotel by tuktuk, get away from busy Chiang Mai to an organic farm in peaceful and relaxing surroundings. You will cook 6 dishes during the whole class. To start with, everyone choose the menus, one from each and no need to decide with the group. You will have a short visit to a traditional thai market to collect some of the food ingredients, and the remaining ingredients are picked up at the farm garden freshly. There, the instructor will teach you how to choose the best sample of each ingredient so that your dishes will be successful even before you start cooking! You will be guided by an experienced instructor throughout the class. After cooking, enjoy your meal and bring the delightful memories and recipes home.
Sample Menu
3 dishes of soup, each person select one: Rice soup/Coconut milk soup/Hot and sour soup
4 dishes of stir fried, each person select one: Fried holy basil leave/Chicken with cashew nuts/Fried morning glory/Fried mixed vegetables
4 dishes of curry, each person select one: Red curry/Green curry/Panaeng curry/Mussaman curry chicken
3 dishes of set menu, everyone cooks all: Pad Thai (Fried noodles)/Papaya salad/Sweet sticky rice with mango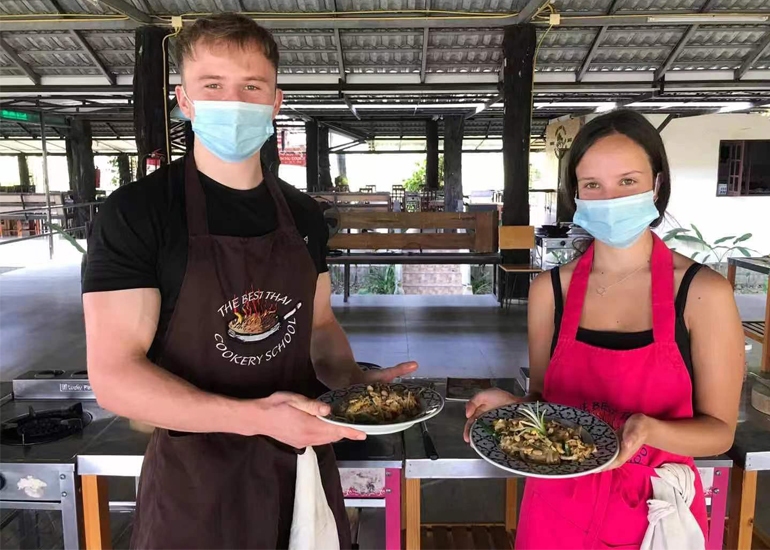 What You Will Get
Long experience teachers.
Eat all the food or take away.
All ingredients for cooking.
One wok per one person.
Cooking book.
Free transportation. (within 4 km. in Chiang Mai downtown).
Free coffee, tea, water.
Know Before You Book
Free transportations are available within 4 km. in Chiang Mai downtown. Please specify your hotel or guesthouse information at the time of booking.
Cancellation Policy
All sales final: travelers will not receive any refund regardless of cancellation status.
+86-18807734970
For 48-hours last minute booking