Chiang Mai CAD Yi Peng Lantern Festival 2023 Access Tickets
5 hours
November 27th - 28th
E-ticket
Overview
In 2023, Chiang Mai Yi Peng Lantern Festival is celebrated on the same day (27th - 28th November) alongside Loy Krathong. Except the Maejo University, Chiang Mai CAD (at Air Sports Farm) will be held another offical Mass Release. With a capacity of 4000 and 2 lanterns dispatched to each visitor, Chiang Mai CAD will release an estimated number of up to 6000 lanterns, which is more delightful and magnificent than Maejo University.
As one of the official partners of Chiang Mai CAD Lantern Festival 2023, 3 tickets types (Standard/VIP/Premium) are on sale and available now. Early-bird bookings are including round-way shuttle transfer from Maya Shopping Center.
Celebration Timeline For Reference
Note: The organizer reserves the right of final interpretation. It can be changed according the event condition.
15:30
Arrange your own transportation meet us at Meeting point Maya Shopping Mall (Fountain area), then transfer to the venue.
16:30 - 18:30
Arrival at the Venue, Show e-ticket on your mobile register ticket at main entrance. Receive souvenir.
18:30 - 19:30
Enjoy activities such as, Loi kratong, seeing cultural arts performance, taste Lanna Thai Buffet food, Snacks, desserts and beverages.(Veggies food available)
19:30
Start to enter the ritual and ceremony area. Drum, Candle show, Religious ceremony, Monks chanting.
20:15
Launch lanterns and enjoy the wonderful view.Start to enter the ritual and ceremony area.
21:00 - 22:00
Transfer back to Maya Shopping Center.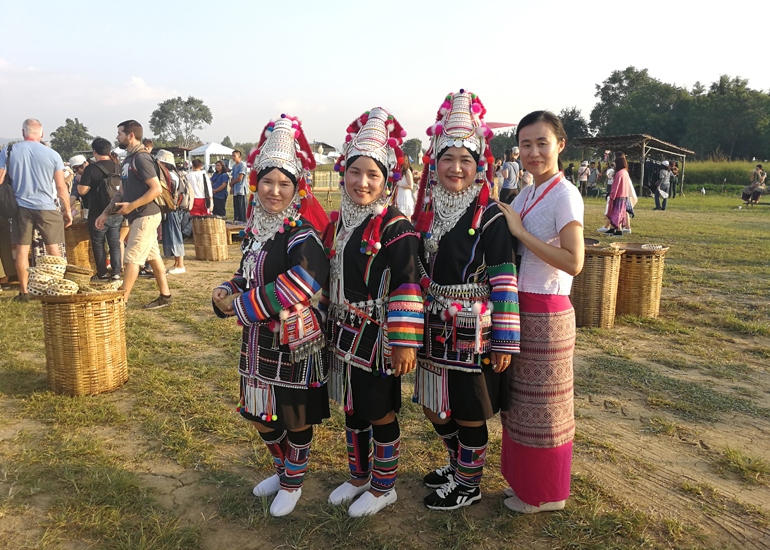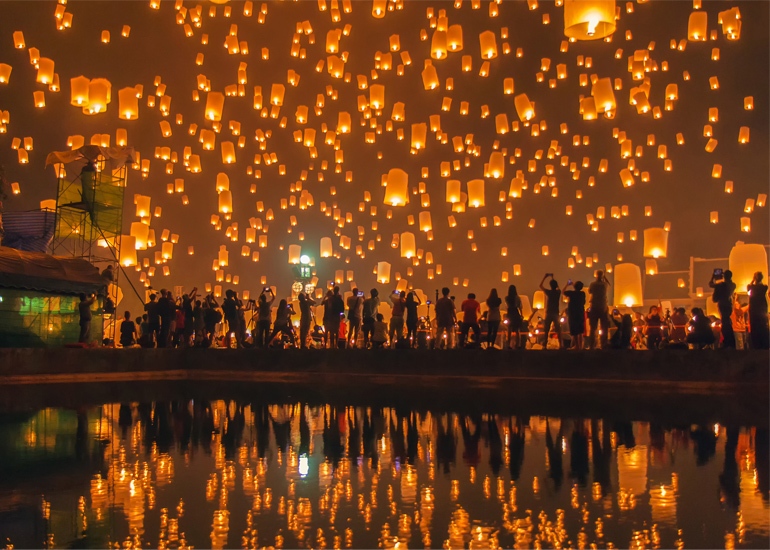 Ticket Price & Seat Map
In 2023, the Yi Peng Festival will be observed on November 27th-28th at Chiang Mai CAD location.
Ticket Type

Price (US$)

Includes

Standard Ticket
  $122

Free round-trip transfer
Standard ticket (QR code)
2 Lanterns
Dinner at the standard dining area

VIP Ticket
  $159

Free round-trip transfer
VIP ticket (QR code)
2 Lanterns
Dinner at the VIP dining area

Premium Ticket
  $170

Free round-trip transfer
Premium ticket (QR code)
2 Lanterns
Dinner at the Premium dining area
Seat Map of Chiang Mai CAD Khomloy Sky Lanterns Festival 2023 (For Reference)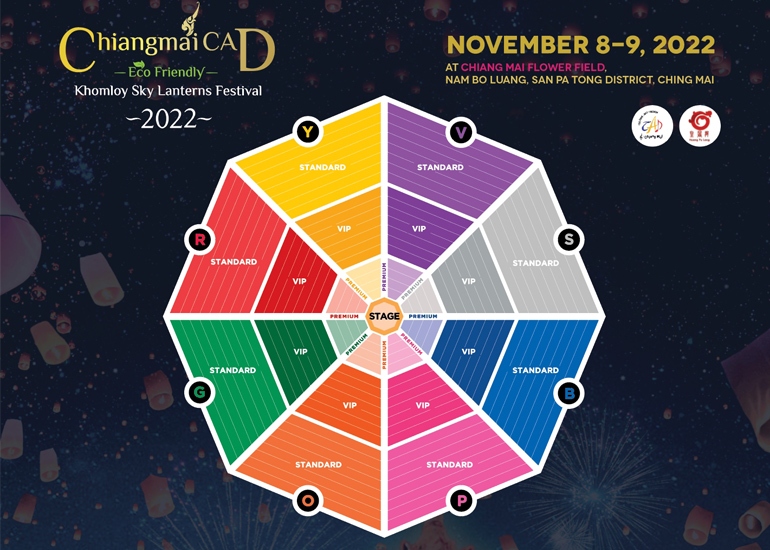 Know Before You Book
Participate in religious activities with respect and peace for the sanctity of the ceremony.
The Lantern Festival is an extension of the traditional Thai Buddhist festival Loy Krathong and still belongs to Buddhist festivals.
Cancellation Policy
You can get a full refund if you cancel the booking or the festival is cancelled 30 days before the festival day.
Tickets are not refundable if you cancel the booking 0-29 days before festivel day, even if the celebration is cancelled, the cost will be donated to charity.
Tickets are not available for changes of dates and names.
FAQs For The Yi Peng Festival
How can I get confirmation of my ticket booking?
For booking Chiang Mai CAD Komloy Sky Lanterns Festival, there will be an E-ticket with your passport information (full name and passport photo) and venue information (date, ticket number, location, time, and seat number). This ticket is to be used exclusively by yourself.
What is the dress code for the event?
No short pants, sleeve-less tops, or mini skirts are allowed. We recommend you get dressed up in Lanna style with a longyi as bottoms and a clothing on the shoulder.
Can I drink beer or wine at the event?
No, you may not. Alcohol drinking or selling is not allowed at the celebration.
How much is for one child?
Children under 8 years old enter free; 8-year-olds and above are charged the same as adults. You can buy a ticket for your child under 8 if you would like her or him to enjoy the same provision.
+86-18807734970
For 48-hours last minute booking