Mini Group: 3-Day Classic Beijing Excursions From Tianjin Cruise Port
3 days
Based on cruise schedule
Group tour (Min 4, Max 8)
Description
Overview
Join a 3D2N shore excursion with a mini group of maximum 8 people. Including Tianjin Cruise Port – Beijing round trip transfer, see the famous Mao's portrait at the Tiananmen Square, touch the hidden imperial history at the Forbidden City, feel the "greatness" first hand at the Great Wall of China at Mutianyu, walking at the beautiful willow path of the imperial garden – the Summer Palace, discover the belief and worship of Chinese emperors at the Temple of Heaven and have a panoramic view of the Forbidden City and even the Beijing city from the Jingshan Park.
Itinerary
Day 1 | Tianjin Cruise Port - Beijing | Mutianyu Great Wall
Pick Up from Tianjin Cruise Port, visit the Great Wall at Mutianyu, includes lunch. Tianjin Cruise Port Transfer (approx 3.5 hours): The Cruise Company will assign an appointed disembark time for each passenger in advance. Please let us know when you have it. The tour guide will wait for you at Gate 3 before that time. The Great Wall at Mutianyu is the less-crowded section of the Great Wall. A cable car takes you to a good section, where you can walk along the wall, through the watchtowers, and enjoy superb views as it snakes across the hills and mountains. Hike "the most beautiful and interesting part of the Great Wall" - between the 14th and 23rd watch towers - acknowledged by hikers as "the golden route". We include the round-way cable car or round-way chairlift/toboggan on the Great Wall.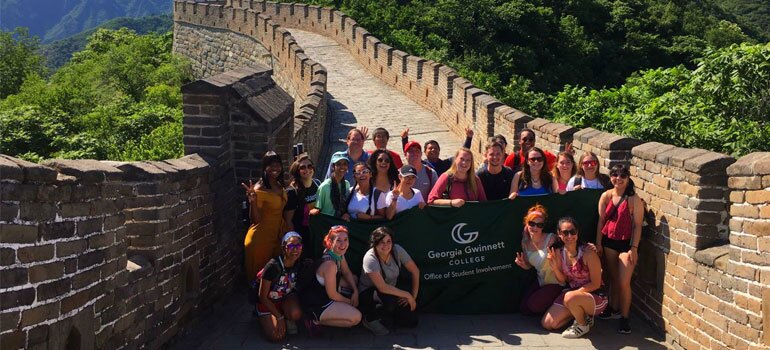 The First Stop at Mutianyu Great Wall
Day 2 | Explore Imperial Beijing City | Tian'anmen Square, Forbidden City, Jingshan Park and Summer Palace
Tian'anmen Square is the largest city square in the center of Beijing. It is hardly to say that you have ever been to Beijing if you don't visit the square! Like the Times Square in New York, Red Square in Moscow and St. Peter's Square, Tiananmen Square is a must-visit place for traveler to Beijing.
The Forbidden City was home to 24 emperors between 1368 and 1911. This "city within a city" is a World Heritage site, and is the largest and the best preserved ancient imperial architecture complex in the world, with a great square, halls, and gates that contrast with intricate halls, gardens, courtyards, and quarters. The exhibitions, both permanent and temporary, are all important treasures of ancient China.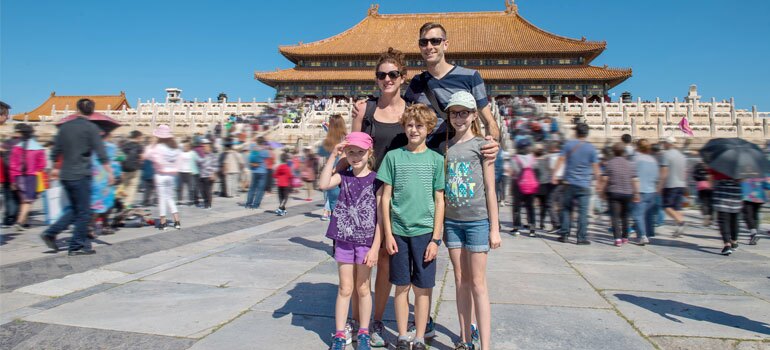 Family Group
Then you will travel to Jingshan Park which is located behind the Forbidden City. It is a 479-meter high hill and is said to be the best position to get a panoramic view of the Forbidden City.
In the afternoon, you will visit the world famous imperial garden called the Summer Palace. The imperial building was constructed by the emperor in celebration of his mother's birthday. It is 273 hectares in size and is composed of three main scenic areas: the palace area, lake area, and mountain area. Taking a dragon boat on the lake to view and enjoy sightseeing.
Day 3 | Beijing - Tianjin Cruise Port | Temple of Heaven, Qianmen
You'll visit the Temple of Heaven where the emperors used to pray for rain and good harvest. The Altar, Echo Wall, and spectacular Imperial Vault are the highlights of most tour packages, this was a fasting palace for the emperor. 
Since the middle of Ming Dynasty, Qianmen Street had become a famous business street until now. Even though it has been recently rebuilt, it is still a good place if you want to check out a few hutongs and some of side streets. The different Hutong street has different features, and the architecture and vibe are very traditional Chinese. With a history of more than 450 years, there dwells around 30 famous shops with over 100 years history such as Beijing Tong Rentang which sells Chinese medicine, Rui Fuxiang which sells silk and Liu Biju which sells pickles etc.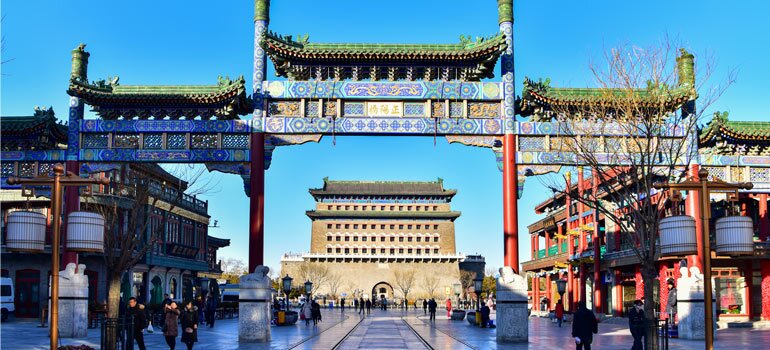 Qian Men
After lunch, you will be transferred back to Tianjin Cruise Port and arrive no later than 4:00 pm.
Know Before You Book
What's Included
Lunch x 3
Round-way Tianjin Cruise Port pickup and drop-off
Professional English-speaking tour guide
Round-way cable car at the Great Wall
Entry/Admission - Forbidden City
Entry/Admission - Mutianyu Great Wall
Entry/Admission - Summer Palace
Entry/Admission - Jingshan Park
Entry/Admission - Temple of Heaven
What's Excluded
Gratuities (recommended)
Accommodation, travel insurance and any other personal expenses during tour.
China visa
What Do I Need To Bring
A moderate amount of walking is involved. Comfortable walking shoes are recommended.
You must bring a valid passport when on the tour.
Additional Info
Cruise ship passengers must provide the following information at time of booking: ship name, docking time, disembarkation time and re-boarding time.
Passport information is required for the forbidden city tickets booking, please forward each individual traveler's full name and passport number at the time of booking.
While we endeavour to cater for specific dietary requirements, some meals and food activities are set in advance and may be difficult to adjust. Please advise us of any dietary requirements at the time of booking so that we can ensure you'll enjoy this trip.
We include round-way cable car or round-way chairlift/toboggan. If you want to take one-way cable car and one-way chairlift/ toboggan, please pay the price difference RMB100 per person at your own expense.
Spend 2 nights in Beijing, please book your own hotel accommodation in Beijing. The hotel pick-up and drop-off area should be within the 3rd ring road of Beijing. We suggest you book a hotel located in central Beijing for the night.
Cancellation Policy
We will charge a cancellation fee of 100% if booking is cancelled 48 hours or less before event.
Ours operate rain or shine. In periods of extreme or unsafe weather, we will discuss with you for alternative arrangements or cancel the tour at our discretion and provide a refund.
+86-18807734970
For 48-hours last minute booking