Muay Thai Match with Ringside Seats at Rajadamnern Stadium
3 Hours
Wed, Thu, Sun
Mobile Ticket
Overview
Book your VIP ringside seat at Rajadamnern Boxing Stadium in advance. Get up close to bring you the extremely boxing experience. Watch a live Muay Thai boxing competition rather than performance shows. Surrounding with their supporters team at the corners while seating next to the boxing ring closely with the boxers fighting on stage.
Highlights
Watch a real and live competition rather than performance shows.
Guaranteed VIP ringside seat close to the stage.
Maximize your watching experience with the fevered audiences.
About Rajadamnern Boxing Stadium
As one of the oldest national Muay Thai stadiums in the country, the Rajadamnern Stadium has organized boxing matches since 1945. Nowadays, it still gathers plenty of Thai locals and tourists for total immersion in the sport, it has now become one of the world-renowned boxing stadium and an institution of Muay Thai in Thailand.
Make your own transportation to Rajadamnern Stadium, exchange your ticket before match commences. Find your seat next to the boxing ring closely with the boxers fighting on stage, The stadium operates 3 days a week on every Wednesday, Thursday and Sunday, usually consists of nine fights and the seventh fight is normally the feature bout. Sitting in among the locals who are betting on the fighters and getting more and more excited.
Ticket Redemption Point
Your ticket redemption point is at 8 Rajadamnern Nok Road, Wat Somanas, Pomprapsattruphai, Bangkok 10100 Thailand.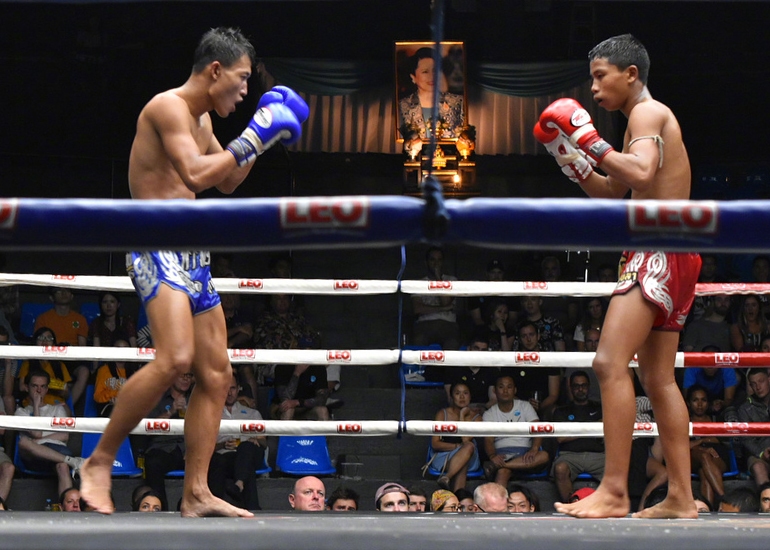 Know Before You Book
What's Included
VIP Ringside ticket to the Rajadamnern Boxing Stadium.
Hotel transfers.
Other personal expenses.
Gratuities (optional)
Important Information
Free entrance for KIDS under 120 cm, but not recommend to children.
We will email you the e-voucher or send by message. Please present your voucher at the redemption point to receive your entry ticket.
Please go to the stadium ahead of schedule, you must undergo the RT-PCR test on site (Free of Charge), then you will be allowed to access with a negative test result.
Kindly note the match schedule is subject to change without prior notice according to the current changing COVID-19 situations and goverment policy.
Cancellation Policy
All Sales Final: Travelers will not receive any refund regardless of cancellation status.
+86-18807734970
For 48-hours last minute booking